Natural Cowgirl blames business success on lots of margaritas
When life gave AJ Travis limes, he made some mighty fine margaritas. The 2008 market crash hit close to home for AJ, who was a twentysomething real estate agent in Indiana at the time. A year later, AJ landed in funky, weird Austin, Texas — he had heard the housing market was stronger there. AJ was enchanted by Austin's entrepreneurial spirit, and he began to dream bigger. Enter the humble beginnings of Natural Cowgirl.
Mixed blessings
AJ decided to get a job as a bartender. As a newly minted Texan, he quickly perfected the official state drink of Texas — the margarita. He says:
"I was always frustrated by the fact that all the bottled mixes my bar bought for me tasted like food coloring or chemicals. My customers agreed on one thing: Texas's most popular drink deserved only the best blend of fresh-squeezed juices."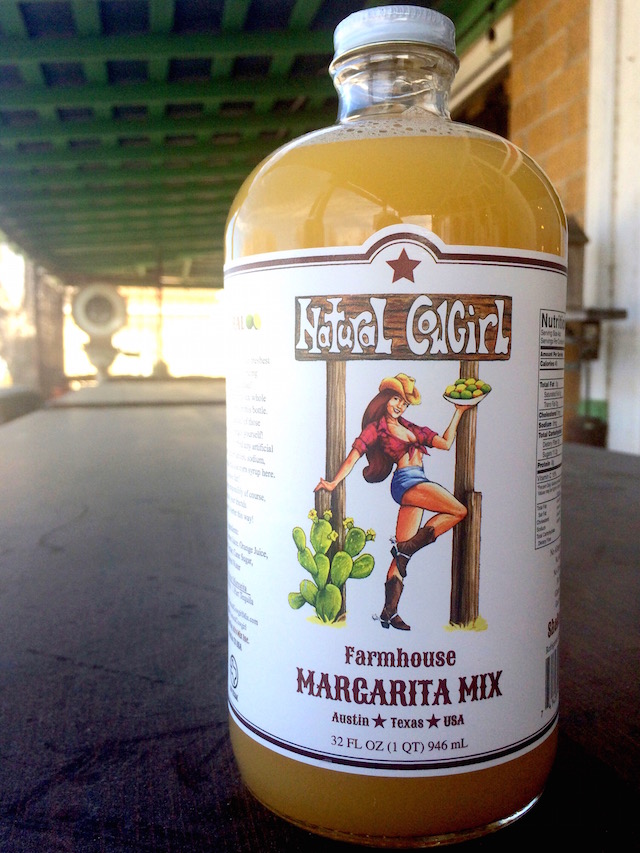 He began tweaking his own personal margarita mix recipe. When business was slow, he would slide sample after sample across the bar to customers and ask what they thought. And they didn't mind offering their opinion; they were most appreciative of AJ taking the time to do right by the margarita. They were all too happy to offer reviews.
He refined his mix recipe again and again. Soon, he was using his own mix full time while the bottled mix began gathering dust in the back.
Opportunity knocked (one back)
One day, a manager at the popular Hula Hut restaurant gave him a call. The manager had heard of AJ's handmade margarita mix from an employee and wondered how they could get some. After some conversation, AJ started creating fresh batches of margarita mix for the Hula Hut.
Much to his astonishment, other local restaurants were lining up for his mix as well. That's when he realized the marketplace needed his margarita mix. And that's how Natural Cowgirl was born.
Learn how to get more local customers for your product or cafe — check out our free checklist!
Bootstrapping, Texas-style
AJ started Natural Cowgirl with some tax refund money and gifts from friends and family. He invested in product packaging so he could start selling in stores. It wasn't smooth sailing at the start.
He went through five different types of labels, three different bottles, two manufacturers, shady distributors and multiple tweaks. He also worked three different jobs seven days a week to keep the business going.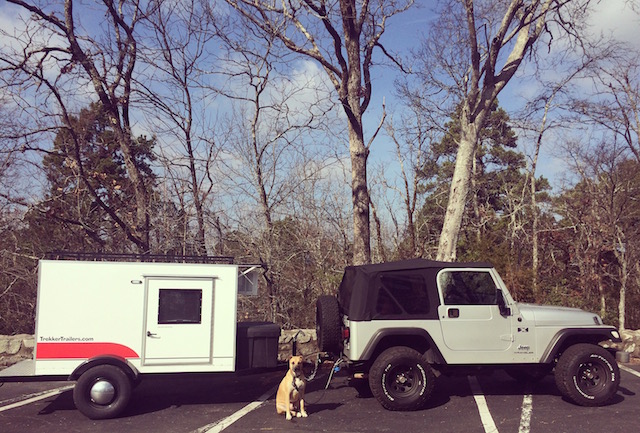 To save money, he downsized his living situation (more on that later) — and it paid off. People were buying. He set up a Facebook page and asked for product feedback. He got the feedback he wanted, plus many more distribution inquiries. He continued to iterate on his product and watched sales climb.
Raising the bar (with the right tools)
AJ does all of his own web design, social media marketing, brand design, sales and bookkeeping. And he relies on GoDaddy to help.
"GoDaddy has been instrumental in my success because of the easy products, low cost and excellent customer care. I have used webmail, Website Builder and hosting services for many years now, and I will continue to for many more, hopefully."
He's always had his domain name with GoDaddy, but he recently redid his Natural Cowgirl website using GoDaddy GoCentral Website Builder — and he knocked out a site he's proud of in no time. It's fast, it's clean, and it's AJ approved.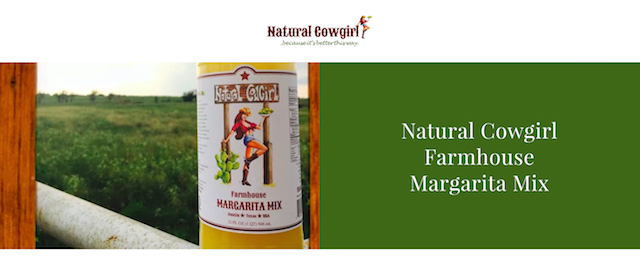 Formula for success
AJ believes the best asset an entrepreneur can have is flexibility. And the most valuable lesson he's learned since starting his business is to have patience:
"Everyone tells you how hard it will be to start and run your own business, but little is said about patience. Whether it be a response to an email, a call back or a meeting with anyone, patience is a virtue that every successful entrepreneur must possess."
And let's not forget about the product. As an entrepreneur, he understands the desire to perfect the product before customers see it. He encourages others to listen to feedback and let the market "perfect" their product for them:
"Our product as it is now is the result of many changes. If I hadn't had the patience to listen to our customers and make the appropriate corrections, our product might have been doomed to mediocrity."
Nature's remedy
How does AJ handle the stress of a business? Mother Nature has a lot to do with it. To keep overhead down, he lives in a tiny trailer-style house he had custom-built to hold just him, his dog and necessities like his computer.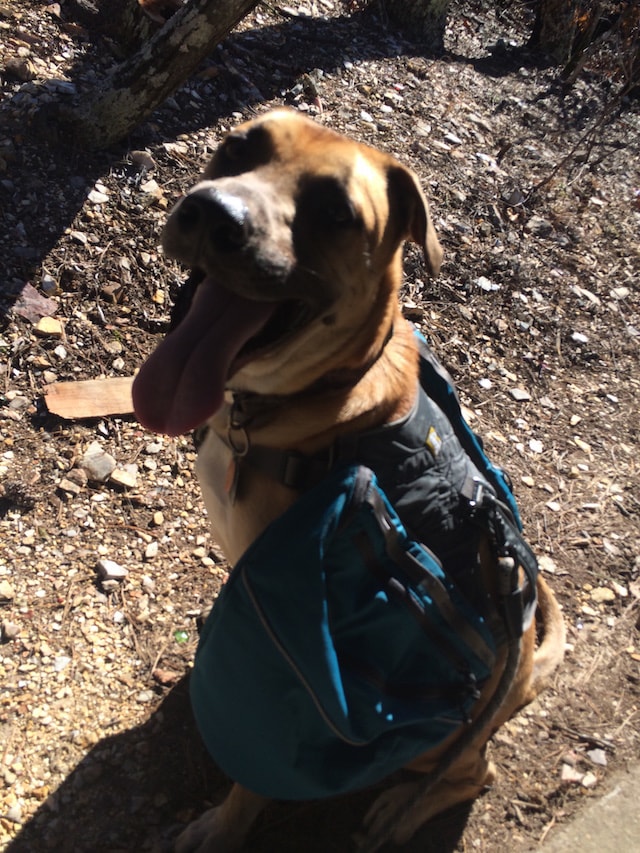 Because he's mobile, he can visit stores and talk Natural Cowgirl business, then wind down and stay the night at different campgrounds. He also takes advantage of the local hiking trails, taking long, relaxing walks with his dog almost every day. At the beginning of his walk, his head is swimming with the small business needs that require attention. But by the end of it, he's clear-headed and can enjoy the quiet beauty of it all.
Natural Cowgirl's last call for advice
AJ's margarita recipe might be a complex cornucopia of flavor, but his formula for success isn't. To others hoping to start their own business, he has this to say:
"First, you must have integrity. Be a good person when nobody's looking because that's when it counts. Second, patience. A wise man once said, 'a slow drip fills the bucket.' And lastly, goodwill. Give back to those who support you, and they will encourage others to do so as well."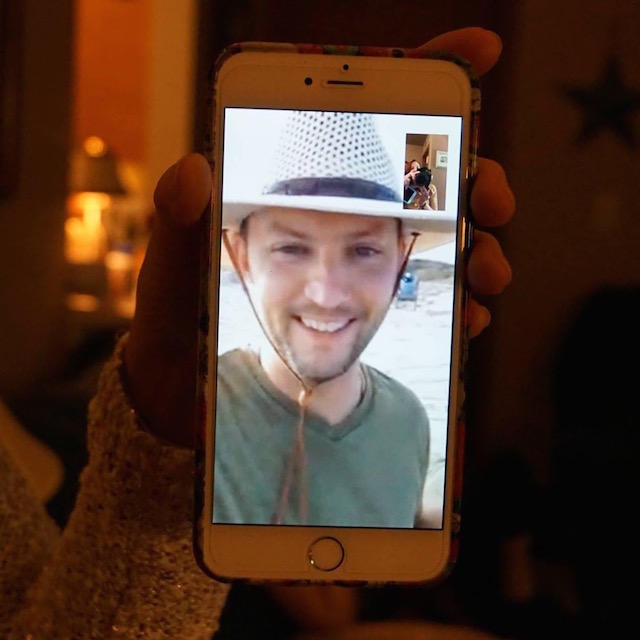 AJ admits there are some days it can be hard to get that formula right. But one glance at his Facebook page tells us his mix is popping up in stores all over Texas — and that he has a lot of fans in many cities.
And of course, he's looking toward the future.
"I am hoping to make Natural Cowgirl the largest natural foods manufacturing company in the country," he said. "I intend to release more flavors of our product, as well as pick up different types of natural foods to add to our portfolio. In five years, I intend to have three to four different flavors of our margarita mix. And in 10 years, I intend to be incorporating other food products into our brand."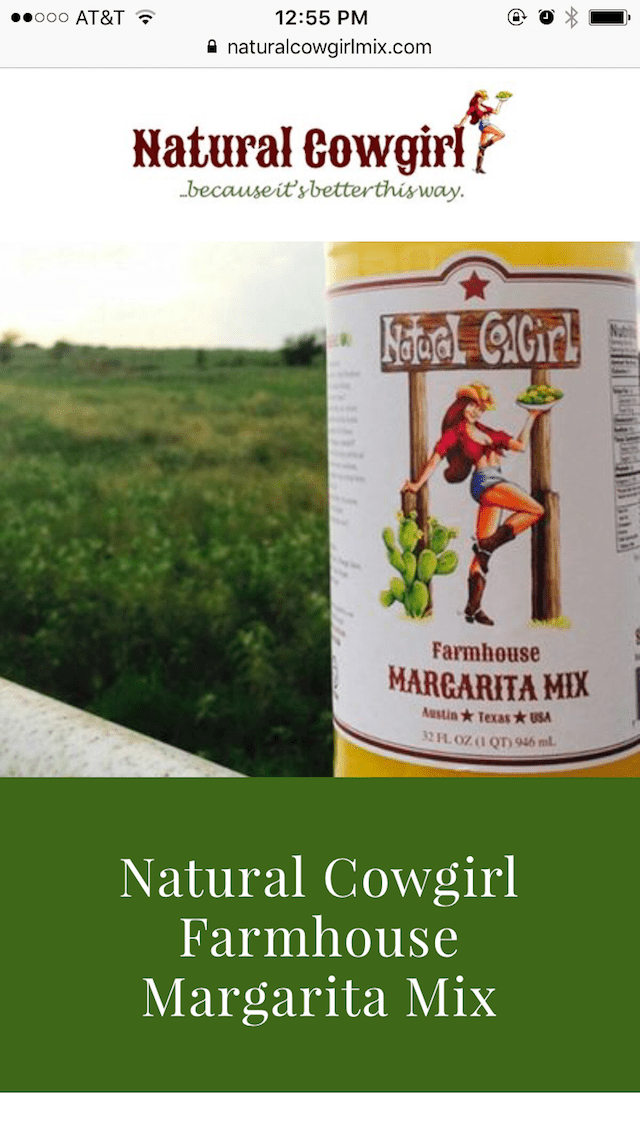 This real-estate-pro-turned-bartender-turned-entrepreneur is living the dream, bringing better margaritas to his fans in Texas and beyond. And with NaturalCowgirlMix.com and GoCentral's built-in marketing tools, he's able to keep margaritas flowing to even more fans online. And he can't wait.
Anyone who's ever started a small business knows that keeping your eye on the prize is sometimes difficult. AJ's story has had twists and turns, but he ended up in the right place doing what he loves. And with a strong online presence, there's no telling where you'll find Natural Cowgirl next.
Try GoDaddy GoCentral for free
Inspired by Natural Cowgirl and AJ's story? Try GoDaddy GoCentral for free. Build a simple site in under an hour and add additional features like email marketing and an online store when you're ready.
Bonus: GoCentral is entirely mobile-friendly. Build and preview your website anytime, anywhere on your phone or tablet, and add or change photos as often as you like.
[advertisement id="25749″]