Big list of potential tax deductions for bloggers
Join GoDaddy and Adam Griggs, CEO & Founder of CLARAfi.io, for our January 26th virtual meetup, as Adam shares his top recommend apps and how they can help you to be more successful in your business.
They say the only two things certain in life are death and taxes. While I can't help with cheating death, perhaps I can with lowering your taxes. And spoiler alert: If you are a blogger that is making any kind of money, you have to pay them. But the good news is there are several tax deductions for bloggers you might qualify for.
If lowering your tax bill sounds good, keep reading.
Of course, this is the point where I must also throw in a disclaimer. I'm not an accountant, and I don't play one on the internet. Though I've done my best to offer knowledge I know to be true with sources cited, please do your own research, and hire your own professionals when it comes to actually preparing and paying your taxes.
Related: 7 tax tips for your side hustle
Which bloggers have to pay taxes?
The first question you need to ask yourself is whether your blog is a business or a hobby. If you simply blog for fun and aren't really trying to make money, this post might not necessarily apply to you.
But then again, you still might be required to pay taxes on any income earned from your hobby. The IRS states that you have to file an income tax return if your net earnings from self-employment — including working for yourself part-time — were $400 or more (and, under certain conditions, you still might have to file a return if your earnings were less than $400).
Editor's note: Need a program to help with your business expenses? Check out GoDaddy's Online Bookkeeping. Everything is organized in one place, and you can even invoice your clients to stay on top of your incoming cash flow.
6 potential tax deductions for bloggers
For the sake of this article, we'll assume your blog is making a profit. With that as the basis, here are the tax deductions for bloggers you might qualify for:
Home-based business tax deductions.
Marketing and advertising tax deductions.
Equipment and software tax deductions.
Products tax deductions.
Travel, entertainment, gifts and transportation tax deductions.
Miscellaneous tax deductions.
As you can see, there's a lot of ground to cover — and lots of potential deductions. Let's get started!
1. Home-based business tax deductions
Potential home-based business tax deductions for bloggers cover stuff like:
Home office: You'll calculate the area of your home (percentage) used for business.
Telephone (mobile phone and landline costs, depending on whether you used one or both for your business).
A portion of your utilities, including your internet fees.
Repair and maintenance fees (i.e. did you pay to have it cleaned, or did you shell out cash to paint the walls?) Remember, this must be for business use of your home-based space.
A portion of your homeowners/renters insurance, security, mortgage/rent and property taxes.
How much you can claim is dependent on the size of your home office and whether or not you used it exclusively for business. That said, it's definitely worth the time to learn more about home tax office deductions from the IRS.
2. Marketing and advertising tax deductions for bloggers
Marketing and advertising tax deductions for bloggers might include:
Flyers, pamphlets, business cards, etc. This is marketing collateral you use to promote your blogging business.
Website costs. Generally, you can deduct costs like domain registration fees, webmaster consulting costs and other related expenses for a website that you use for business.
Ads on social media. This might include Facebook ads, Twitter campaigns, promoted posts on Instagram, and hiring an agency to promote your company on social media.
Related: What you need to know about deducting startup costs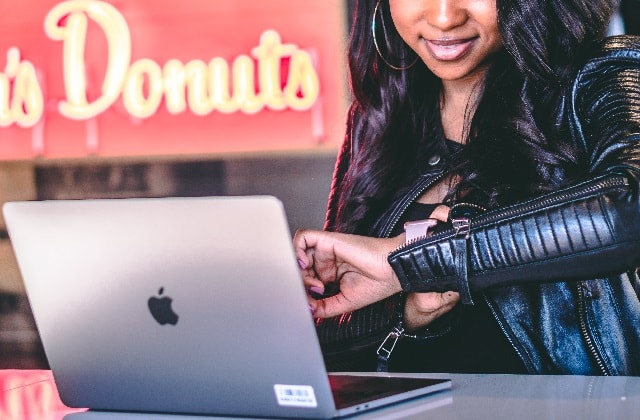 3. Equipment and software tax deductions
Equipment and software tax deductions for bloggers might include:
Computer software you use for your blog (i.e. Microsoft Office, Photoshop or even Canva Pro).
Laptop or desktop computer used for business.
Camera and accessories (lighting, microphones, memory cards) used for business.
Mobile phones — again for business use only.
You usually have the option to claim 100-percent of the cost of these items for the year you purchase them, or you can claim a portion of the cost over multiple years.
4. Products you sell on your blog
Let's say you sell products on your blog. You might qualify for some tax deductions on those items. This is a big topic, so a good place to start is by looking at the IRS's information on the business deduction for the cost of goods sold. Postage, shipping and delivery fees are deductible as other expenses if they are not included in the cost of goods sold.
Related: How to deduct "other expenses"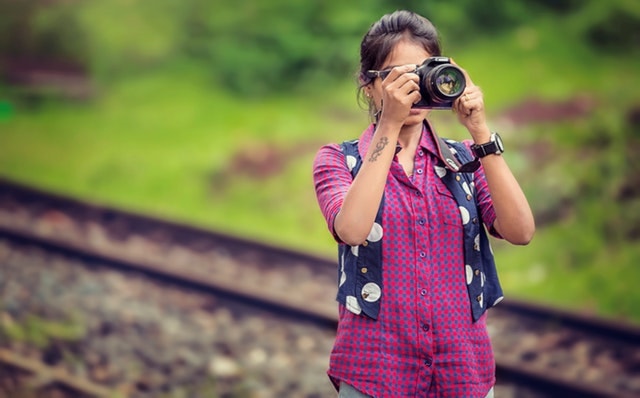 5. Travel, entertainment, gifts and transportation tax deductions
Let's check out travel, entertainment, gifts and transportation tax deductions for bloggers outlined by the IRS:
You can deduct all of the costs related to travel, entertainment, gifts and transportation, provided they are "ordinary and necessary business-related expenses."
The IRS defines ordinary and necessary as follows: "An ordinary expense is one that is common and accepted in your trade or business. A necessary expense is one that is helpful and appropriate for your business. An expense doesn't have to be required to be considered necessary."
In other words, to claim these deductions, you actually have to need them to run your blog. Don't expect to get away with claiming a seven-day vacation to Disney World as one of your tax deductions for bloggers. That is, unless you are blogging about every aspect of the trip, and can prove it is a necessary and ordinary expense for your business.
The same goes for buying clothes and makeup just for social media images. Unless you are writing a review about the items in the outfit and the outfit is being used 100 percent for business purposes, you might want to be careful trying to deduct those expenses.
A word on transportation: Make sure you are keeping thorough mileage records if you're claiming your car's use for transportation in your business. It's also important to remember that you can only claim the mileage directly related to your blogging business.
For example, claiming the mileage to go to a blogging meetup is fine, but claiming the mileage to go to the park for an unsponsored Instagram post might not be. This is one of the many times where a tax pro might come in handy, as it's always best to err on the side of caution and avoid the risk of an audit.
Related: What you need to know about writing off auto expenses
6. Miscellaneous tax deductions for bloggers
Miscellaneous tax deductions for bloggers cover a broad range of things like:
Blogging or industry-related conferences (e.g. the ticket, hotel and flight).
Stock images and music that you purchased.
Subscriptions and dues such as blogging memberships for learning or group coaching, memberships to professional organizations, and magazine subscriptions you use for inspiration.
The cost of products, events and meals you review (i.e. unsponsored items you won't be reimbursed for). The kicker here is you must keep proof you paid for the item and that you blogged about it.
Cloud services and security costs to back up that data.
Office supplies.
Learning materials like books and courses.
License fees, trademark costs and fees for becoming a corporation or LLC.
Related: Calculating self-employment taxes
Still have questions about what you can and can't deduct in terms of blogging expenses you might incur? Check out the IRS's big 'ole guide about business expenses.
Insights from CPA Theresa Turner of Tax Happens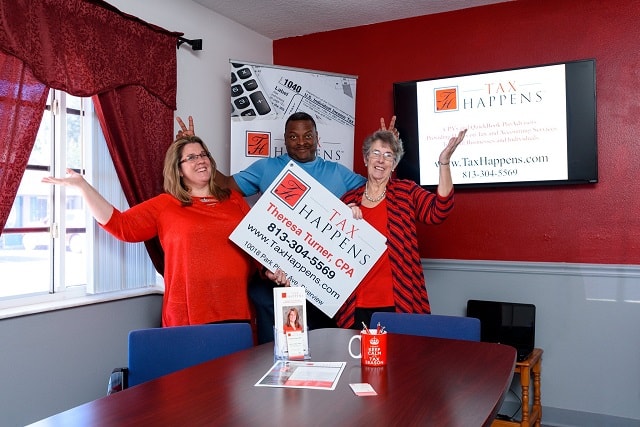 To close out this post on tax deductions for bloggers, I asked my bloggy friend Theresa Turner, CPA, MST and owner of Tax Happens LLC, for her best tax tips for bloggers. Here's what she told me:
If the business expenses you are trying to claim are not ordinary, necessary and reasonable, the IRS will not allow the expense.
Although there are many common and obvious business expenses, what qualifies is defined by the unique business. What appears to be the exact same expenses may be deemed as ordinary, necessary and reasonable for one business and may not for another.
General tax-preparation tips for your blog:
Always keep separate books and records for your blog and personal stuff. The most efficient way to do that is run the business through a separate bank account or credit card.
Keep all receipts — you will need them if you're ever audited.
Startup costs are deductible. It is important to track business expenses incurred before the business officially started.
Business miles count as tax deductions for bloggers. Track those miles and keep accurate, detailed records. There are countless phone apps that can do that for you.
Business miles are not just to and from clients or customers. Miles to meet with your CPA, insurance agent or attorney regarding business are considered business miles.
Personal expenses can't be tax deductions for bloggers. That suit you picked up from the dry cleaner to close the sale worked, but unless it is a "uniform" that someone wouldn't wear outside of work it is NOT a business expense. Yes, many people wear makeup and get their nails done to look sharp and close the deal but still not deductible.
Entertainment or any expenses related to activities generally considered entertainment, amusement or recreation are no longer deductible.
Fifty percent of the cost of business meals are deductible if the taxpayer (or an employee of the taxpayer) is present and the food or beverages are not considered lavish or extravagant. The meals may be provided to a current or potential business customer, client, consultant or similar business contact.
This kind of professional guidance from a CPA is priceless because, as you can imagine, it is never simple when it comes to the tax code. Here is where a full understanding of a business and the business purpose of a transaction are vital.
For bloggers, in particular, a full understanding of the business purposes of an expense is needed to determine the appropriate tax treatment of an expense.
Some expenses that may have a business purpose by regulation might not be deductible or may be limited on how much can be deducted for tax purposes.
Take, for example, a blogger writing about the cleanliness of hair studios. As part of the research the blogger schedules appointments, and goes for hair appointments at several hair salons in order to gather the information needed to write the story. These hair salon costs are allowable business expenses because there is a business purpose. Because it's provable that these are for a blog post, it is not considered a personal expense for tax purposes.
This is why it is so essential that these expenses are fully documented.
You want to assure you can substantiate the unique business purpose if you are ever audited.
There you have it, my bloggy friends — your inside scoop on tax deductions for bloggers. Keep thorough records and blog your heart out. Until next time, may your taxes be low, your page views be high — and your income even higher!
The above content should not be construed as legal or tax advice. Always consult an attorney or tax professional regarding your specific legal or tax situation.