5 hot restaurant social media ideas for BBQ joints
Is your restaurant smoking traditional Texas brisket? Are you known for serving that famous Kansas City sauce? Or do you specialize in Memphis-style, slow-cooked pork? Whatever your specialty, you can use your product as the inspiration for developing restaurant social media ideas that keep your customers craving more of those delicious meats and sides you're known for.
5 restaurant social media ideas for BBQ joints
Spice up your social media platforms with these content tips to get your customers excited to run down to your BBQ joint for some soul-warming dishes:
Post tasty food photos.
Share helpful BBQ tips and tricks.
Tell your BBQ story.
Talk about BBQ pairings.
Don't forget about dessert!
Let's dig in!
Related: 4 tips to better content on your restaurant's Instagram
1. Post tasty food photos
Want to get your customers really excited about your BBQ restaurant? Post photos of the awesome meal they'll have when they stop by. Posting images that take into account elements like framing, lighting, focus and (of course) your offerings is a fantastic way to boost your brand and your services. Always use natural light and try different angles — BBQ plates look great from above.
Sometimes, scrolling past a photo online is the inspiration potential customers need to stop in for a visit.
You can highlight any new dishes or specials that your restaurant is offering, put a spotlight on the classics that you do best, and show off customer favorites.
Pro tip: You can also see if your customers are tagging your business or using hashtags including your business name on Instagram, and reshare their content. Just make sure to give them a shout-out or use a re-posting app. Here's an example from local Austin favorite, la Barbecue:
Related: 6 tips for taking enticing food photos
2. Share helpful BBQ tips and tricks
When customers aren't visiting your business for all their BBQ needs, they might want to try their hand at making great BBQ at home. Post helpful grilling and smoking tips, or DIY sauce or dry rub ideas.
Pro tip: Don't give away a secret recipe!
3. Tell your BBQ story
Does your BBQ restaurant have a backstory?
Of course it does. Tell it!
Whether you've been a family-owned joint for decades, you're the new kid on the block, or you're located in a historic area known for its BBQ, people want to hear your story, get to know your team and their techniques, and understand all the time and effort you put in to creating delicious meals for your community.
Pro tip: Take advantage of #tbt and post throwback photos if you've been in business for years.
Related: How to tell your story on your website in 3 easy steps
4. Talk about BBQ pairings
BBQ pairs really well with a lot of different things — from sides and drinks to activities. Your restaurant's social media channels are a great place to show your customers how well your BBQ pairs with things they love and things they haven't ever thought of before. The options really are endless.
By pointing out some pairings for your customers, you can inspire them to keep your business in mind, no matter where they are or what they're doing.
Share certain kinds of beer or wine that are great with your product, and use the opportunity to promote local breweries or wineries! Here's Franklin BBQ in Austin doing just that:
Pro tip: Reach out to these local brewers for a combined "brew and 'cue" event. For some inspiration, here are some pairings we gathered from our team: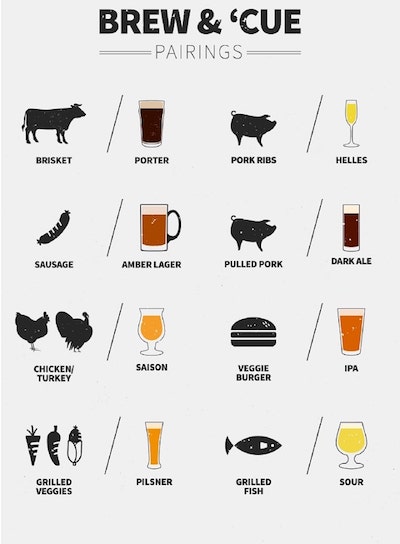 5. Don't forget about dessert
As part of your content strategy, it's a great idea to not only post about the ribs, brisket and mac-and-cheese you offer in-house, but to also share your delicious dessert options. It's a good palate cleanser to switch up your feed and remind your customers that you specialize in other menu items besides entrees and sides. Plus, we know you're proud of those homemade cakes, pies and world-famous banana pudding.
Here's renowned Memphis BBQ restaurant Central BBQ showing off their cheesecake as the best way to end a delicious BBQ meal:
Chow down!
Use these smokin' hot restaurant social media ideas to get your audience fired up to try everything your BBQ joint has to offer.
Bottom line is that your new and potential customers want to know about you.
Share your history and your menu items, and show off your personality to keep crowds lining up at the door.
Don't have time to run your BBQ joint and perfect your content strategy on sites like Facebook, Twitter, and Instagram? GoDaddy Social can help you elevate your social media marketing strategy and save you valuable time. Engage with your customers like never before — get started here.