Retail booth design tips for markets or festivals
Last month, I had the great opportunity to debut my clothing brand, Honey & Misfits, at an inaugural night market in Phoenix. While I was (and still am) extremely grateful for the opportunity, getting ready for the market involved a whirlwind of numerous learning curves and, if I'm being honest, about three mini meltdowns. I've learned that entering an event as a vendor requires a ton of work. To save you some unneeded stress, I've compiled a list of market and/or festival retail booth design tips.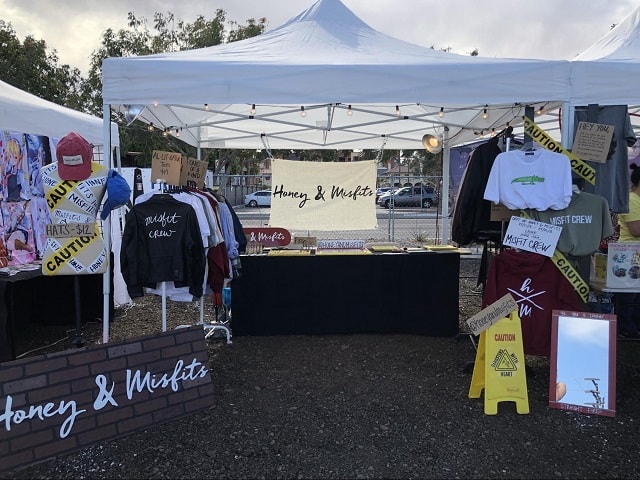 5 retail booth design tips for markets or festivals
Follow these suggestions to take some of the guesswork (and stress) out of retail booth design:
Know what you're getting into.

Consider traffic flow.

Create eye-catching displays.

Keep costs down.

Choose the right tools.
Ready to dive in? Let's go!
1. Know what you're getting into
If you're a retail business looking to enter a market or festival, there will be an application process. Most applications have a vendor fee and include details on the materials and equipment (tents, tables, chairs, WiFi, outlets, etc.) you will receive. If your paperwork doesn't inform you which equipment you'll be supplied with, you should clarify with the market or festival manager before signing off.
Every market will differ in what they provide, so don't assume anything.
Once you know what is provided, you can decide what else you'll need to buy to create your retail booth design.
2. Consider traffic flow
When figuring out your retail booth design for a market or festival, consider traffic flow and how people will shop through your booth once they enter. Before this festival, I hadn't been a vendor at an event and didn't have any knowledge to base my design on.
To help brainstorm booth arrangement ideas, I attended various markets and festivals throughout the months prior to my event. Regardless of what they were selling, I browsed other vendors' tents for general interior arrangement styles.
After seeing other vendors' displays, I settled on a "U" design, which, after all my research, turned out to be the most popular retail booth arrangement style. For my booth at the market, I placed the table at the back of my tent (with enough space so my helpers and I could comfortably sit behind the table) and placed two clothing racks along either side of the tent. I placed smaller items like pins, artwork and information about my company on the table, and kept the middle area of my booth open so people could fluidly browse the clothing racks.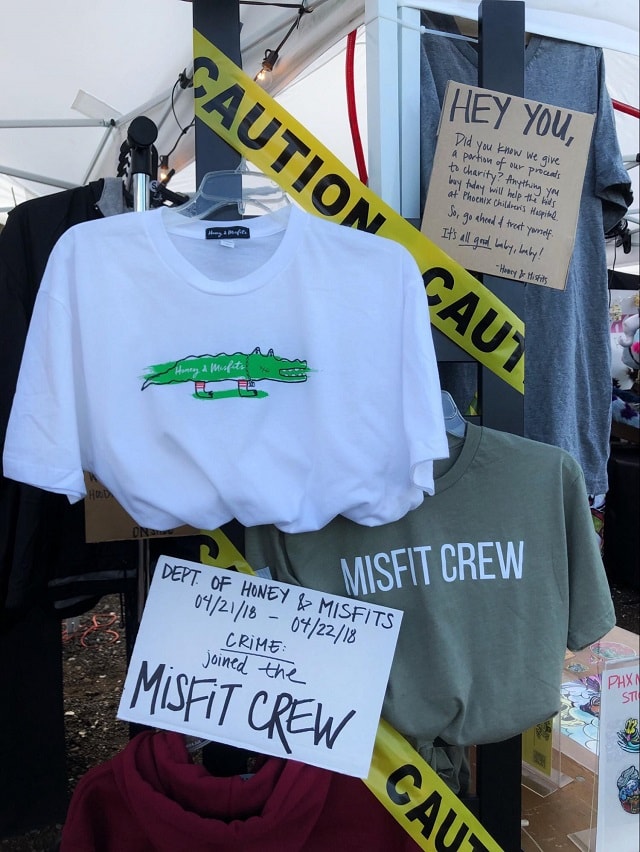 3. Create eye-catching displays
When you're next-door neighbors to a smorgasbord of other vendors at a market, finding a way to make your retail booth design stand out is key. While your ultimate goal is to sell as much product as possible, the only way you're going to sell is if people physically walk into your booth. Although it sounds easy, getting people to care enough to walk into your booth when they have plenty of others to choose from is only half the battle.
When it comes to retail booth design, your clothing pieces will most likely be displayed on clothing racks. While clothing racks allow people to easily browse inside your booth, it doesn't necessarily draw people in. For a better chance of sales, you'll need attention-grabbing display pieces in front of your booth.
Consider displaying a few of your best-selling clothing items on a wire grid, mannequin or something similar out front so people can get a glimpse of the goodies you have inside.
I used two methods to attract attention when people were walking past my booth. One was a dress form mannequin covered in caution tape and duct tape with "Honey & Misfits" written all over it. People stopped to look at this because it was "loud," but it also doubled as a display piece for my hats.
The second piece was a ladder that I thrifted, which allowed me to display several clothing items so people walking by could easily see my designs.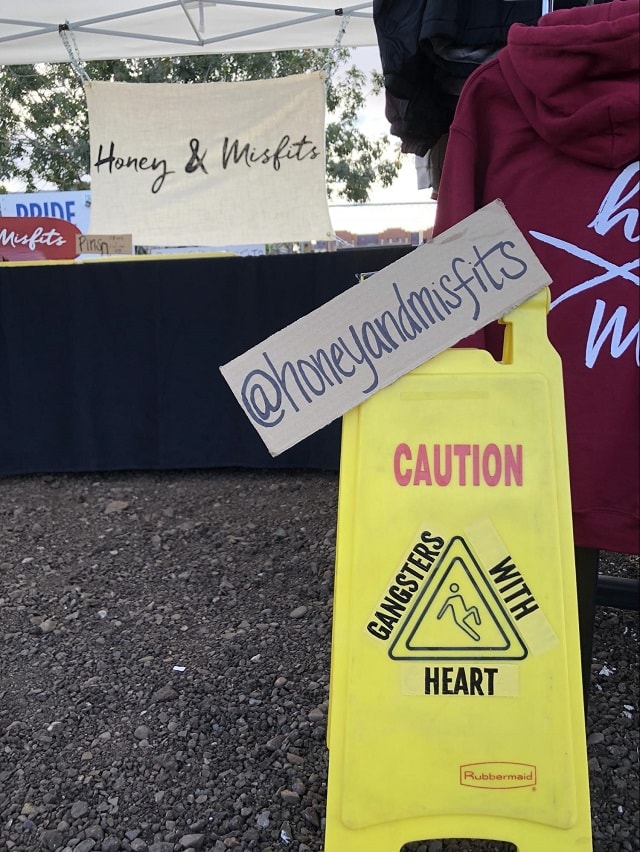 4. Keep costs down
Retail businesses differ largely from food vendors at markets or festivals. Customers decide if they want to try out a food vendor depending on which items sound good to them, not on how dolled up their booth is. In comparison, customers decide to step into a retail business's booth if something catches their eye. This is why retail booth design and setup are supremely critical at a market or festival.
It's easy to get carried away and empty your pockets in exchange for a killer display.
But display costs aren't the only expenses you have to take into account. You'll also have your vendor fee, inventory expenses (restocking items you think will be popular, creating new items, etc.), as well as your overall retail booth design.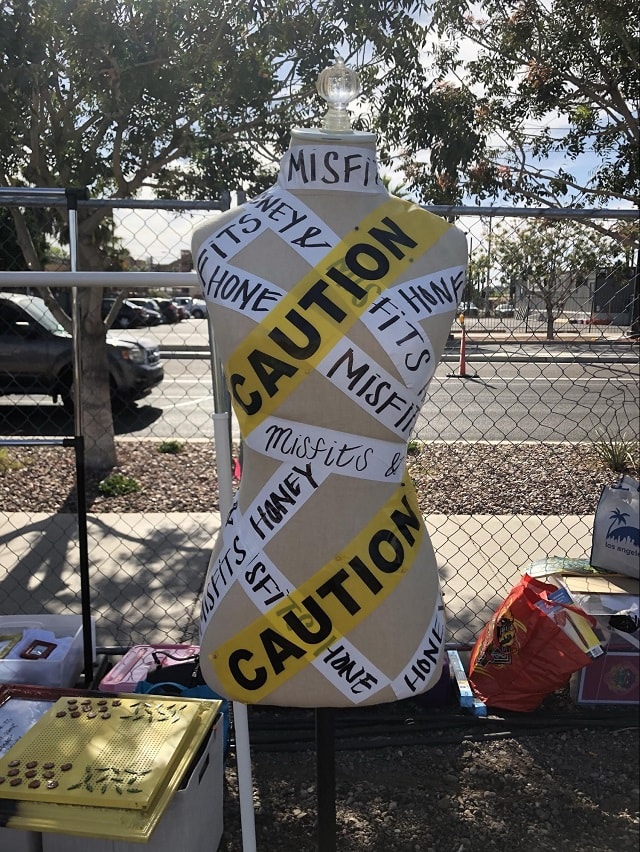 To keep costs down, be as thrifty as possible when it comes to your retail booth design. Browse stores like Goodwill, Savers and the stores mentioned below to see what you can potentially DIY to save money.
IKEA clearance
One place that I found super helpful was the IKEA clearance section. There are tons of smaller wood pieces or miscellaneous home décor that can easily be flipped into booth display pieces. To exhibit my clothes in front of my booth, I was set on buying a $24 (plus shipping) wire grid frame online. Before buying though, I decided to visit IKEA and boy, am I glad I did. To my luck, I found a black ladder to use as a clothing display instead. My total cost for the ladder? Only $2. Cue the hallelujah chorus.
Lowe's or Home Depot
If you need wood for a sign or display piece, ask a staff member at Lowe's or Home Depot if you can see their scrap wood section.
While I didn't need any wood materials, my friend who was a food vendor wanted to paint a plank of wood and turn it into a chalkboard menu. We browsed through wooden planks that, at a minimum, started at $15 and higher. He was hoping if you only needed half of the plank, you can get a discounted price, but per rules and regulations, you pay for the entire piece of wood whether you use all of it or not.
After learning this, I asked if they had a scrap wood section. To our luck, my friend was able to get two 8-foot planks of wood and I got a cool "brick wall" patterned wood piece. We walked out of there without pulling out our wallets. That's right. We got all of that for FREE.
5. Choose the right tools
Once you have your display pieces and know how you'll arrange your booth, you'll need the tools to help set up your display.
Lighting
My first market was a night market, so lighting was a must. While vendors at other markets typically use bistro and string lights hung around the circumference of their tents for mood lighting, they won't light up the tent. For lighting, I used two large spotlights shining towards the center of the tent to illuminate the entire booth.
Even if you don't need to provide your own lighting, if you're using anything electric, make sure to bring extra surge protectors and extension cords. You never know when you'll need to juice your phone, your iPad or that portable fan.
Tools to secure your display
While conducting research at other markets, I paid close attention to how vendors secured, hung, and displayed all of their items. Three of the most common tools? Zip ties, carabiners and clamps.
If you only decide to buy one of those items for your retail booth, buy zip ties.
Even if you don't think you need them, buy a small bag just in case. I was told by veteran market vendors that zip ties can be used to hang up signs, lighting, banners, small display baskets, grids … you name it. When it comes to markets and festivals, you can NEVER have too many zip ties.
Toolbox
I bought a $7 plastic box from Michaels and used it as a toolbox for the market. It contained everything from a hammer, zip ties, box cutter, pliers, duct tape, clamps, scissors, Sharpies, hand wipes, a lint roller, trash bags, amongst some other items.
You never know what you'll need the day of the market, so imagine everything you may possibly need to effectively set up your retail booth design and create a list of items throughout the month leading up to your event.
If you wait to pack the night before, you might already be in stress mode and won't be able to think as thoroughly.
Creating your retail booth design for a market or festival is hard, hard work. But with carefully calculated preparation and an ocean of creativity, your booth can draw in the crowds and lead to a flurry of sales.
Image by: Stanislav Rabunski on Unsplash