The Business Model Canvas for web designers and developers
Upcoming event: See how our commerce options can help your business adapt to the shifting landscape at GoDaddy Open 2021 on September 28.
When it comes to business analysis and planning, a lot of people who run businesses struggle to answer fundamental questions about their business model. Indeed, it's very hard to think through every single thing that can influence your business model. Fortunately, a simple tool exists which helps business owners better understand the various factors that make up their business. The tool is called Business Model Canvas (BMC).
In this article, we'll introduce the Business Model Canvas and explain how different components of the BMC can apply to a web design business. You'll learn how to use the BMC to create a new web business or improve an existing one.
What is the Business Model Canvas?
The Business Model Canvas is a model that you can use to define the various components of your business. It gives you a big picture of your business and offers the possibility to analyze every single aspect of it.
There are four major benefits of using BMC:
Prioritization. A BMC helps you to identify the most important priorities in your business.
Creates a shared vision. Describe what you do in a more powerful way.
Ease of use. When it comes to understanding the core properties of a business, it's usually hard to create or analyze a long business plan. It's much easier to read and analyze information that's sitting on a single page.
Flexibility. BMC is a visual representation of a business strategy. It allows you to adjust the business model and try different things.
What does the Business Model Canvas look like?
Business Model Canvas contains nine components that describe a business. Each block defines a very specific part of your business.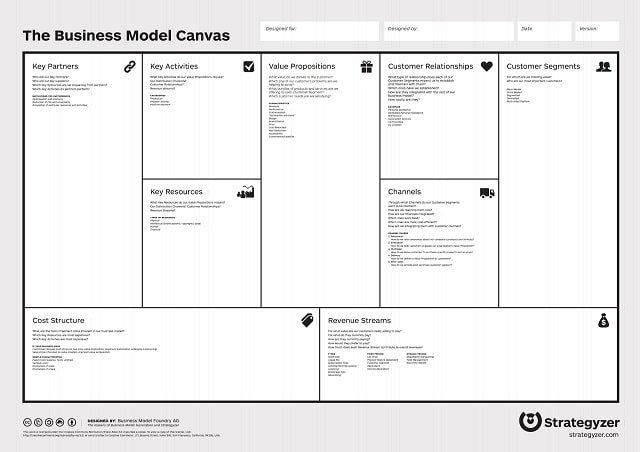 Below, we'll look at each building block specifically. To make the canvas a bit more specific for web-based projects, we'll use a fictional web project — an educational website for designers — as an example and fill out the sections according to the needs of this project.
The 9 blocks of the Business Model Canvas
Here are the nine blocks that make up the Business Model Canvas:
Customer segments.

Value proposition.

Channels.

Customer relationships.

Revenue stream.

Key activities.

Key resources.

Key partnerships.
Let's explore the canvas point by point.
1. Customer segments
This section answers the question, "Who are your target audiences?"
Сustomers are the heart of any business model. To build an effective business model, a business must identify which customers it serves. Here are a few practical recommendations that will help you segment your customers:
List your existing customers and evaluate which customers are most valuable for your business.
Create a picture of your ideal customer. Find what attributes define a perfect customer. Write down customers you would like to have in the future.
Create personas. Personas are humanized portraits of your customers. Personas will help you make the customer come alive in the business model.
Use web analytics tools (such as Google Analytics) to gain a deep insight into customers' behavior.
For our web project
Think of all the people/organizations that might be interested in your website and focus on them. Since we're developing an educational website to teach people about user interface design, perhaps we should consider UI and UX designers as our target audience. This target audience might include students who are learning UX/UI design, as well as seasoned designers who want to learn new skills.
Example:
UI/UX students
Seasoned UI/UX designers
Graphic designers who want to switch to UI/UX design
Customers and the value you deliver go hand-in-hand. Who are your customers, what do they expect from you, and how can you deliver exceptional value?
2. Value proposition
This section answers the question, "What customer problem are you solving? What values do we deliver to the customer?"
If people use your product/service, this means that it solves their problem, and, as a result, it offers a certain value to them. This core business value should be described in your value proposition.
Explore every aspect of what your business offers. Find answers to the following questions:
Use the powerful web techniques to refine your value proposition. Conduct A/B testing for each product refinement and gather feedback in the real time.
For our web project
Include the benefits of using your solution in this section.
Example:
Professional development
Building a network of contacts
Remote education
3. Channels
This section answers the question, "How are you delivering your value proposition to customers?"
A business can deliver its value proposition to its targeted customers through different channels. To identify your channels, you need to explore every aspect of how your business interacts with clients. For example, if you use paid advertising or email campaigns to acquire new customers, they become your communication channels.
Here are a few practical recommendations that will help you add information to this component of the canvas:
Analyze the strengths and weaknesses of your existing communication methods.
Try to adapt communication channels to the customer segment. Different customer segments often require different channels of communication.
Think about cost-effectiveness. It's essential to monitor how cost-efficient your communication channels are.
Experiment. Try new methods to reach customers and see how they work for you.
For our web project
Figure out how people get to know about your website or how you are reaching them now. Track the conversion from your traffic sources and list the most valuable sources in this section.
Example:
Social media
Advertising in email newsletters and digital magazines
Guest posts on popular online resources
Advertising in paper magazines
4. Customer relationships
This section answers the question, "How do you create and maintain relationships with customers? How does the customer interact with your business through the sales and product lifecycle?"
Besides analyzing how you reach your customers, it's also important to understand what kind of relationship you have with them. Your relationship with your customers have a major influence on the rest of your business model — the better your relationships with existing clients are, the less time you'll spend on finding new clients.
That's why this component of the canvas should be used to define both customer acquisition and customer retention.
Here are a few practical recommendations that will help you add information to this block:
Create guidelines for maintaining and growing your customer base.
Practice co-creation. The web allows you to create products and services in cooperation with customers. It's possible to improve relationships with customers by involving them in the design process (e.g., through monitoring and direct feedback).
For our web project
When it comes to building a successful long-term relationships with your users, you need to think about creating an effective mechanism of communication with them.
Consider creating a strong feedback loop.
Start with simple things — make it easy for users to provide their feedback. Something as simple as a feedback form with a guaranteed reply from your team will help you build good impressions with your users and solve a lot of existing problems.
Example:
Feedback form
Online forums
Face-to-face meetings
Diverse revenue streams help you maintain a sustainable business. Discover which products and services contribute the most to your overall value, and explore how you can increase revenue in the future.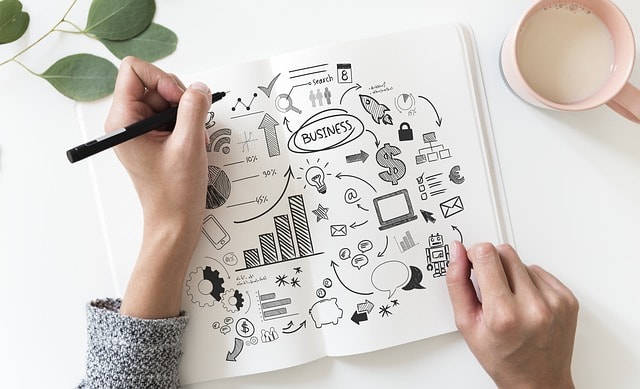 5. Revenue stream
This section answers the question, "How does the business earn revenue? What are customers currently paying for and how much they are paying?"
Revenue streams make it clear how your business model is capturing value. You need to look carefully at where your business is driving revenue:
Lists the revenue streams. This will help you understand what products and services contribute the most to your overall revenue.
Analyze different business models. Could you increase revenue in the future? For web-based projects you can try different business models such as subscription, licensing or advertising to understand what works for you.
For our web project
What does your website earn and is it sustainable? For startups and individual projects, this section might include initial financing (such as personal funds or grants). For well-established business, this section should include primary sources of profit (e.g., advertising or sales).
Example:
6. Key activities
This section answers the question, "What activities does the company need to carry out to support the business?"
Key activities are the most important things a business should do to make its model work. Since key activities are related to the revenue streams, it should be easy to list the key activities and tie them together with the value they create.
For our web project
What should you do to make your website work as expected? This might include effort required to build a solution, create a strong network to promote it, etc. At the same time, we should focus on promoting our products on market. That's why marketing should be a valuable part of key activities.
Example:
Brainstorming sessions
Development activities
7. Key resources
This section answers the question, "What resources are needed to support the business?"
This part of the canvas describes the resources necessary to create value for the customer. Brainstorm the most important assets you have (e.g., tools you use to create or deliver the value for the customer) and add them to your canvas. Since key resources are often a component you invest money in, having them listed makes it easy for you to define your costs later in the canvas (in the Cost structure section).
For our web project
This section should provide insights on what changes in your infrastructure/personnel required to deliver the best service possible. For example, you might need a high-speed internet connection or dedicated servers in a data center to run your app, or maybe it's possible to improve the quality of your solution by having an in-house development team.
Example:
Web hosting
Dedicated development team
8. Key partnerships
This section answers the question, "Who are your business partners?"
A business rarely stands alone. It needs partners. In this section of your BMC, you describe business partners that contribute to your model. Identify existing key partners and key activities they perform. Also, consider what kind of partnerships can improve your business in the future. List partners who can help you leverage your business model.
For our web project
List all organizations or individual contributors who can help you make the website successful.
Example:
UI designer
Full-stack developer
Marketing specialist
9. Cost structure
This section answers the question, "What are the most important costs in the business? What resources are most expensive?"
Business isn't only about making money; it's also about spending money. A good business model also consider costs required to run the business. Identify your costs by:
Analyzing what key resources are the most expensive for your business.
Thinking of which kind of investments can improve your business.
For our web project
When it comes to web development, cost structure usually includes expenses on hosting, product research and development, and advertising.
Example:
Staff wages
Marketing and advertising
Office rental
Development tools (software)
Tips for creating a better Business Model Canvas
It's possible to add depth into BMC by following simple rules:
Use a physical BMC, not a digital copy
Don't start with a digital version of BMC. Instead, print the BMC, stick it to the wall and use sticky notes to fill the canvas. A printed version of BMC makes it easier for people to join the process of creation and discussion of business model elements.
Be ready to iterate
It should be clear to you that your first finished business model won't be the best one. You need to iterate and try different approaches to achieve the best result for your business.
Don't work on your BMC alone
While it's definitely possible to create a BMC alone, you'll get much better results by brainstorming in a group. Thus, don't be afraid to share the canvas with your colleagues and clients.
Don't think that your BMC is set in stone
Every business is changing, and this means your BMC (which is a direct reflection of your business) should be reviewed periodically as all the factors listed there can change over time.
Conclusion
Next time you need to spot potential strengths and weaknesses of your business, be sure to use the Business Model Canvas. Simply map out your entire business model in one image to see what should be done in order to improve it.
Related articles