Something really cool happened not too long ago. My lil' startup-y company got mentioned in an article in The Wall Street Journal. Pretty awesome, right? Oh, what's that? You want to know how I got that done? Why, I'm delighted you asked!
What is starting with WHY?
A few months ago, I wrote an article titled, Do Customers Know Your Why?
Essentially, your company's WHY is the reason customers should care about your company or product.
After having the epiphany I wrote about in that article, I wanted to do something bold — something connected to WHY my customers love my company and product. One thing I learned from my good friend, Mario Armstrong, is if you want to get great PR, you have to do things that are relevant. You have to inject yourself into conversations that are already happening.
Connecting my WHY to a current conversation
Back-to-school was happening soon, and it was an opportunity for me to get into the mix. The back-to-school season was a good fit for my business's WHY because:
Ninety-five percent of all college freshmen who go away to college have some form of homesickness. And I had a theory that having photos of loved ones and friends on the wall would make those students more comfortable with their transition, and ease their anxiety.
Students in dorms aren't allowed to put nails in walls to display photos. So, my company's removable photo wallpaper is a perfect solution to that problem.
Coming up with a winning idea
The BIG idea was to give away one WeMontage removable photo wallpaper collage to a student at every college in the country. Well, that wasn't gonna happen because I didn't have the budget for it.
Then I thought, what if I did an Instagram contest and gave away 1,000 WeMontages to college freshmen going away to school? Doing so would require a corporate sponsor; since I'd need to start executing the marketing campaign in about two months, that idea failed because it takes big companies forever to make a decision.
So I decided I'd do the Instagram campaign, but only give away 100 WeMontages — and that I could afford.
Since back-to-school is a big media topic in August, my idea would at least give me a chance at getting great PR; combine that with the campaign's connection to what I thought was a powerful WHY for my biz, and something people might care about, and I thought I had a winner on my hands.
But, as usual, many of my brilliant marketing ideas don't "kill it" when executed. The campaign had limited success — I didn't get any major PR during the back-to-school season, and I only got a few dozen sales from it.
How did I get in The Wall Street Journal?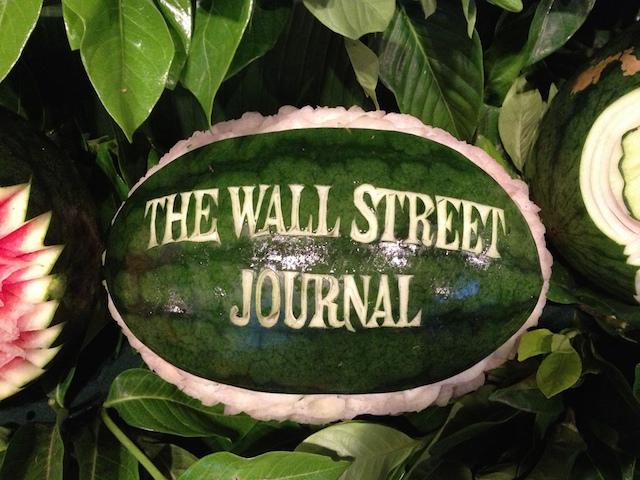 During the campaign, I worked with a publicist who was doing lots of media outreach. One of the publications she contacted was The Wall Street Journal. A reporter got back in touch with her about a story she was writing — an article about homesickness among college students. The reporter wanted to know if she could speak with one of my college customers.
Um, yes. Why yes, you can!
Here's the part of the WSJ article by Sue Shellenbarger that mentions my business:
"Eighteen-year-old Tessa Carr, a freshman at Shenandoah University in Winchester, Va., plays on the university volleyball team, works 10 hours a week setting up campus events, does volunteer work and carries a full course load. Still, Tessa says she has missed her Stanley, N.C., home more than she expected. She fights back tears when she talks about her parents, brother and sister. "I miss my family a whole lot. My sister is my best friend," she says of her 17-year-old sister Samantha. When her mother Patti created a WeMontage poster of 10 of Tessa's favorite photos from home, Tessa put it on the wall beside her bed in her dorm room and framed it with glow-in-the-dark star stickers."
And here's a photo of the WeMontage Tessa put in her dorm room: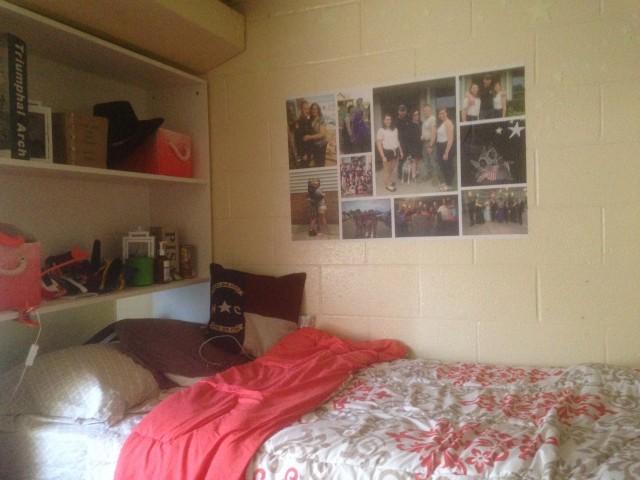 How have I been able to consistently get great PR?
People ask me all the time how I've been able to get my lil' company featured on the TODAY Show (twice), the DIY Network, CNET.com, Yahoo!, etc. My answer is simple: with the exception of my publicist getting this WSJ hit, it's just luck and hustle!
I recently sat down for a Blab chat with a buddy, Gina Schrek, mompreneur and founder of the marketing agency SocialKNX. We spent an hour talking about the importance of hustle and persistence in marketing, and I talked about how I've been able to get great PR hits. It's worth a listen while you're at the gym or on a run.

Have you been able to land any major PR hits for your small business? I'd love to hear how you did it in the comments below!