Forget the so-called golden age of television. This is the golden age of podcasts. According to Edison Research, some 73 million Americans tune into a podcast each month, signaling that this is no longer some niche form of audio-blogging. This is closer to the second coming of radio. But podcasts for entrepreneurs?
While you're probably familiar with the big ones (like This American Life or Serial), podcasts are good for more than scratching your itch for true crime stories. Small business owners will find a wealth of podcasts diving into everything from leadership to marketing to how to build a business when you're decidedly introverted.
Looking for recs? We've rounded up the best podcasts for entrepreneurs of all stripes, with each one offering something different — whether it's good advice, relatable storytelling or one-on-one interviews with the entrepreneurial elite. Give them a listen the next time you're on the road (or en route to your next loan interview).
Related: How to start a podcast with WordPress
The inaugural podcast of Gimlet Media, now one of the most successful producers of audio storytelling, StartUp's first season self-reflexively chronicles founder Alex Blumberg's attempts to get the company off the ground. We're with him through every moment: Every botched elevator pitch, each evolution of his business plan and every employee dustup as the company begins to grow.
It's funny, informative and even a little moving.
And while it takes the form of an extended narrative rather than prescriptive bites of advice, it offers the kind of warts-and-all look at the realities of entrepreneurship that every small business owner should hear. Later seasons flip the script, with Blumberg dedicating each episode to another business's story — but as a listen, it's just as addictive.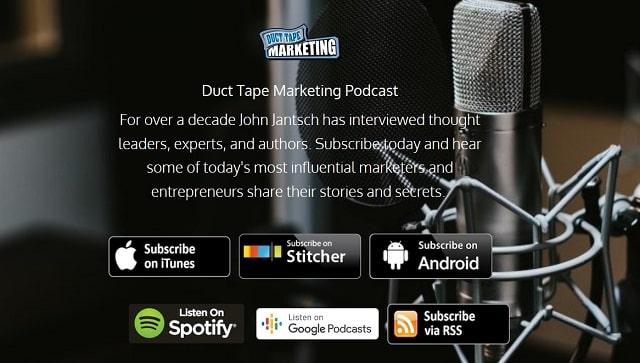 While marketing might revolve around one simple question — What can your business do to reach and win over potential customers? — arriving at the right answer can be infinitely complex. And since it's a major budgetary consideration once your business is up and running, you'll want to consider a broad cross-section of expert opinions as you develop and implement your marketing plan.
Good news: There's a podcast for that.
Missouri-based consultancy Duct Tape Marketing has a hugely popular podcast exploring the ins and outs of marketing from every angle. They cover optimizing your social media strategy to using new technology — chatbots, anyone? — to getting the word out. Throughout, guests from the marketing world share their insights and give listeners a read on the ever-changing strategies employed by small businesses and major-name companies alike.
While a podcast can never replace getting an actual MBA, there are a few shows out there that come genuinely close. Host Omar Zenhom runs an online entrepreneurship training program, and he also runs a long-running podcast where he shares his wide-ranging knowledge and walks listeners through an array of scenarios small business owners face every day.
Trying to understand Google AdWords? Thinking about hiring a personal assistant? What's the best way to deal with a customer you'd describe as literally evil?
If you've got a burning question about the pains of running a small business, chances are that $100 MBA has answered it at some point.
And since the show's been running since 2014, you'll have plenty of material to fill your commute.
There's small business, and then there's restaurants.
Operating a restaurant is like being the stage manager of an especially crazy theatrical production. It takes sweat, grit and a bit of magic to put a delicious meal in front of your customers. While far fewer restaurants close within the first year than you might've thought, there's a reason that stereotype exists.
The Restaurant Unstoppable podcast throws restaurateurs a lifeline, with an always-engaging look at the perils and glories of the dining industry.
The topics it considers run from the broad (how to create a board of directors) to the hyper-specific (what are the legalities of playing your favorite tunes over the PA system?). Host Eric Cacciatore is joined in each episode by a guest from the restaurant industry. Their personal stories of struggle and success add a human dimension to the entrepreneurial real-talk on display.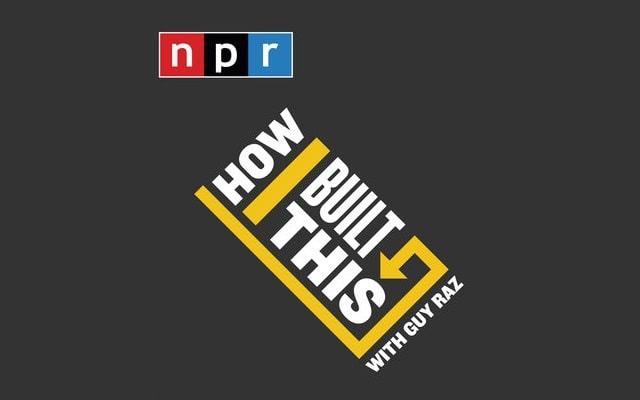 You've got to start somewhere, and even the largest, most successful companies often had inconspicuous beginnings. On NPR's "How I Built This," a parade of big-name founders share their stories of launching and growing their business, from that first idea (and first loan) to first Fortune magazine cover. It's had some formidable guests: Lately, Drybar's Alli Webb, Slack's Stewart Butterfield and Steve Madden (of, um, Steve Madden) have all appeared on the program.
While the businesses on display tend to be highly recognizable, the lessons their founders share give small business owners an important window into the process of starting a company — including getting the funding to start turning your dreams into reality. Even if you're not aiming for a billion-dollar valuation, their stories are inspiring.
Seek out more podcasts for entrepreneurs
Small business owners don't tend to have a ton of free time, especially in the early days, when they're chasing down funding or solving for some unexpected wrench in the works.
But since podcasts tend to come in bite-sized packages, they're the perfect way to round out your entrepreneurial education on the go — and who knows — you might even find yourself on the other side of the guest mic someday.