Starting your own freelance career is an exciting thing. You will be able to do a lot more than you would if you were doing a normal 9-to-5 job. Working from home and being able to bring your work with you wherever you go is a great feeling. If you're thinking of finally making a step towards a much needed career change, working freelancing jobs could be your best option.
9 freelancing jobs for aspiring entrepreneurs
You might be confused about potential freelancing jobs, since you are not yet experienced in many sectors. In order to help you out, here are some of the best jobs any new freelancer should consider:
Blogging.
Ghostwriting.
Photography.
Travel consultant.
Social media marketing.
Photo editor.
Translations.
Editing and proofreading.
Video editing.
Any of these sound like they might be a good fit for you? Let's dive in and take a closer look at each of these freelancing jobs.
1. Blogging
There are so many magazines, entertainment sites and other types of businesses that use blogging as a way of promoting its brand and getting more attention and followers. This is a great tactic to gain a bigger audience and also a great working experience for any new and inexperienced freelancers.
Apart from writing for clients, you can even start your own blog if you're feeling a little more adventurous.
This will definitely take some more time to grow but you will be able to always write about topics that interest you and you will be able to make more money through advertising and affiliate links as you continue to grow.
Related: How to start a blog in 7 steps
2. Ghostwriting
A ghost writer can be used for anything from a memoir to a speech. You can start small with blogs posts or emails to build up your resume, then move onto larger projects.
Christopher K. Mercer, a freelance marketer and founder of Citatior notes:
"Ghostwriting can help teach you how to write anything from an article to a book. Not only will it be a valuable experience, but it will also pay well if you work with the right people. It is definitely a great job for any beginner freelance writer."
If you're looking for something relatively easy to help you get started and not have your name associated with certain topics or stories, these freelancing jobs can be a good option.
3. Photography
If you have a good quality camera and enjoy taking pictures, you could start out with freelancing jobs as a photographer. Not only can you take pictures of various parts of the world if you travel a lot, but you can even sell your artistic pictures as stock photography and make a good income through them online.
Another option is wedding photography. You can take plenty of courses online and have friends help you practice and improve your skills.
Related: Selling photos online for beginners
4. Travel consultant
If you love traveling and have experience, freelancing jobs as a travel consultant could help you make some money while helping people have a great time on their vacation.
You would help people book flights, hotels, and plan activities — and stay under their budget. You can do this independently, but there are also plenty of companies online who are always on the lookout for experienced travelers for this job.
5. Social media marketing
Many businesses use social media to promote their products and services. No matter how big a company is, it is most likely that the person running it won't have enough time to run all social media accounts themselves. Instead, they might hire people to do this job or use a service.
If you have some basic knowledge of how to run a social media account, you could very well apply for freelancing jobs for a smaller company.
This is a great job for you to begin with and it will help you gain enough experience in order to move upwards and work with more experienced and demanding companies.
6. Photo editor
Photoshop know-how can be a great asset if you're looking to start your freelance career. You can take advantage of your skills and work as a photo editor online and edit pictures for social media profiles, influencers, businesses, blogs and more.
In general, photo editing can be quite time consuming, and many people might not have access to Photoshop or the skills to use it.
Former freelancer and designer for Online Writers Rating Miranda Long, notes,"Photo editing can be a great start for any creative person who wishes to improve their Photoshop skills and advance to other sectors such as graphic design in the near future".
7. Translations
If you are bilingual, freelancing jobs as a translator can be a great option. Even if you haven't finished school for it, there are online qualifications you can receive to help build your credibility.
At the beginning of your career, you might be able to start without qualifications. However, a degree and certifications will help you get more work, particularly if you want to work in a specific niche.
8. Editing and proofreading
If you have a background in journalism or a similar field and don't want to write, you can always work as an editor or proofreader for a blogger, magazine or company that needs such services. In general, most businesses that own their own blog, social media accounts or even email lists are in need of freelancers to proof their work, therefore this offers a lot of prospect and work opportunities.
9. Video editing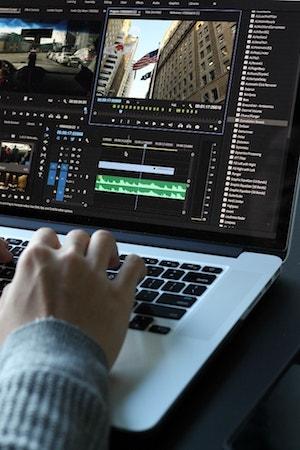 With YouTube growing more and more every day, there are plenty of video creators who need someone to do editing for them.
As a video editor, you will have to devote some time in order to learn how to work with an editing program if you don't have a background in video editing, as well as invest some money into getting one.
You can edit videos for platforms other than YouTube, like Facebook. Considering 100 million hours of video are watched on Facebook per day, there will always be work for video editors.
Related: How to get started as a freelance videographer
Finding the right freelancing jobs
Whether you're looking to work completely independently as a freelancer or do contract work with a company, there are quite a few options for beginners which will help you not only gain experience, but also work on something you enjoy while earning an income.
As a freelancer, you will have to remember that in order to have a stable income you will have to work hard to improve your skills and to also find the right job with the right clients.
It might take awhile for you to find that perfect job, so make sure you have planned in advance and don't move too fast into your freelance career.
Editor's note: If you're going to break out as a freelancer, make sure you have the tools to stay organized. Microsoft Office 365 from GoDaddy will keep you on track with tools like Outlook so you can send professional emails and Microsoft Invoicing to ensure you get paid on time.