Nobody has to tell you that your website won't sell itself. For years you've explained to clients that the "build it and they will come" philosophy is bogus. Why then, when it comes to your own firm, do you still find yourself questioning how to promote your web design business?
Perhaps you've reached one too many dead ends and are feeling plain burnt out. Whatever the reason, it's never a bad time to freshen up your plan of attack. Return to your marketing plan with a vengeance toting the following five ideas.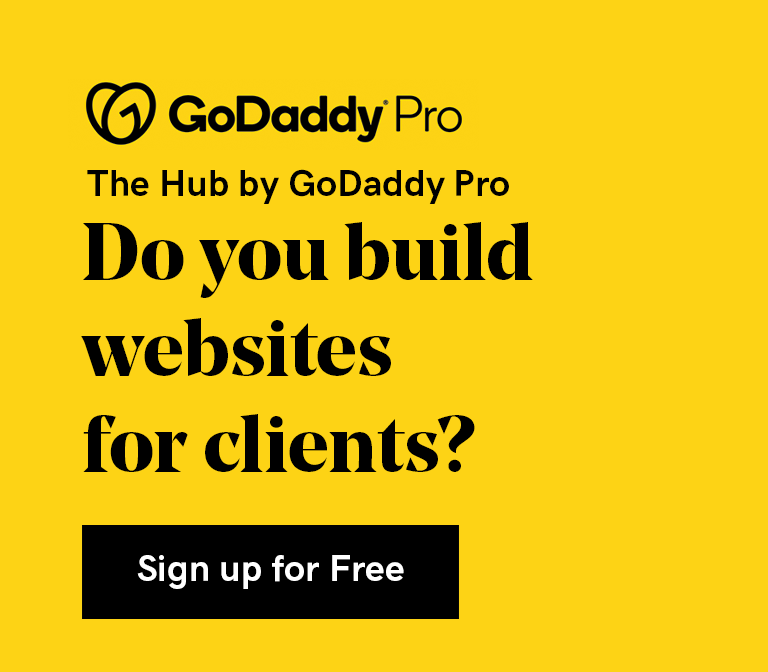 5 ways to promote your web design business
When it comes to promoting yourself, consistency and high-quality content are key. Here are five tips for reaching potential clients:
Give away your knowledge for free.

Get boots on the ground.

Be sociable.

Earn customer testimonials.

Create (better) content.
Let's discover how you can effectively promote your web design business while setting yourself apart from the competition.
1. Give away your knowledge for free
Think you're a web design guru? Prove it. In the age of "free," we all have to be willing to give away a little more to win over new customers.
A great way to reach new eyeballs is to seek out blogs your audience frequents.
There's no doubt that those websites are on the lookout for new, unique content. All it takes is a brief email:
Subject Line:
Guest blogger for [Recipient's Website]
Body:
Dear [Recipient],
I really enjoyed your latest article exploring the ins and outs of local SEO. My web design firm has been serving local businesses for 10+ years and I know my clients will find your tips useful.
Have you considered featuring guest posts on your blog? I'd be thrilled to contribute a post about website design. Perhaps something like "7 Unexpected Ways Your Web Design Is Costing You" would interest your readers.
Looking forward to hearing from you!
Thanks,
[You]
Position
Company
Website Link
Phone Number
It certainly couldn't hurt to reach out, and you might be surprised by how heartily they accept your offer. If you produce high-quality content, it's really a win-win for both of you.
2. Get boots on the ground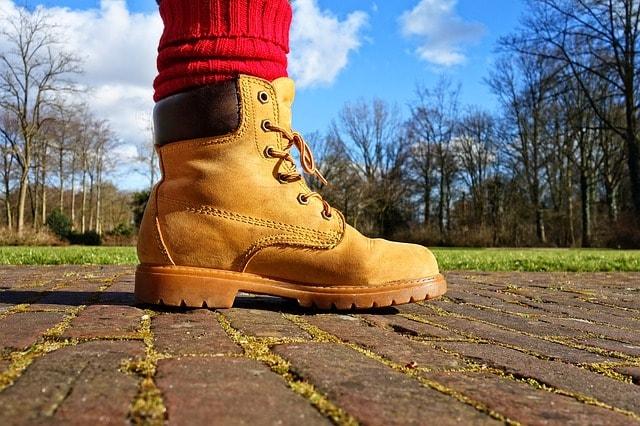 The answer to how to promote your web design business might be closer than you think. While a larger audience can indeed be reached online, this doesn't mean you should ditch local, in-person efforts. Growing your presence in the community can lead to big wins.
Attend networking events
Whether it be with potential customers or other web designers, meeting face-to-face can help you form invaluable connections. Become the first web design business locals recommend by joining a professional network (think your local Business Network International chapter) and staying active in it.
Create your own groups
Websites like Meetup make it a cinch to gather like-minded people. A group like "DIY web design for beginners" might attract new leads, while "web design for developers" will appeal to your peers.
Host a workshop
Teaching a class in your spare time can prove a nice little side hustle. Don't get too caught up in the class fee, though; that profit should really only be the tip of the iceberg. Like attending networking events and forming groups, teaching a class connects you with the community and in turn, promotes your web design business.
3. Be sociable
You've heard it before, but I'll say it again: get active on social media. Think of it as an opportunity to show off your brand's unique personality.
Drawing a blank on how to promote your web design business via social media? Take it one step at a time.
Step 1: Review your current profile
You've taken great measures to turn your website into a high performing sales funnel. How about when it comes to your social media pages? Perhaps it's not your posts that are halting conversion, but what users find when they land on your profile.
Let's take Facebook, for example. Earn that "very responsive to messages badge," add milestones, and upload a profile and cover photo consistent with your brand design. A Facebook Business Page has a boatload of features available to help users better understand your firm and encourage conversion. Take advantage of them!
Step 2: Create an editorial calendar
Flying by the seat of your pants might work for your personal page, but it can result in an unprofessional impression when it comes to your business. Using an editorial calendar will keep posts organized and promote a more consistent brand message.
Get inspired by Sofia Boyer of Magnolia Creative Studio. She's a branding and web designer whose Instagram is a work of art in itself. Each post complements her business's elegant and feminine brand design while appealing to her target audience.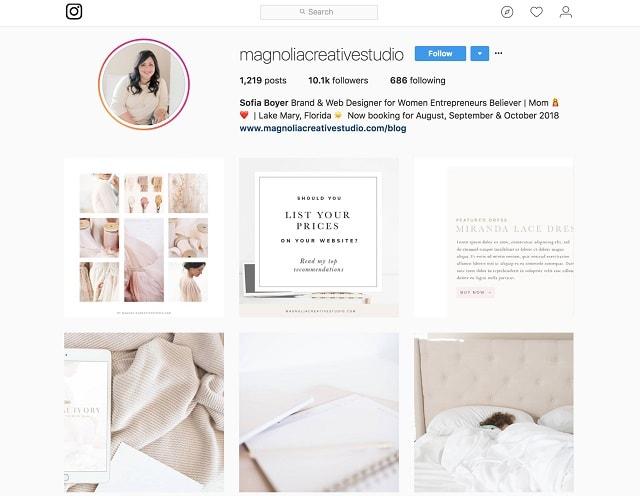 Step 3: Experiment with ads
Social media platforms are starting to follow Google's lead. With ever-changing algorithms, it's becoming increasingly difficult to rank without strategic content and paid ads.
Advertising on social media is a good way to get to know your target market.
As you zero in on their demographics, you can more accurately focus your marketing dollars on who's more likely to convert. Before you start dumping your marketing budget into social ads though, it's important to keep your expectations in check.
You're probably going to lose money in the beginning.
And that's OK! Advertising on social media will help you become better acquainted with your target market. As you learn more about their demographics, you can cut back on the number of users exposed to your ad and focus your marketing dollars on those more likely to convert.
4. Earn customer testimonials
Whether it be a pack of lightbulbs on Amazon or your web design business, consumers want to see reviews about a product or service before buying. Reach out to your existing client base and ask them to leave a review on one (or more) of the following:
Your website
Facebook
Google
Yelp
Better Business Bureau
Customer testimonials from happy clients build trust and all-important social proof for your business. They carry more weight than you telling people how great your services are, so put in the time to acquire and publish them.
5. Create (better) content
So what if your mom is the only one commenting on your website's blog? You don't have to have thousands of subscribers, or really any, for content creation to be worth it. Great content, like blog posts, gives you something valuable to share on social media. If your editorial calendar is made up entirely of links to other websites, you're missing a big opportunity.
Content is also your business's ticket to a higher rank in the almighty Search Engine Results Pages (SERPs). Sure, there's stuff already out there on practically every topic under the sun, but that's no reason to throw in the towel. Your competitors certainly haven't.
Dig deeper for unique material and write it better.
It doesn't stop here
Don't be afraid to switch up your strategy and try new things to promote your web design business. And if you're still questioning how to begin, start with change.