Artificial intelligence or AI has many benefits for your retail business. It can help your entire operation be more productive, improve your customer experience and increase your store's profitability. With those benefits, it's not hard to see why AI in retail is expanding.
Given the increase in online shopping, AI can also help your retail store learn more about your customer's preferences and shopping habits. Thanks to these insights, you can align your products with the customer's expectations.
In this article, we're going to cover how AI is used in retail, the future of AI in physical retail stores, and how you can make AI work for your store.
Disclaimer: We're excited to recommend the use of generative AI technology to small businesses, but please be aware that this technology is still in its early stages of development and its effectiveness may vary depending on the circumstances. Additionally, avoid entering sensitive information as AI systems will save your input, and make sure to review the output for accuracy, as it may be incorrect, inaccurate, or out of date.
How AI is used in retail
When someone mentions AI, your mind probably thinks of some evil robot set on destroying humanity. But the truth is, AI has many practical, real-world applications in retail and other industries.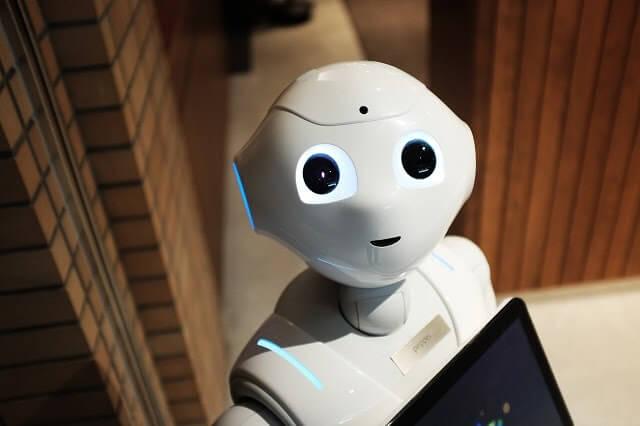 And it's not an evil robot or a cyborg. The term AI encompasses many different technologies.
For example, machine learning and predictive analytics are just a couple of these technologies that can collect and analyze tons of data and then use it to make predictions and forecasts that can help you make data-driven decisions.
In addition, these technologies can use the AI's analytical abilities to process data gathered from internet-connected devices and other sources. They can also use behavioral analytics and customer intelligence to improve the entire customer experience.
When you keep the above in mind, it's easy to see why AI is being adopted relatively quickly in the retail industry. Statistics show that between 2016 and 2018, there was a 600% increase in AI adoption. However, the adoption rate in different retail sectors is still on the low end. Only 26% of home improvement stores and 33% of apparel and footwear stores have adopted the AI.
Another statistic shows that 73% of customers favor AI and want brands to use their information to provide them with a more personalized shopping experience.
Now that we've covered what AI is let's look at some examples of how AI is used in retail.
Inventory management
Thanks to the ability to gather data from various sources, AI can help you plan your chain supply and create pricing and promotional strategies that ensure you don't run out of stock at a critical moment. AI can also help keep your stock levels consistent based on your customer's needs and preferences.
Marketing campaigns and sales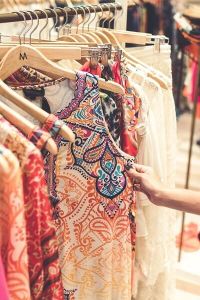 CRM and marketing systems that rely on AI can learn more about your customer's preferences and behaviors and help you develop a more accurate customer profile. Retailers use this information to deliver more personalized campaigns filled with appropriate rewards or product recommendations.
A good example of this is the Conversica sales assistant. This software's primary function is to automate and improve the sales process by initiating conversations with online leads, resulting in an average 35% engagement rate. It can also help you re-engage existing leads leading to an increase in sales.
Editor's note: Looking to reach more customers where it matters through email marketing, social media and more? GoDaddy's Digital Marketing Suite helps keep your customers engaged and your business running smoothly.
Interactive chatbots
Interactive chatbots can help you improve your customer service and overall engagement. A chatbot will typically use AI and machine learning to engage customers in a conversation, answer common questions and direct them toward appropriate resources on your website — whether that's the correct product or the relevant page or department.
Sephora makes full use of the chatbots on the messaging app Kik. It uses the chatbot to allow its customers to choose products based on recommendations, filters and style preferences.
Personalization and customer insights
With cognitive computing and AI, you can use insights into your customers' real-world behavior to make it easy for them to discover new or related products based on their previous search activity.
These insights paired with biometric recognition can also help you adapt in-product store displays and pricing tailored to your customers' profiles.
This results in a custom shopping experience, leading to an increase in sales, both online and offline.
According to one study, "brands that create personalized experiences by integrating advanced digital technologies and proprietary data for customers are seeing revenue increase by 6% to 10% — two to three times faster than those who don't."
Operational optimization
We've already mentioned that AI can help you improve your inventory management. But that's not the only place you can make use of AI. You can use it to improve your manufacturing process as well as your logistics and delivery.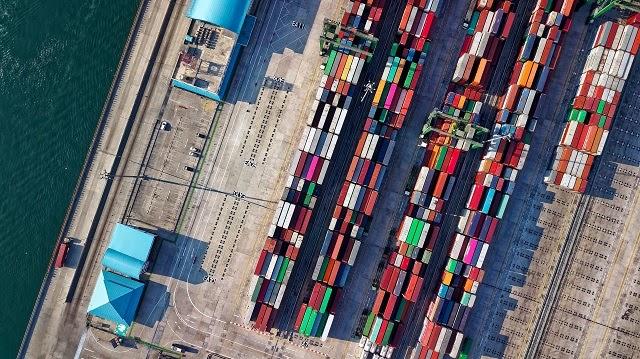 The power of AI can help you create the most efficient supply and fulfillment chain, reduce the need to have in-person walkthroughs of the production area, and even speed up production by employing AI robots for some of the production tasks.
For example, NVIDIA and Fanuc partnered to use artificial intelligence to increase robotics productivity. Another example of using AI in operational optimization comes from General Electric's Brilliant Manufacturing software that includes powerful analytics and operational intelligence tools.
These tools help manufacturers like Toray Plastics gather detailed data about the entire production process, allowing them to reduce defective products and eliminate productivity-wasting tasks.
Future of AI in physical retail stores
The examples above are just a small fraction of how you can use AI in your retail store. In the future, AI could also be used in the following ways:
Stores could be completely cashier-free, moving beyond self-checkout with technologies that automatically deduct money from your checking account when you walk out of the store with an item.
Smart shelf tags instead of paper price tags could provide information such as nutritional value and promotions.
Robot store assistants could help you find the right product in different languages or suggest products that would complement the items you already have in your shopping cart.
Items could be delivered via robotic units or drones instead of usual delivery vehicles operated by humans. While these units are not yet available commercially, they are already being used by Dominos. And the world's ecommerce giant, Amazon, is working on mass-producing delivery drones that would deliver your items within 30 minutes anywhere in the world.
Voice and visual search might assist with in-store shopping. All you have to do is upload a picture or tell Alexa to find the item you want to buy. Brands like Walmart and Costco are already making use of these technologies to increase sales in their stores.
Virtual fitting rooms that scan your entire body or your apartment could help you pick the perfect outfit or the best couch for your living room without having to physically visit the store to make the purchase.
Further streamlining back-office operations, AI robots could be used for quality checks and restocking inventory so store managers can spend time on other more productive tasks.
Why AI matters for your physical store
By now, you've seen examples of how retail AI is used and how it could reshape the entire retail scene even more in the future. Here are a few good reasons to get on board the AI train and why you should adopt it for your physical store.
Create a more exciting shopping experience for your customers by using predictive analytics and using the data to innovate and drive continued interest.
Synchronize your offline data with your online data by integrating information from your digital and physical shopping channels for a more holistic look into your entire store operation.
Create a more flexible supply chain that adapts to the customer's needs and changing behaviors.
Turn one-time buyers into repeat customers thanks to personalized shopping experiences and marketing campaigns tailored to their unique needs.
How to make AI work for your retail store

From manufacturing and delivery to customer experiences, AI can improve every facet of your retail store. Here's how you can make it work for you.
Understand your audience and their hesitations
The first thing you should do if you want to adopt retail AI is to understand your audience and how they might react to the use of AI. In a world where privacy concerns are common, not everyone will be on board with using retail AI to deliver more personalized experiences.
Furthermore, the way you use AI will be different from one market to the next. For example, countries like the USA, UK and Germany have a higher usage of voice assistants than countries like Spain, Italy, China and a few others.
Be transparent and establish trust
If you want to use AI to personalize marketing campaigns and create tailored shopping experiences, you'll need to collect data about your customers. Needless to say, this can raise privacy concerns as customers will wonder exactly how much data you're collecting and, more importantly, what you're doing with it.
Therefore, you need to be transparent about the data you're gathering, how you're storing it, and how you're using it. This is where a dedicated privacy policy comes in.
By being transparent about what you're gathering and what you plan on doing with it and giving customers a way to opt-out, you'll establish trust much faster.
Another thing to consider is that retail AI is still relatively new. As much as you may want to experiment with what's possible, take it slow. Slow and steady implementation of new technology is more likely to garner a positive response from your customers than an abrupt change forcing them to change their habits overnight.
Continue learning and improving
Thanks to AI, you'll have a wealth of data at your fingertips. Aside from using it to personalize their shopping experience, be sure to continue improving, evolving and adding value to your customer's lives.
Ask for feedback so you can learn what's working, adapt accordingly, and build a more valuable data set about your customers. This, in turn, will allow you to create even more personalized experiences and adjust your marketing strategies.
Beyond that, ensure your AI is sophisticated enough to evolve as customer demands and expectations change. Leverage machine learning instead of waiting for your IT department to optimize your AI tools so you can stay competitive and have a leg up in the market.
Conclusion
AI has the potential to revolutionize the entire retail industry. It can replace intuition with real-life data you can use to make informed business decisions. Throughout this article, we've explained how AI is used in retail today and why it matters for your store.
We've also covered:
The need to understand your audience better so you can introduce AI into your operations in a way that will delight your customers.
Why being open and transparent about what data is gathered and how it's used is key to establish trust with your customers.
How continually learning and improving your AI tools can help you stay competitive and poised for success in your particular retail niche.
The only thing left to do now is to make use of the tips shared here and implement them in your store so you can improve customer experience and increase your revenue.
However, keep in mind that implementing AI in your store will require capital and take time to see the results. In the long run, be sure to set long-term objectives that will help you not only to define success but also set benchmarks you can use to measure it.