Influencers and their impact on consumers have been around for centuries. One of the first influencer collaborations was between a tea set maker, Wedgwood, and the king and queen of Great Britain and Ireland in the 1760s. Wedgwood dubbed the tea set he made for the queen a "royal" tea set, "fit for a king or queen."
Today, the influencer status is no longer reserved solely for the royal family. We have social media and the online world to thank for the many faces of influence! In 2022, the influencer marketing industry is predicted to be worth about $16.4 billion. From large brands to small businesses, most brand marketers include influencer marketing in their strategy.
The fragile state of trust between brands and consumers leaves space for influencers to be the bridge that rebuilds the trust. Consumers are more likely to seek product recommendations from influencers, family and friends than they are from brands.
Amazon influencer marketing involves partnerships with leaders in your specific industry to share your brand's products and messaging with your target audience. This enables you to reach more potential customers in an organic, meaningful way.
Identify the type of influencer that fits your brand
The influencers you partner with depend on your budget, product niche and target audience. Like most influencers, Amazon influencers establish themselves as an authority in a certain niche on a social platform. This enables them to influence purchasing decisions — specifically by promoting a product for sale on Amazon.
Take a look at influencer posts, read their interactions with commenters, scroll through their followers and ask the following questions:
How does this person communicate online? Is it on-brand for you?

How often does this person promote products?

How engaged is this person with their followers?

Are this person's followers genuine?
When searching for influencers, keep in mind that the number of followers a potential Amazon influencer has isn't the most important factor. Instead, focus on authentic influencers who've already amassed an audience that would be interested in your product, regardless of their audience size.
Moreover, search for influencers who can accurately and authentically represent your brand while also driving Amazon sales. Research shows that authentic influencers are important to consumers, especially in the fashion and lifestyle industries. The content they produce should already feature products and an aesthetic that is similar to yours. In this way, the posts in which they feature your products will come across to the audience as genuine recommendations rather than just another sponsored post.
Research potential influencers and partnership ideas ahead of time
Once you've identified potential influencers, investigate them further before reaching out to them. The best place to begin your search is close to home by identifying those people who are already aware of your brand or are already using your products.
1. Check out your followers and fans
Take a look at who's already following your brand on social media. Who's liking and commenting on your posts and engaging with you? People who already follow you and engage with your content are great candidates to represent your brand and promote your products because they're already fans.
Once you've identified possibilities, take a look at their social accounts and see who has influencer potential.
2. Look at your top buyers
If you sell products on multiple ecommerce channels, you can easily identify your top buyers. Keep track of which customers are repeat buyers and which have placed the most orders or spent the most money in your store. Segment these buyers into lists of potential partnership opportunities.
[Source]
Since repeat customers clearly like your products and are satisfied with their quality, they may be great ambassadors for your brand. Investigate how they engage on social media to see if they'd be a good fit for what you have in mind.
While you can also see who's ordered your products via your Seller Central account on Amazon, it's not advisable to contact customers about their purchases. While a person who makes a purchase from your GoDaddy storefront is your customer, on Amazon, a person who buys your product is Amazon's customer — you're simply a third-party seller.
3. Search hashtags
Search hashtags to find users with similar interests and interact with them. With a branded hashtag, you can initiate conversations and build a community online. Keep tabs on who's using your hashtag and regularly engage with them to determine their viability as a partner.
You can also look through popular hashtags that are relevant to your brand. For example, if you sell fitness products, check out posts tagged with #fitness, #fitnessmotivation, #health and #healthylifestyle. The content you see under this search criteria may lead you to social media influencers that are relevant to your brand.
4. Use an influencer tool
There are numerous tools you can use to identify influencers and content creators, many of which are free or offer free trials. Compare options to determine which provides you with more detailed influencer information and customization options. Some of these tools are more geared toward competitive analysis and SEO, while others, like BuzzSumo, specialize in Twitter influencers.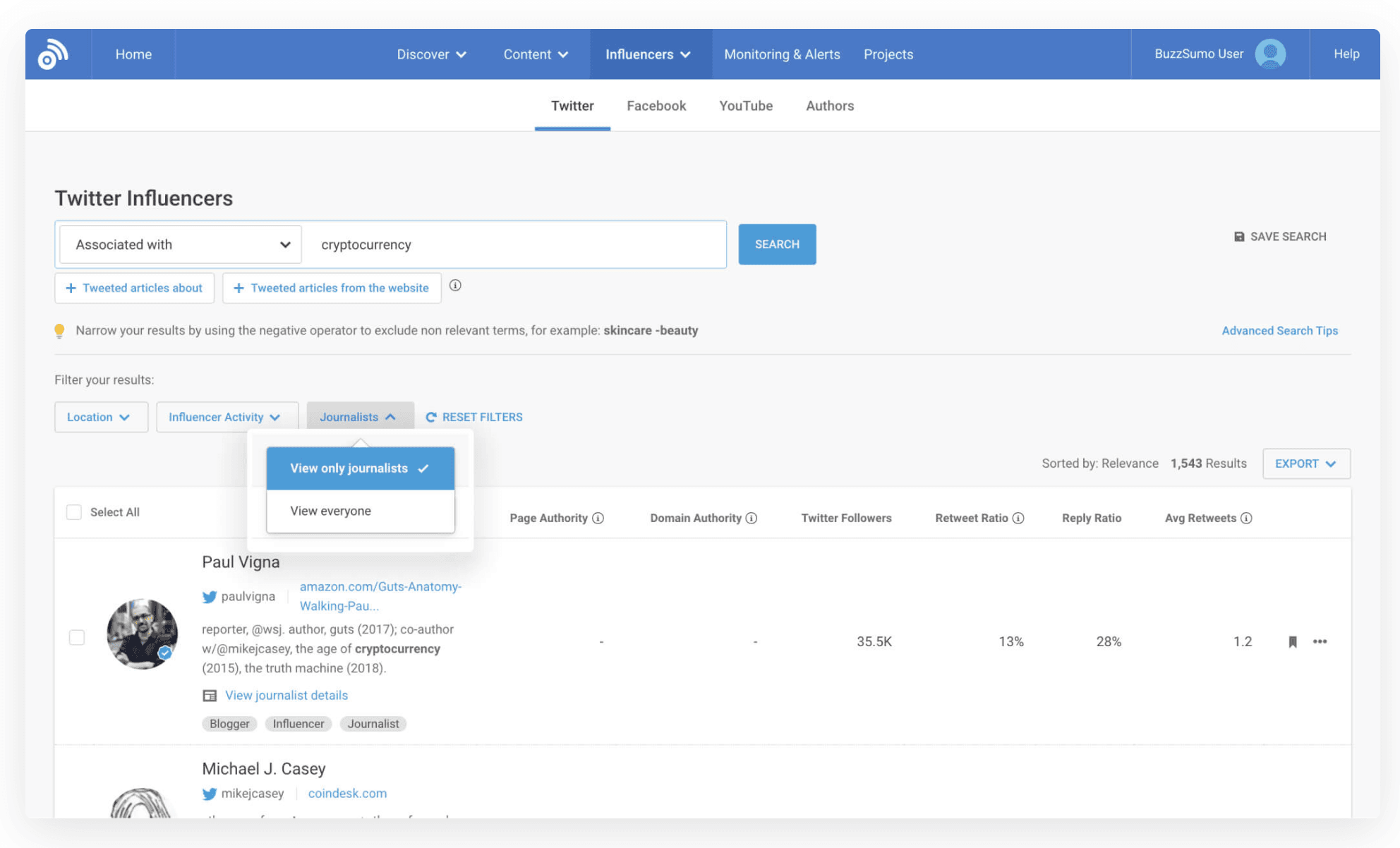 [Source]
5. Prepare for Amazon's influencer or affiliate marketing program
In addition to working outside of Amazon, prepare an easy guide of Amazon's influencer resources for your partners or potential partners. The Amazon Associates and Amazon Influencer programs are easy to set up. The influencer just needs to sign up and set up either an affiliate link or an Amazon Influencer storefront. They earn a portion of the profits, and you sell more of your Amazon products.
Related: How to sell on Amazon
Focus on partnerships with micro-influencers
Micro-influencers are a great fit for ecommerce brands looking to expand their reach and increase their Amazon sales. As mentioned above, often the best influencers for Amazon sellers to work with are actually those who don't have millions of followers.
Micro-influencers are influencers with under 100,000 followers. Some people consider micro-influencers to have between 5,000 and 20,000 followers, while others consider those nano-influencers. It may take trials and experimentation to determine which influencer follower count works best for your brand.
For example, the Instagram account @theopinionatedreader is a micro-influencer who has about 14,000 followers. Her niche is to make book recommendations to her audience. She also focuses her social media posts on transparency around mental and physical health. She regularly shares updates about her own medical health journey with her audience.
[Source]
The benefits of working with micro-influencers include:
Establish a genuine relationship with potential Amazon influencers
Once you've identified an influencer you'd like to work with, don't immediately reach out to them with endorsement contracts or free products. Instead, take things slow and establish a genuine relationship like you would with a friend or colleague. This will not only help them feel more comfortable with both you and your brand, but it'll also help you ensure that this influencer is the right fit.
Steps to establishing a social relationship with potential influencer partners:
Follow their social account(s)

. Follow their social accounts with a verified account. Whether that is your personal social accounts or your brand's accounts, the more legitimate you seem as a brand and a person behind the brand, the better.

Engage with their content

. Make an influencer aware of your presence and show appreciation for their content by liking their posts and leaving comments.

Start a conversation with them

. Your conversation may have begun already in the comments on the influencer's posts, but take the next step and send them a message. Often, influencers will list their email in their bio or link to their website. While you can certainly start a conversation with an influencer via direct message, it's a good idea to send an email as well, as influencers are often overwhelmed by the number of in-app messages they receive. During these conversations, offer to send free products to the influencer for them to try out.

Send a formal partnership ask.

Now that you have a conversation going, broach the subject of working together. Explain what you have in mind — whether it's a giveaway or sponsored post, for example. If the influencer has made similar posts or participated in similar campaigns that you'd like to emulate, point these out to give them a better idea of what you envision. In this stage, you can also ask if they have experience with the Amazon Influencer program, and if not, you can take the time to explain how it works.
Define expectations with new partners
No matter how short your influencer campaign will be or how small your budget is, it's important to clearly define your working relationship in an influencer marketing agreement. Here are a few things to keep in mind when drawing up your agreement:
Number of posts

.

Outline exactly how many posts an influencer will be making on your behalf as well as the posts' duration and where they should link.

Payment

. Detail not only how much an influencer is paid but also how they'll be paid and on what date or schedule.

Prior review of content

. If you want to approve imagery or copy before an influencer makes a post, be sure this is clear and set due dates.

Future use of influencer-created content

. The photos, videos and other content an influencer creates on your brand's behalf can be repurposed content across your marketing channels. If you plan to reuse influencer content in the future, make sure this is explained in the influencer agreement.
Experiment with various Amazon influencer campaigns
Once the influencer has agreed to work with you and signed the agreement, it's time to decide on a customized influencer marketing campaign. From an Instagram takeover to an Amazon affiliate program, there are various influencer campaigns and strategies you can experiment with in order to promote your products and increase your Amazon sales.
Here are some of the most popular options that'll help you drive traffic to your Amazon products.
Create sponsored posts
In this social campaign strategy, the influencer or content creator creates a sponsored post: a post that features your product. These posts, which are also known as promoted posts, are often identified by hashtags such as #ad or #sponsored. On Instagram, you also have the option to input the "Paid partnership" label where the geographic location of the image would normally appear. For these types of posts, it's important to let an influencer create content in their own voice so it's a natural fit for their social feed.
[Source]
Run an influencer giveaway
Teaming up with one or more influencers to host a giveaway of your product is a great way to promote it. Engagement rates are typically high for giveaway posts as followers and subscribers look forward to the possibility of winning a free product. They can also help you grow your brand's own social following if giveaway contest rules require that participants follow your account to be eligible for a chance to win.
[Source]
Offer custom discount codes
Providing an influencer with a custom discount, promo code or coupon code to share with followers is an effective way to increase sales. Since the code is customized for a particular influencer, it creates a unique opportunity for customers to save money and feel special. It's also easy to measure the impact of your campaign, especially when working with several different influencers. Here's how to set up an Amazon promo code.
Select brand ambassadors
Select a group of people as your brand ambassadors to function as influencers and brand advocates. Brand ambassadors are people who love your brand and its products and are willing to promote it to help raise brand awareness and drive sales. While they're sometimes paid, many brand ambassadors participate in such programs for free merchandise or early access to new products. If they don't automatically do so, ask your Brand ambassadors to highlight their position as an ambassador in their social media profiles.
Produce livestreams on social and Amazon
Have your influencer host a livestream on their social feeds or on Amazon Live that rates and reviews your Amazon products. Livestream shopping is increasing in popularity as retailers experience "significantly reduced return rates" from livestream shoppers compared with general ecommerce shopping.
To increase the likelihood of sales, add urgency to these livestreams by offering a limited-time discount only available to those who tune in live. You can also save livestreams and upload them as YouTube videos for people who were not able to watch the livestream in real time. The video will still provide the audience with valuable information they can use to make a purchasing decision.
Give the influencer creative freedom
While you may ask to review a post before it's published, encourage influencers to get creative and promote your products in a way that's on-brand for them. This is especially crucial if you or your team does not have any experience with content creation. Part of the influencer's success is due to their expertise in crafting the most engaging tweets or producing a viral TikTok.
Moreover, influencers develop a unique voice and curate a distinct look for their social media accounts, blogs or other personal websites. Whether they're bloggers or hosts of a podcast or YouTube channel, their distinct voice is what enables them to effectively attract and engage with their audience. Although you can provide some parameters, give them free rein to produce engaging and authentic content to increase the likelihood of Amazon sales.
Track influencer impact with analytics
Executing a successful influencer campaign requires more than simply getting an influencer to promote your brand or product. You also have to set goals for the campaign and measure them to track how the influencer has impacted your Amazon business.
While your overall goal is to increase Amazon sales, you should also track relevant metrics that play a role in your business growth. Consider tracking all of the following: conversions, post engagement, post reach, clicks, brand awareness and follower count. Use tools like WooCommerce or Amazon Seller Central's analytics to track your sales. For social media metrics, you'll have to rely on specific social analytics, such as Instagram Insights.
Evaluate your performance and next steps
At the conclusion of each campaign, take a look at what worked and what didn't. You can use your data to guide the development of your next Amazon influencer campaign and to determine how you will save or make money.
During your performance analysis, ask yourself: Should you try a new marketing strategy? Can you find a more budget-friendly influencer tool? Would hiring an influencer marketing manager save you money as you grow? Do you need to re-evaluate your influencer partnership?
The key is to maintain a mutually beneficial relationship with your influencers. The reason you've formed a partnership is that it will improve both your reputations and business objectives. If you sense that a partnership is not going in the right direction, either make a change or go your separate ways. In the long run, this will save you time and money while you find Amazon influencers who help you sell more on Amazon.