Online forms are one of the most important aspects of user experience on a website. The best form builders make it possible to better understand your audience and gather sufficient knowledge about their problems, goals and interests.
The best form builders also let you leverage an effective way for your website visitors to get in touch with you. Well-designed forms increase trust and allow you to build an ongoing relationship with your users.
Therefore, finding the best form builders is crucial for every business that wants to establish a successful online presence.
WordPress has numerous form builder plugins to choose from. In this article, we have collected the best form builders for WordPress that can take your customer service to the next level.
Develop a form strategy
Before you start building your forms, it can be a good idea to develop a form strategy. The best form builders make it easier to reach four main business goals:
Contact forms provide customer support.
Registration/login forms help to bring in new users and retain them.
Checkout forms sell products on your website.
Subscription forms collect email addresses of users to whom you can send newsletters/marketing campaigns on a regular basis.
You gather user input and contact information with all kinds of forms but for different purposes. For instance, it's usually considered spammy to send newsletters to people who asked for help on the Contact page. However, you can add an opt-in checkbox above the Send button to help addresses ethical concerns.
Before you choose the best form builder for your business, think over what kind of forms you need and where you want to place them.
You can display forms as standalone pages on your website, add them as sidebar widgets or top banners, or show them to users as pop-ups.
At very least, answer the following questions:
How many forms do you need?
What purpose does each have?
Where and how do you want to display them?
Do they raise any ethical or legal issues? If yes how do you solve them?
If you have a rough form strategy you will more easily find the form builder that suits your needs. Don't forget that, apart from social media and phone calls, forms constitute the most important communication channel through which your prospects reach out to your business.
Best form builders for WordPress
All set? Great! Now let's look at some of the best form builders for WordPress websites.

Ninja Forms is one of the best form builders because of its easy-to-use, drag-and-drop interface. Users without any coding knowledge can safely use the builder and make interactive forms easily. You can include all kinds of input fields in your form, such as email addresses, phone numbers, dates with a datepicker, and many others.
You view each form submission from a handy dashboard in your WordPress admin and manage them separately.
Ninja Forms is also quite developer-friendly, as it has extensive action hooks and filters. If you have in-house developers, they can easily add custom functionalities to your forms. Ninja Forms provide you with a huge library of extensions, as well, that make integration possible with several popular tools such as Campaign Monitor, PayPal Express, Stripe and Salesforce.
User rating: 4.4 out of 5 stars
Documentation: NinjaForms Documentation page

WPForms has been created and maintained by the team behind WPBeginner, a popular online publication about WordPress. The plugin has a visual drag-and-drop form builder with which you can quickly set up the forms you need.
Like many of the best form builders, WPForms also provide you with pre-built form templates. For instance, with their newsletter signup and donation form templates, you don't necessarily have to start building your forms from scratch. The plugin allows you to customize the templates as well.
WPForms has a smart conditional logic feature that makes it possible to show or hide form fields based on user behavior. It also lets you manage all your leads collected with the forms from a single screen. WPForms integrates with different payment services such as PayPal and Stripe, and a number of email marketing services. You can also create custom captchas that help you protect your site from spam.
User rating: 4.9 out of 5 stars
Documentation: WPForms Documentation & Tutorials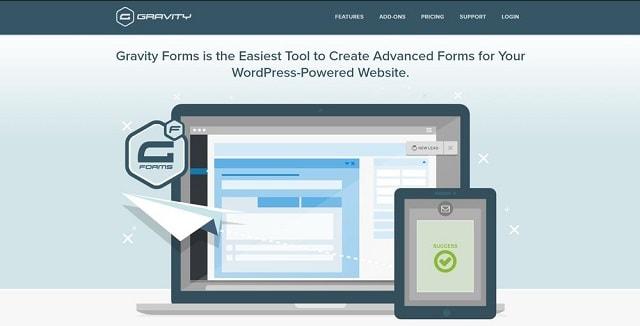 Gravity Forms is one of the best form builders with its intuitive interface offering 30-plus form fields to capture different user data such as date, time, phone number, address, website, email and file upload — just to name a few. You can apply conditional logic to any field, therefore you can easily control which user group sees which field. You can also limit the number of entries a form can receive (this can be great for online competition or job application forms) and even schedule forms in order display them only at certain times, for instance on weekends.
Gravity Forms can be a good solution if you want to host user-generated content, as it lets your users create WordPress posts from the front-end.
Gravity Forms has an incredibly huge ecosystem. It has many free add-on plugins on WordPress.org created by third-party developers and you can also find tons of premium add-ons such as GravityView, Gravity Flow, Gravity PDF, and many official and non-official ones. With the add-ons, you can easily build less widely used form types such as surveys, quizzes and polls. Moreover, Gravity Forms integrates with a plethora of tools such as Stripe, Paypal, Zapier, Trello, Slack, Dropbox, Freshbooks and more.
User rating: n/a
Documentation: Gravity Forms Docs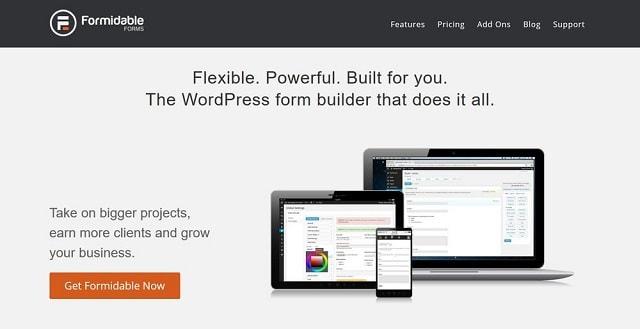 Formidable Forms is a great form builder with a simple visual editor and a drag-and-drop interface. You can use it to create all kinds of forms, such as contact forms, polls, surveys and lead generation forms.
Formidable Forms also allows you to send unlimited email notifications and autoresponders. If you have some HTML and CSS knowledge, Formidable Forms can be an ideal solution for you, as you can easily access and modify the complete HTML and CSS code. The plugin has downloadable form templates, as well, that make form creation a breeze.
User rating: 4.4 out of 5 stars
Documentation: Formidable Forms Docs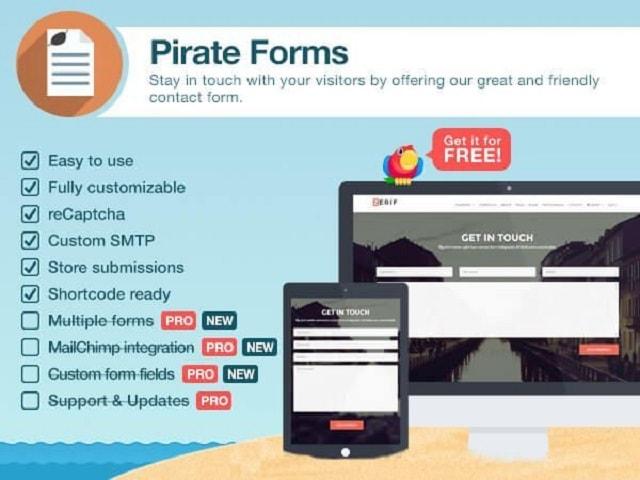 Pirate Forms is an easy-to-use contact form builder with a sleek user interface that allows you to quickly add contact forms on your website. Although it doesn't have so many customization options as Ninja Forms or Gravity Forms, it's one of the best form builders if you don't want to get lost among tons of options and just need a straightforward contact form solution.
You can fully customize your forms, and set up your SMTP details manually to prevent losing any emails. To avoid spam submissions, Pirate Forms allows you to easily add reCaptcha to your site.
User rating: 4.6 out of 5 stars
Documentation: Pirate Forms Documentation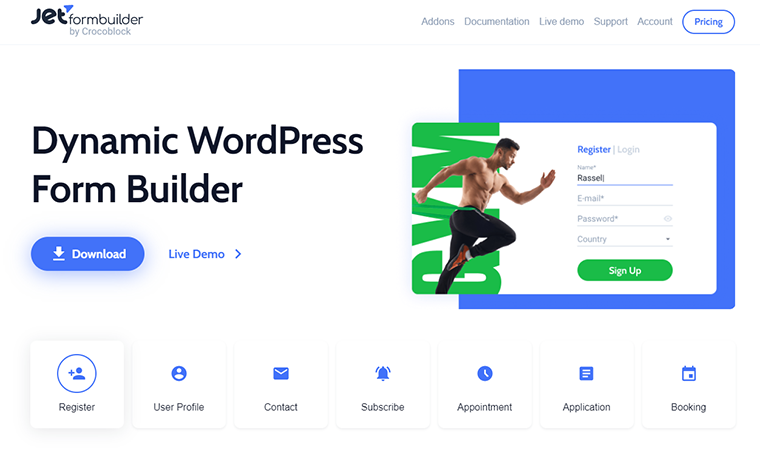 JetFormBuilder is the free WordPress form builder for website developers. You can create an advanced WordPress form with 20+ form fields types, form patterns, inline field editing. The free version of the plugin also includes conditional login, dynamic values, hidden fields, and calculated content. Furthermore, you can create multi-step forms with a page break, step indicator, and AJAX option.
JetFormBuilder becomes a handy tool for the developer to help them to create front-end submission forms, application forms, appointment & booking, registration forms, etc. Moreover, PayPal payment integration, ActiveCampaign, MailChimp, and GetResponse integrations are also available in the free JetFormBuilder plugin.
In case you want to add more functionality, this form plugin provides you with Pro Addons, such as hierarchical select, select autocomplete, save form progress, limit form responses, forms scheduling, email marketing (MailPoet, ConverKit, MailerLite), payments (Stripe, WooCommece), and HubSpot integrations.
User rating: 5 out of 5 stars
Documentation: JetFormBuilder Documentation page
Conclusion
Choosing the best form builders is a crucial task in order to run a high-converting website and not to miss out on any leads. GoDaddy's Managed WordPress hosting service provides you with a similar drag-and-drop page editor as form builder plugins, so you can successfully use them together to create an easy-to-use and feature-rich admin interface.