As I write this, I'm in Los Angeles, hundreds of miles away from my home and office. Next week, I'll be in Las Vegas. Sounds disruptive, right? Not at all. These days, my phone and laptop are the only tools I need to stay connected and productive. This is typical of many entrepreneurs, side-hustlers, domain investors, web professionals and even hobbyists with a side passion.
We entrepreneurs are constantly on the go and need the right tools to keep up with our ever-changing needs.
This is no different in the domain investing world. Regardless of where you are, the GoDaddy Investor app gives you the ability to stay up-to-date on the latest domain auctions, see changes in real-time, and act quickly to snap up desirable domains.
Technology can make the difference between losing premium domains and walking away with the asset you need to take your business to the next level.
Let's take a look at what the GoDaddy Investor mobile app can do to add value to your domain investing.
Related: Tried-and-true tips for buying and selling domain names for profit
Get to know the GoDaddy Investor mobile app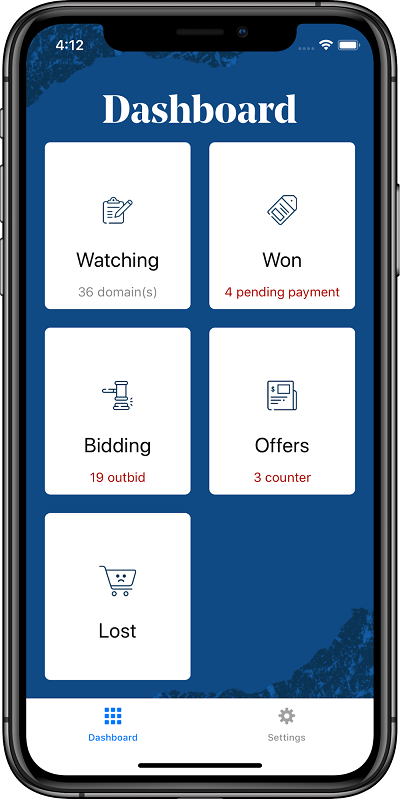 Whether you are an Apple fan or a die-hard Android user, the GoDaddy Investor mobile app lets you take advantage of our expiring domain auctions from anywhere in the world, with just your mobile device.
Now it's easy to stay on top of your domain auctions on the go.
You can watch and bid directly from the app on your mobile device — and it's free.
GoDaddy Investor, the mobile app made for our domain investors, helps you win valuable pre-owned domain names anytime, anywhere.
With the touch of a button you can:
Monitor auctions in real-time.
Bid on domains and know immediately if you're the highest bidder or have been outbid.
See the auction history for each domain, including how many bidders there are and how much they've bid.
View auctions on your watch list.
Place proxy bids.
Use Auctions PIN or TouchID to re-authenticate.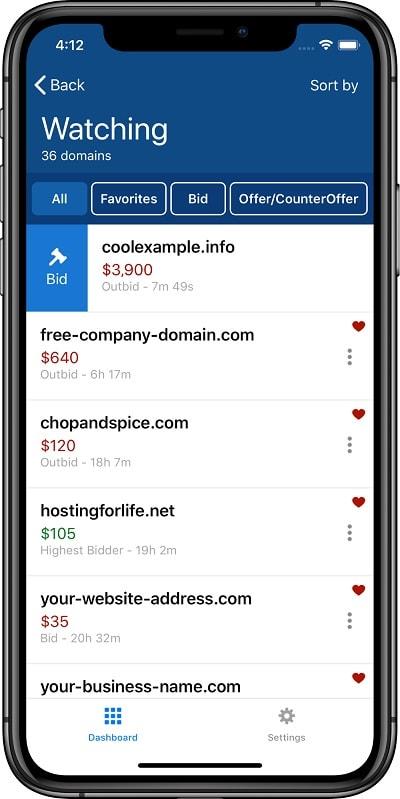 As seen on an iPhone here, GoDaddy Investor enables you to watch auctions no matter where you are. The app also allows you to quickly see the time remaining on auctions and sorts the lists automatically by those ending soonest.
GoDaddy Investor also makes it easy to auto-bid the next highest bid increment on anything you're outbid on.
You can also set a proxy bid, which will automatically bid the next highest increment for you any time you are outbid until it hits your limit. This is handy if you want to set a bid limit or do not want to watch the entire auction.
Easily toggle between names you are winning, names you need to increase your bids on, or see them all at once ordered by auction end time.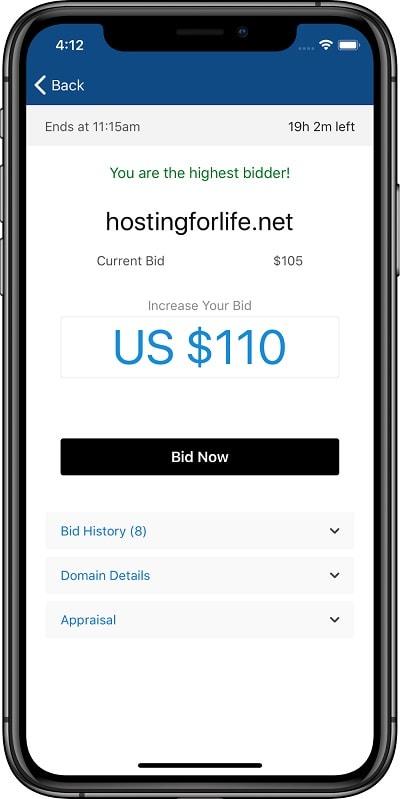 You can increase your bid on the fly with the touch of a button. The amount is pre-filled for the next bid increment automatically, which saves time and typing.
Watching and bidding on expiring domains just got a whole lot easier.
One of my favorite features? The ability to set favorites within the list of names you are bidding on or watching, and then filter by those results only. This allows power users to focus on key domain names and cut to the chase during live auctions when split-second decisions really count.
How to download the GoDaddy Investor app
Go to the App Store to download the new GoDaddy Investor app for iOS.
Go to Google Play to download the new GoDaddy Investor app for Android.
What's next for GoDaddy Investor?
We developed this app closely with some of our customers, who beat it up and let us know what they liked and what functionality they'd like to see added to the app. As a result, the first release of GoDaddy Investor is pretty amazing — and we've got plans to make it even more robust with improvements like push notifications and expanded ability to bid on and watch other auction types. Try it out and let us know what you think!
Want to profit from your domain portfolio? GoDaddy Domain Appraisals provides you with comparable domain name sales to help you determine the best Buy, List or Sale Price for your domains.