I remember my first web designer: me. And my breakthrough site wasn't pretty. At the risk of dating myself, it was back in the day when HTML was barely more than a concept and BASIC anchored my Programming 101 curriculum. Java was an exciting possibility. So was owning a Macintosh.
Luckily, I wasn't launching a website for my business.
Today, template-based website builders like GoDaddy's Website Builder make web design easy for even the most novice designer to get a site up and running in no time. Pick a template that speaks to you. Replace the sample text and images with your own compelling copy and pics. Drag and drop to your heart's content. It's awesome.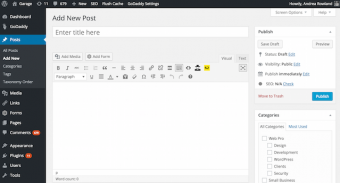 And, if you're a fan of WordPress but don't want the hassle of managing the backend hosting, setup and security, products like Managed WordPress make it simple to create a WP home for your business online.
Sometimes, though, you need more than products like these can offer you. Or you simply don't have the time to mess around with designing your own website. That's when hiring a web designer comes into play.
When should you consider hiring a web designer?
Template-based site builders give you dozens of theme options — but there's no guarantee someone else won't choose the same theme you're coveting. Likewise, you're probably going to run into some functionality limitations with templated builders.
When it comes to web design for your business, you might want to think about hiring a pro if you want a more personalized look and a level of functionality that exceeds the capabilities of your preferred template-based website building software.
Don't even know where to start? Well, a professional web designer can work with you to bring your website vision to life. They can incorporate your ideas and the look and feel of your existing brand into a beautiful site that does everything you want it to do.
And, if you're just starting out on your small biz journey, a skilled web designer can help you come up with just the right visual elements — including a logo, color palette and fonts — to reflect the brand you hope to build.
When you commit to the process of hiring a website designer, you'll want to ask a series of questions to make sure you're on the same page. Here are some things you'll want to consider:
Starter questions for web design
It's likely that you'll hire a contractor to design your website. That means you'll want to ask the right questions up front to be sure you understand exactly what their services include. (Extra costs are something you'll want to avoid.) Basic questions might include:
How do you bill (hourly vs. flat-rate)?
What do you charge for updates?
Do you offer copywriting services? If so, what's the cost?
Do I need to provide images? If so, what's the process?
Do you provide search engine optimization?
Will I own my website's files?
Naming rights
To have a website, you need a domain. If you hire a web designer, make sure you're the one who registers your domain so you can take the reins and protect it from hijacking or expiration. It's important for you to have the legal rights to your domain name, so if you decide to change designers down the road, you won't have to worry about who's got control of your online name. Give your designer access by making them a domain name account administrator.
Hosting
You have to secure space online to store your website's files if you want to have a live site on the web. This is called web hosting. Find out if the web designer includes hosting in their service offerings, or if you need to purchase hosting and give them access to it.
To learn more, check out building your site vs. hiring a pro and look into web design services from the pros at GoDaddy (natch).