Chances are, you have no idea what progressive profiling is. I will be honest, I was only recently shown the light of this awesome phenomenon. I will be sharing my knowledge about what progressive profiling is, examples of it in action, best practices, and giving some tips on how you can add progressive forms into your own WordPress site.
We all know the easiest way to get information from a customer is through a contact form on the website.
The more info you have on a customer, the easier it is to create a buyer profile and better market to them.
Nobody wants to give out all of his or her information online. In fact, it is overwhelming! How many times have you filled out a form online that asked for 25 different things? Chances are, you have not.
You want to know your customer's interests, what they do not like, where they might enjoy eating, their birthday, where they grew up, what their buying habits are, and a ton of other information, right? However, to ask that up front will not work, and it will scare your audience off.
Huzzah, there is a way to collect all this information gradually without too much work on your part by using progressive profiling.
What is progressive profiling?
Think of progressive profiling as starting a new friendship. You would not go right in with a ton of questions asking about embarrassing stories, what they did growing up, and other very personal questions.
Instead, you ask a few simple, important questions at first such as, "What is your name?" and "What do you like to do for fun?" Then the next time you meet, you will talk about other things and gradually build that relationship.
Progressive profiling allows you to collect information from your visitors using dynamic forms.
Progressive profiling uses dynamic forms to collect information from your visitors. Every submission is tracked and stored so the first time someone visits the form, they will see a set of questions asking for their name and email address, for example. The next time they come back, a new set of questions will be asked and their responses stored as we already know their name and email address.
Examples of progressive profiling
I created an example of how most marketers use progressive profiling on their websites. First, they start with an offer giving away something of value for free. In this example, I only ask for an email address to download the guide. You might find better success using this minimalistic approach to increase initial conversions, but you can ask for their name as well.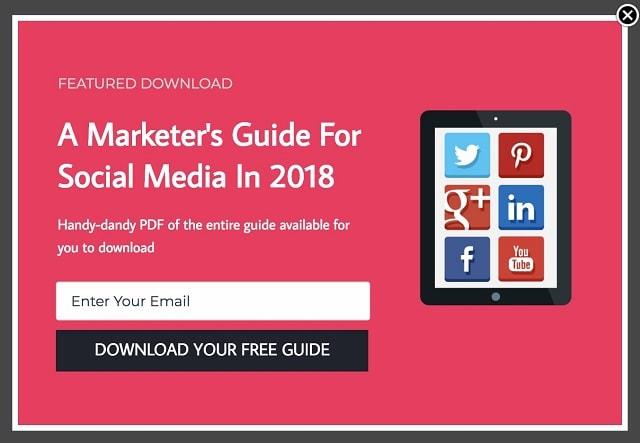 Then I will send out my email marketing campaign giving away more info and end it with a call-to-action of some type. One of my subscribers will click the link in the email and be brought to my next form. Since I already have their email, I will ask for something more.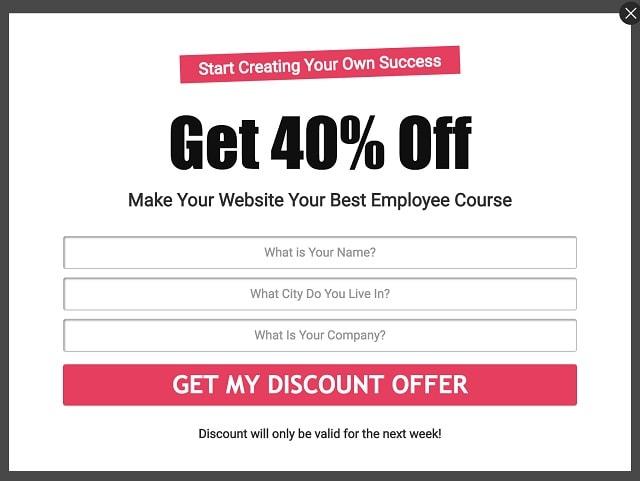 Now I know their email address, their name, where they live, and their company's name. My database is starting to build up!
Next, I might include another freebie for more information.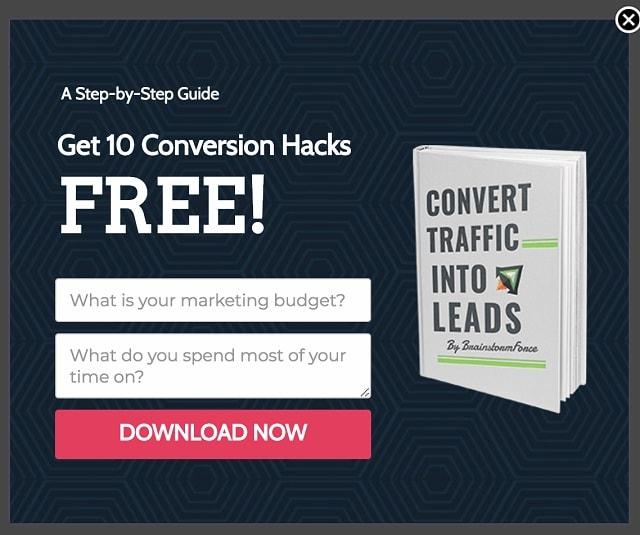 As you can see, I gradually request more and more information using progressive profiling without overwhelming my audience. My conversion rates increase, and my knowledge of my customers expands.
5 progressive profiling best practices
Here are some best practices to follow when implementing progressive profiling:
Keep it simple.

Give your audience a reason to fill out your form.

Test, test, test!

Think outside the box.

Have a clear call-to-action.
Let's look at each of these best practices so you can put progressive profiling to work for your business.
1. Keep it simple
The goal is to build a relationship with your audience. Do not go straight for the kill with intrusive questions. As the relationship develops as you provide your audience more value, then and only then can you ask for more personal information.
You can also think of progressive profiling as a funnel.
You will ask for general information first and then funnel down, getting more specific as you go.
2. Give your audience a reason to fill out your form
People know nothing on the internet is free. Your "Free eBook" is not free. You are asking them to pay for your eBook with their information.
A visitor will be more than happy to give you their email or other info if they see value in it. Is that 30-percent off coupon enough value to get someone to subscribe? If there is no past relationship, chances are it is not.
Find ways to add value to your audience without selling them your services first.
3. Test, Test, Test!
The only way you will know if your progressive profiling method is working is by testing! Please do not set it and forget it.
Try different verbiage and visuals. Maybe try a different initial offering altogether. The goal is to find your sweet spot with what works for your business. What works for someone else might not work for you.
4. Think outside the box
Your forms can be more than text fields. Mix it up by including yes or no and multiple choice questions. The less effort a person has to make to get your offer, the better!
5. Have a clear call-to-action
Your call-to-action (CTA) can make or break your form. Too weak and your conversion wavers. For more information on how to implement a reliable CTA, check out "Call-to-action: The touchdown pass your website deserves."
Adding progressive profiling to WordPress
You know what it is, you have seen it in action, and you know best practices. Now it's time to implement the process on your WordPress website.
Meet Jumplead.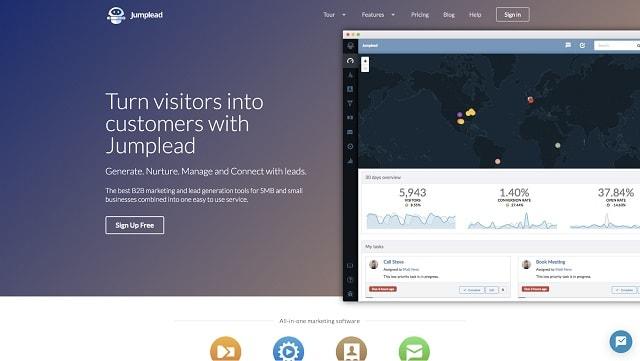 Jumplead is one of the more popular options to implement progressive profiling on your WordPress site. It is more of a marketing and lead automation tool that includes progressive forms.
1. Download and install Jumplead
You can download the plugin through your WordPress dashboard or directly from the WordPress repository here.
This will require you to sign up for a free account at jumplead.com. There is much more information to cover with using Jumplead since they offer more than just progressive forms. You can chat directly through their interface to help you get set up should you need it.
2. Create the contact form
After you add your tracking ID to your website, create a new form within Jumplead. Click Conversion on the left-hand menu, then Conversion forms at the top, and lastly, Create conversion form.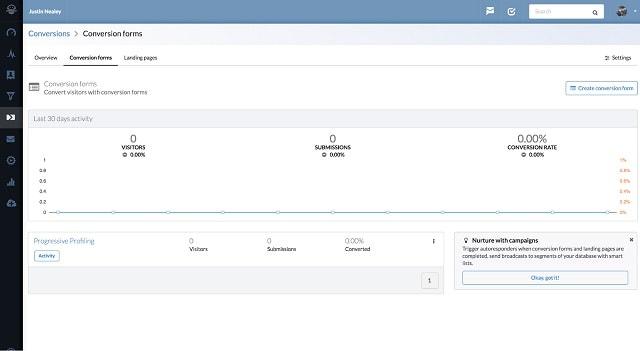 3. Fill out Details page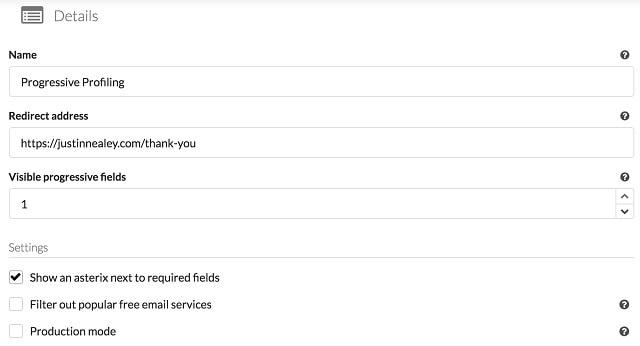 This page is relatively straightforward. Enter a name for your contact form so you can differentiate between the various forms you might create.
Add a redirect URL. This is the page a visitor will be brought to once they fill out your form. In my example, I would take them to a "thank you" page.
Total progressive fields. Enter the number of progressive questions to show at a time on your contact form.
4. Build your contact form
Choose Create custom contact field and fill out the label of the field, the description, and which type of field you would like to use.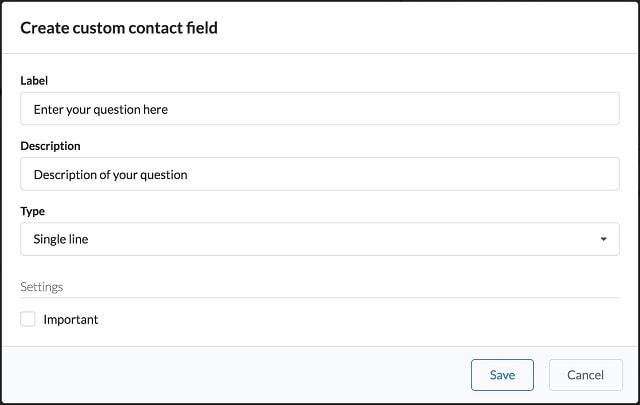 After you save, select Progressive on the right-hand side of the builder. Continue to add progressive questions on the form until you have all the information you will need from your customer.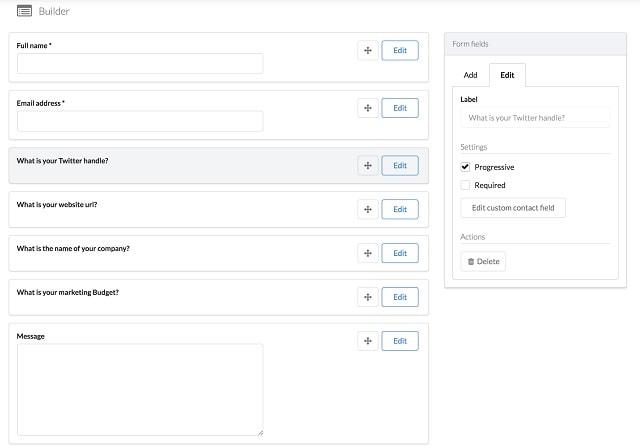 You will receive a shortcode to copy and paste onto your website on the desired page. After this, it is all done! Now as visitors go back to this page and fill out the form, they will be asked different questions each time. You can get more creative than the example I provided, of course.
If you would like to see it live, visit this page, fill out the form, and reload the page. I will delete your data periodically. I do not use this to market to anyone, period.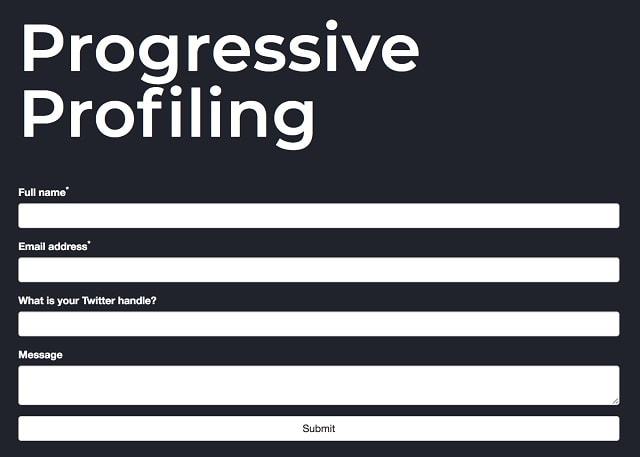 Other options to add progressive forms
Here are a few other providers that give you the ability to create progressive forms. Use their support docs as needed.
1. Hubspot
2. Gravity Forms
3. Formidable Forms
Progressive profiling can help you solve the problem of collecting information from prospective customers without annoying them. There are several tools out there to help you add progressive forms to your WordPress site, so take advantage of them! Remember to keep your process simple, provide value to your audience, test your forms, include different types of questions, and cap it off with a strong, clear call-to-action.