A lot goes into creating and operating an ecommerce site. From designing the frontend storefront to optimizing the website's speed, you and your team need knowledge and skills in a variety of areas.
Even if you have the ability to handle every aspect of getting your site up and running by yourself, it is not always the best use of your time and resources.
Managed eccommerce hosting services are an effective way to reduce the amount of work you need to put into running your site so that you can focus on what matters most to your business.
In this post, we'll examine the key features of managed ecommerce hosting and how the service can help you take your business to the next level.
What is managed ecommerce hosting?
Managed ecommerce hosting is a hosting service where the provider handles the setup, administration, and management of the web servers.
The provider is responsible for ensuring that your servers perform well and that your site stays up and running at all times.
This includes initial server setup, security hardening, ongoing maintenance, and software updates. The host also monitors your site's health to diagnose any problems as they occur.
How your ecommerce business can benefit from managed hosting
Faster loading speeds
Quick loading web pages are vital to an ecommerce business. Each moment that customers need to wait for pages to load will result in lost revenue for your business.
While your website configuration will affect loading speeds, the foundation of a fast website is your servers and hosting environment.
A good managed ecommerce web host configures your web servers to provide optimal response times. They actively monitor server performance to stay on top of any issues. This ensures that your site remains fast, no matter how much traffic you drive to your pages.
Stronger security
Ecommerce sites are the target of a wide range of security threats. Whether it's attempting to access sensitive customer data or trying to disrupt your site availability, there are many ways malicious parties can negatively impact your site.
Some of the most common security threats for ecommerce sites are malware injection, cross-site scripting, and distributed denial of service (DDoS) attacks.
As your business grows, your site will inevitably experience some hacking attempts, as it can be very lucrative to access credit card numbers and other personally identifiable information.
With a managed hosting service, much of your security is handled for you.
They'll take measures to block viruses, prevent intrusions, and secure your data. Because the provider is well-versed in preventing common security issues, you'll get more comprehensive protection than you would by setting it up yourself.
Lower costs
Managing your own servers would require you to have the in-house expertise needed to make sure everything runs properly. Many ecommerce owners don't have this technical expertise, so it would mean hiring additional staff. In most cases, this will cost considerably more than a managed hosting service.
Preventative maintenance
A big advantage of using managed ecommerce hosting is that it can help prevent problems before they occur. This is critical, as every moment that your site is offline, you're losing sales.
In addition to monitoring performance, the service provider performs regular security scans and software checks to ensure that everything is up to date and there are no vulnerabilities.
What to look for in a managed ecommerce hosting service
Now that you know how managed hosting can benefit your business, let's break down the important traits you should look for in a managed hosting service.
High performance
Naturally, strong performance should be the first thing to look for in a managed ecommerce hosting service. Your website needs to load quickly and it must maintain constant availability. According to Portent, the highest ecommerce conversion rates happen with load times between 0 to 2 seconds.
So, when evaluating a provider, you should look for reliable infrastructure that will not lead to lags or crashes.
It is also critical to have a CDN included in the hosting plan. These are a network of servers spread out over different geographic locations. Their purpose is to reduce the distance between the website visitor and your site. When someone connects to your site, they'll be routed to the closet server, leading to much faster load times.
Ample storage
Ecommerce sites require a lot of file storage. Numerous high-resolution images are needed for your product pages, and these files tend to have large sizes. This storage requirement will only grow as your business and product offering expands.
As such, it's important that a hosting provider offers enough disc space to serve your business needs, both now and in the future. For example, our Managed WooCommerce Stores hosting gives you unlimited storage and product listings for your online store.
Bandwidth and scalability
Large page sizes combined with high traffic volumes means that there is a lot of data transfer taking place between your server and your users.
A managed ecommerce hosting service needs to have enough bandwidth to support your site's traffic at all times.
Most importantly, it must be able to withstand your biggest traffic spikes. Unlike non-ecommerce sites, which often have consistent and predictable traffic, online stores can have huge surges at specific times. For instance, on Black Friday or during the holiday season when shoppers are more active.
Our Managed WooCommerce Stores hosting is scalable and can grow alongside your business. It supports unlimited visitors so your site can support numerous concurrent sessions without degradation in performance, even at your busiest moments.
Automatic backups
Site backups are an absolute must for any online store. By backing up your site, you get protection in the event something unfortunate happens. It's tempting to think that nothing serious will ever happen to your site, but even slight changes to sensitive settings can lead to database corruption or your site going down completely.
Regular site backups will ensure you always have a clean and functional site ready to go if needed. They'll also give you an efficient way to switch between design setups if you find one to be more effective.
Like everything else, backing up your site takes time — time that could be spent growing your business. And, assuming you're backing up your site regularly, you need to establish processes to make it go smoothly.
Because of this, it can be quite helpful to partner with a managed hosting service that provides automatic site backups. This way, you can have peace of mind that your site is regularly saved without you having to remember to do it.
Our Managed WooCommerce Stores hosting comes with daily automated backups for your WooCommerce store. You can schedule the backup time to run when your site is less busy.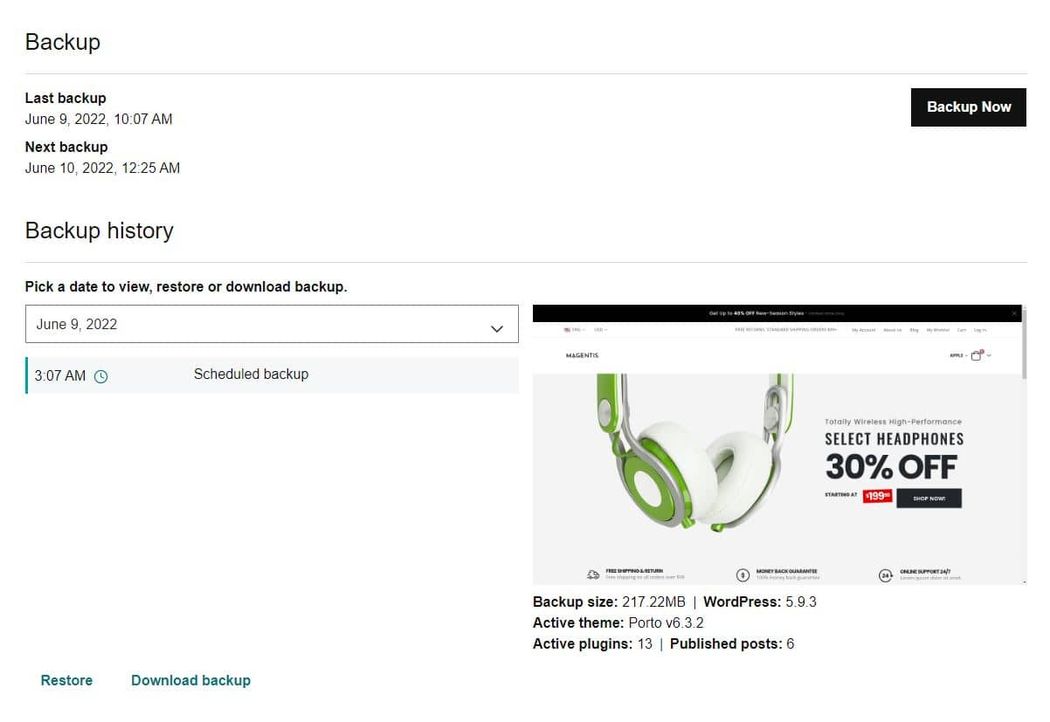 All saved backups are easily accessible via your hosting panel. From there, you can view and download the previous versions and if you need to restore a backup, you can do so with a single click.
Support
No matter how great your hosting setup is, issues and errors can occur over the life of your website. So while you may not get help for the site itself, it is vital to have access to prompt, high-quality support for issues related to your web servers.
Since server issues can happen at any moment, you should look for round-the-clock support availability.
You don't want to miss out on valuable traffic because your site is down for hours while you wait to hear back from your web host.
At GoDaddy, we love to help site owners keep their business running smoothly which is why our managed ecommerce hosting comes with world-class 24/7 customer support. Our knowledgable guides are available through an array of channels including live chat and phone.
When you reach out, you can expect a friendly and helpful response and a fast solution to your problem.
Proactive security
When considering managed hosting, you want a provider that takes active measures to secure your site. By taking a proactive approach, it is easier to prevent attacks from happening, keeping your site from experiencing crippling downtimes
Our Managed Ecommerce WordPress Hosting comes with daily malware scans to identify any malicious code that makes into your site, along with removal and hack repair for when your site is compromised.
Each site comes with an SSL certificate installed and fully configured. It also includes our Web Application Firewall (WAF) that allows your site to provide HTTPS encryption.
With an HTTPS connection, visitors will know that your site's trustworthy and that any data they exchange with your site is encrypted, keeping it safe from snooping or exploitation.
Our WAF is designed to intercept and examine incoming data and neutralize malicious code from security threats like SQL injections and DDoS attacks, warding off any damage from being done to your site.
Another important consideration when running an ecommerce site is payment card industry (PCI) compliance. PCI is a set of security standards designed to prevent leaks of user data due to bad web security. If your website accepts credit card data, it has to be PCI compliant.
Our Managed Ecommerce WordPress Hosting using the WooCommerce payment extension meets the Payment Card Industry Data Security Standards.
Seamless ecommerce compatibility
Managed ecommerce hosting should offer seamless compatibility with whatever platform you plan to use for your site.
While some managed services support the installation of a variety of platforms, there are others that are designed for a specific platform. This allows the host to optimize the servers for the particular platform and the support team to specialize in understanding that software.
For example, our Managed WooCommerce Stores hosting is designed specifically for WooCommerce. All sites come with the plugin pre-installed along with dozens of free extensions ready for quick installation. It also includes built-in features like shipment tracking, Google Analytics, and ecommerce emails.
Closing thoughts on managed ecommerce hosting
If you're not a web hosting expert (who has time to actively monitor your site) managed hosting is an ideal solution for your ecommerce site. With it, you can be confident that your site is healthy at all times while you invest your full attention into creating great products, winning new customers, and growing your business.