The wearing of green. Chasing rainbows. Finding leprechauns. Four-leaf clovers. Corned beef and cabbage. "Kiss me, I'm Irish." On March 17, almost everyone claims to be at least a little Irish. With a smart St. Patrick's Day marketing strategy (and a bit 'o luck), your business can take advantage of this holiday and boost your sales before the end of the first quarter.
Why should you care about St. Patrick's Day?
First, why should you care about St. Patrick's Day? It's not just about green beer and shamrocks.
According to the National Retail Federation, St. Patrick's Day spending in 2018 was expected to reach nearly $6 billion, with 60 percent of Americans celebrating — and those numbers are forecast to increase in 2019. And how are they celebrating? The majority will be wearing something green (83 percent), making a special dinner (31 percent), or attending a bar or restaurant (27 percent).
You don't need as much luck when you have the right online marketing tools. From DIY solutions for email marketing and local business listings to expert help with SEO and social media, GoDaddy has your back.
Even if your business doesn't print green T-shirts and shamrock socks, or sell corned beef and green beer, that doesn't mean you need to be left out in the cold this March.
7 St. Patrick's Day marketing ideas
Let's look at some ways that you can celebrate St. Patrick's Day in your business.
Celebrate "green."
Save "green."
Pot of gold scavenger hunts/
"Feeling lucky" random drawings.
Good luck charms.
Consider special editions.
Join in city-wide celebrations.
Ready to explore that pot of gold that is St. Patrick's Day marketing? Let's get started.
Related: Holiday marketing checklist
1. Celebrate "green"
If you're an online shop, add some green elements to your branding or header images. If you have a physical location, decorate with St. Patrick's-themed elements and encourage employees to wear green on March 17 (or the whole weekend).
Order special limited edition T-shirts for your staff to wear with a few extra for sale or giveaway.
However, instead of doing St. Patrick's Day or luck-themed promotions, some business owners choose to use the "green" theme to emphasize recycled or earth-friendly products, including reusable cups and straws, or biodegradable shipping packages.
2. Save "green"
Even if your products aren't Irish or green, your customers will still love the opportunity to save some of their own green! Offer exclusive discounts for the day or the weekend. Consider doing special packaging in honor of the St. Patrick's Day sale to spark joy in the customer when they receive their orders.
The enthusiasm for St. Patrick's Day goes beyond wearing green and drinking Guinness.
This holiday is known for luck — uncovering a pot of gold at the end of the rainbow, chasing leprechauns, and finding a four-leaf clover.
As part of your St. Patrick's Day marketing, create offers that either make all of your customers lucky or create an element of chance.
3. Pot-of-gold scavenger hunts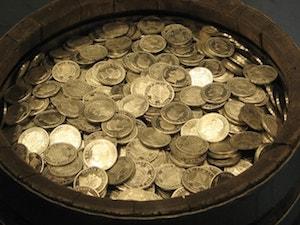 Hide clues around your brick-and-mortar store or online shop that lead to extra discounts or bonuses on future orders. Some examples include a free dessert or appetizer, BOGO offers, and percentage-off discounts.
Related: How to use discounts and coupons to increase eCommerce revenue
4. "Feeling lucky" random drawings
Instead of the skill invested in the scavenger hunt, you can use random drawings to give your customers an element of luck.
Winning is half the fun, so let everyone win varying levels of prizes.
You can even increase your marketing reach by having people sign up for your email list for an extra chance to win.
5. Good luck charms
Unlike the scavenger hunt where you'd need to find several items hidden around your website or store, just give everyone a little something extra. Call it a good luck charm — but those little added touches will delight your customers and get them talking.
Take your St. Patrick's Day promotion beyond just the weekend by having your prizes and special offers redeemable between March 18 and April 15. This gets people back to your online shop, restaurant or store, boosting your bottom line and your customers' loyalty.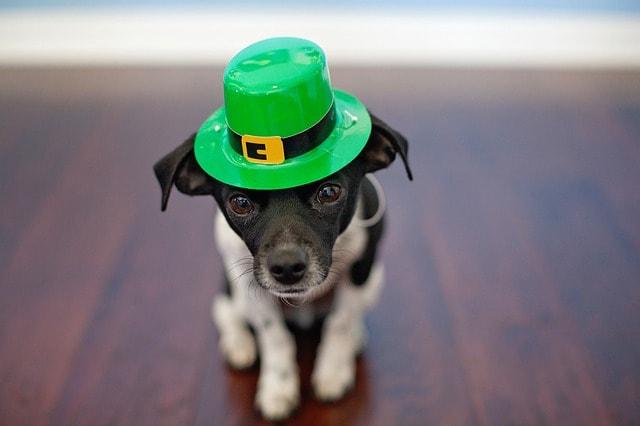 6. Consider special editions
We love to commemorate special events and celebrations with limited edition memorabilia — from shot or pint glasses to T-shirts and water bottles. Expand your bottom line with a limited quantity of special edition products.
You can also make the most of your existing products by creating displays or graphics that highlight your green merchandise — from products with green labels to green bow ties and journals.
7. Join in city-wide celebrations
If you have a local business, get involved in city-wide promotions.
St. Patrick's Day is a fun holiday for the whole family, with many cities hosting parades or 5K runs. Your business can get involved as a sponsor, or you can simply participate by attending with branded attire for your own business.
Even if you're in a B2B industry, St. Patrick's Day is a great time to expand your visibility by participating in family-friendly celebrations.
Related: 10 local marketing ideas for connecting with customers in your city
Planning your St. Patrick's Day promotions
If you want to hit the jackpot with your St. Patrick's Day promotions, allow yourself adequate time for planning and execution. You may need to allow extra time to have marketing collateral printed, especially if you're planning something unique like scratch-off tickets for your "Feeling Lucky" offers.
The ideal time to start your promotions is early March.
Give your customers (and yourself!) time to put away the red hearts and pink confetti from Valentine's Day before you start transitioning to the spring green of St. Patrick's Day.
If you're selling a product that is for use on St. Patrick's Day, you'll need to start your promotions even earlier. Calculate your shipping deadlines to ensure products arrive on time. In 2019, St. Patrick's Day falls on a Sunday, so many Americans will start the celebration early on Friday, March 15.
If you're hosting an event or special in-store sale, start letting customers know earlier in the month so they make plans to attend (and bring their friends or family along). Share your event with your email list and on social media.
St. Patrick's Day is poised to generate more than $6 billion in 2019. By leveraging simple and fun marketing strategies, you can get your share of the pot of gold.