Editor's note: This post is part of our collection on managing multiple WordPress sites.
***
Imagine you own a WordPress site management business with 10 different clients. You constantly have to manually log in and out of every client's admin panel separately. You have a calendar to track plugin updates, core updates, and backups, but you regularly miss items because the manual control leaves room for error.
Without consolidated tools and processes, your WP management business quickly becomes inefficient.
These inefficiencies aren't just frustrating -- they're costly. Your revenue drops as you lose time navigating between clients and can't produce as much work.
Likewise, producing low-quality work due to management problems leads to lower revenue. With your bad reputation, existing customers and prospective clients won't want to sign on, based on what they've heard from past clients.
Keep your WordPress business efficient and successful with a third-party management tool. These platforms consolidate your work across clients so you stay organized and move quickly. We'll take a look at the nine best WordPress management platforms to help you pick one that fits your clients' needs and your budget.
What's important when managing multiple WordPress sites
The core benefit of WordPress management platforms is a single dashboard. Instead of logging into each client's admin panel, you can log into a single platform and manage all of your customers' WordPress sites from one place.
Beyond this expectation, WordPress management tools distinguish themselves by their features and their pricing. Many of these tools offer the same dashboard actions, but the usability and pricing of these features are what sets platforms apart.
Essential features
Plugin, theme, and core updates: Does the platform allow you to manage plugins, themes, and core updates across multiple WordPress sites from the dashboard? Can you update with a single click?
Backup solutions: Are backups manual, automatic, or both? Where are backups stored? Can you send backup files?
Uptime monitoring: Does the platform measure uptime and downtime on your clients' WordPress sites?
Security: Is there a malware or vulnerability checker? How do they handle account authentication?
Additional features
Google Analytics tracking: Can you view your clients' WordPress site traffic, SEO stats, and more at a glance without needing to load Analytics?
Client reporting: Does the platform track and record your activity to share with clients?
Support: What is the platform's average response time? What hours is it available?
Pricing
The price points for these features can vary widely across different platforms. Here are a few different pricing models that these tools will use:
Free and a la carte: The baseline account is free, with the option to pay extra for add-on features.
Free and paid accounts: There is a free account, and then there are higher-tier packages with different prices and feature bundles.
Paid accounts: There are only paid account options, possibly with different tiers based on features or number of WordPress sites.
Finding the right balance between price and features is the key to picking your tool. You have to understand not only what each platform is charging but also how well they implement each function. Once you have these basic details, you can compare tools to find the perfect fit for your WordPress management business.
9 tools to manage multiple WordPress sites
Evaluating WordPress management tools is tricky because there is a lot of overlap between platforms. Each tool boasts how it offers a powerful dashboard, single-click updates, backup solutions - how do you know which tool is better?
The subtle feature differences between tools are tough to track, so we've created a chart to map out the nine best WordPress management tools' offerings.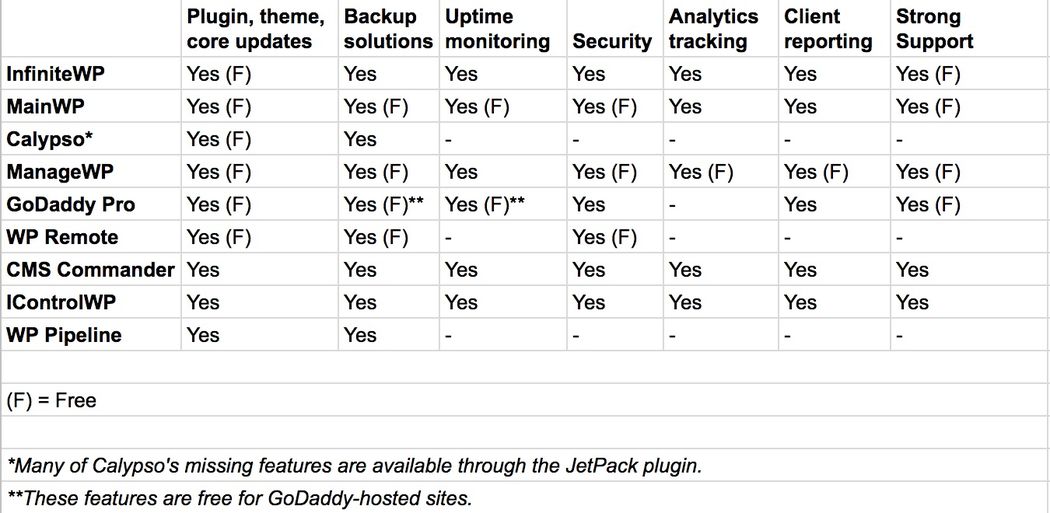 But you'll need more context than this overview to select a tool. Using this guide, you can learn more about each tool to pick the platform that fits your business's needs: budget, client size, and more. Based on this chart, pick a few potential platforms, and then dive into their sections to evaluate which will work best.
Browse through InfiniteWP's site and you'll quickly see why it's one of the most popular WordPress management tools.
The platform has a lot of functionality, and some of its features are even available for free. If you want to consider extra features, InfiniteWP offers a well-organized, easy-to-navigate library of add-ons. InfiniteWP also boasts great support.
The tool does offer a free account, but it excludes any add-ons. To access those, you need to pay anywhere from $147 to $447 per month, depending on how many WordPress sites you have. Alternatively, you pay for each add-on separately with their free plan.
Because almost every feature is a paid add-on, InfiniteWP works for developers and designers who need only a limited feature set and want to tailor their plan to exactly what they want. It's also valuable for bigger developer and design shops that need a full suite of tools and can pay the flat rate for everything.
MainWP is the perfect platform for those who want accessibility to add-ons without monthly fees.
The free account offers a number of useful features, including multiple backup solutions and uptime monitoring. For extra features, users pay only for the extension they want, which is usually between $39 and $69 per extension for a year. Or users can opt for a paid MainWP membership plan that includes the extensions.
Along with flexible pricing, MainWP is also open source, which allows developers to audit the code and know how their clients' info is being used and gathered.
The motto for the free, open-source tool Calypso should be "To the point." There are no frills to this WordPress management tool — and that's exactly what makes it great.
The platform is a part of WordPress, so it combines the familiar WP interface with the ability to manage multiple sites. As a bonus, the platform is speedy since it uses both JavaScript and the WordPress Rest API. You can see changes made to your clients' WordPress sites reflected in real time instead of needing to refresh the page.
But given its bare-bones nature, Calypso by itself lacks key management features, such as backup solutions and uptime monitoring. However, users can get access to many of the features on other platforms by activating the Jetpack plugin on WordPress sites managed through Calypso. This plugin provides plenty of insights on performance, security, traffic, and more (though some features come at an extra cost).
Users who want a simple, straightforward (and free) way to manage their WordPress sites should consider using Calypso. For those who want more features and aren't already paying for Jetpack, it may be worth considering other platforms that are designed with these functions in mind.
ManageWP is one of the most well-known WordPress-management tools thanks to its rich set of features and accessible pricing.
In their free plan alone, ManageWP supports unlimited WordPress sites and offers 14 features, including performance checks and security checks. For those who need more, there are premium add-ons offered at an affordable cost — $1-2 per month for each site, or at bundle prices for a large number of sites. This short-term pricing is easy for businesses to commit to if they want to try out different features.
ManageWP also offers stellar client reports to users. The platform customizes their documentation of your client work to fit your business. It can even create reports in different languages.
With so many powerful features at reasonable prices, ManageWP is one of the best WordPress-management platforms on the market.
If you like ManageWP, you'll love GoDaddy Pro. Our tool is built on the same technology that powers ManageWP, but with additional perks.
Like ManageWP, GoDaddy Pro offers a free account with many core features, such as single-click plugin and theme updates. But, as a bonus, many of the paid add-ons on ManageWP -- such as backups and cloning -- are free on GoDaddy Pro for WordPress sites that are hosted through GoDaddy.
Besides affordability, GoDaddy Pro helps users grow with plenty of educational resources. The platform offers tutorials, webinars, e-books, articles, and more to help their users continually learn. As another perk, GoDaddy Pro members receive discounts on GoDaddy products.
Though Pro is a GoDaddy product, the platform can fully support WordPress sites that aren't hosted through GoDaddy.
WP Remote isn't the most powerful, but it is highly affordable.
The platform is almost entirely free. All users can manage and update plugins, core, and themes across clients with a single click and download snapshots of their WordPress sites. And with WP Remote's integration with the web designer platform Maekit, the tool also allows users to deploy new WordPress sites and even process payments through Maekit's invoicing system.
Maekit does have a pricing structure if you need multiple user log-ins—it's $20 to $40 per month for 2 to 10 users. However, the platform is free for just a single developer or designer to use.
WP Remote lacks key features, such as uptime monitoring, but its free price tag makes it worth considering if you're on a tight budget.
If you're frequently posting your clients' site content, CMS Commander is worth considering.
The platform isn't free, but it does offer extra content management and generation features, such as bulk content posting, autoposting, and content scheduling. Along with these functions, CMS Commander offers standard WordPress management features -- plugin and theme updates, backup solutions, and more.
CMS Commander plans range from $8 to $75 per month, depending on how many sites you manage. Because its price is based on the number of sites, CMS is a good option for new businesses that have fewer customers but are still trying to provide full-service WordPress site management.
iControlWP is not as well known as ManageWP or InfiniteWP, but it offers many powerful features at reasonable rates.
Plans range anywhere from $15 to $39 per month for 10 WordPress sites, with a small fee for each additional site. The $39 plan is the most valuable, given all of the key features included -- daily automatic backups, uptime monitoring, client reports, and more.
The platform also offers a Support Center where users can read through FAQs, submit support tickets, and check ticket status.
If you're managing a small number of WordPress sites (<10) but want many features, iControlWP is a great, affordable alternative to larger platforms.
Compared to other tools, WP Pipeline is restrictive and has minimal features. However, its simple pricing structure and low cost may appeal to those who don't want to deal with complicated, expensive add-on plans (but want slightly more features than free plans from other tools).
WP Pipeline offers the most basic functions: backups, one-click admin access, uptime monitoring, plugin and theme updates. Quite a few key features, though, are not included, such as uptime monitoring and security, and there are no extensions or add-ons available.
These features all come at a relatively low cost -- $10 per month or $100 per year. Considering that some WP Pipeline functions aren't available in other tools' free plans, such as uptime monitoring, the platform's affordability is worth considering.
Discover the best tool for managing multiple WordPress sites
By now, you probably have a good idea of which platform you want to try. You've read about each tool's features and pricing models to decide which will work best for your business.
If you're still hesitant, here's the good news: Almost all of these tools have either a free account or a free trial. Play around with your favorite choices until you know which tool is the best fit. Through trial and error, you'll eventually figure out the platform that makes managing multiple WordPress clients a seamless, simple process.