Every small business needs a "site" on the internet where its current and potential customers can find it. The more engaging and informative this place is, the better it is for business. With the .site domain name, you help customers find you — and engage them.
Just as the physical location of a store impacts the customer perception about the business, the virtual address of an online store will impact the customer perception of the brand.
Choosing a relevant, suitable domain name plays a key role in the overall brand positioning of your business. Over time, your domain name will have a strong association with your brand. So, it is recommended that you get the domain name right in the first go.
Start your search for the perfect domain name here
Related: 10 tips for choosing the perfect domain name
What makes an excellent domain name for business?
When searching for a business online, you either remember it or you rely on a search engine to find it for you. As a business, you'd want to make it easy for your customers as well as for search engines to get to your website when they need to. Here are some tips on finding an excellent domain name:
Make your domain name relevant to your business.
Keep it short and simple.
Leave out hyphens, numerics and acronyms.
Choose keywords that are intuitive to your target customers.
Adopt an extension such as the .site domain to add value.
When trying to meet the above criteria, don't be surprised if your first choice of domain name is already taken:

Unavailability of the domain name that you desire may have been quite discouraging a few years ago, but not anymore. As the internet has evolved over the years, so too has the internet namespace.
Today, you can find a short, professional and intuitive domain name on a new extension such as the .site domain, which actually works in your business's favor.
"Site" is an intuitive word in the context of websites and works as a logical extension to any business.
Related: How to buy a domain that someone else owns
What is the .site domain extension?
The .site domain extension is a perceptive extension available to businesses today. Especially for new businesses, the .site domain offers an opportunity to build a desirable brand without having to compromise with an unwieldy alternative that will hamper growth in the future.
Most importantly, since it's a new domain extension, you are likely to find the name you desire available:

How can a .site domain name help your business?
Consider the example of Shears hair salon. With the .site domain extension, the business was able to get shears.site as its primary domain. As a short, branded domain, it easily resonates in the customer's mind.
The .site domain is fantastic for small businesses across verticals such as:
and many others …
Owing to the .site domain's universality, Google adopted the business.site subdomain for their Google My Business program globally. As a result, small enterprises get a free BUSINESSNAME.business.site domain when they list themselves on the program. Some of the examples include:
These are just a few of the 13.5 million businesses using the business.site subdomain via Google My Business as of today. This also points to the fact Google's search engine treats the .site domain on par with other domains.
Related: Standout tools — GoCentral Google My Business Listing feature
How to use a .site domain for your small business
Here's how to put the .site domain extension to work for your venture:
Choose a short, memorable primary domain
Assume your business is called Paperkite. It's a short and memorable name that builds a picture in the mind. As of this writing, Paperkite's .com domain is available to buy at a premium price.

However, the same name is available on the .site domain at a standard price. As a small business, paperkite.site offers a marvelous opportunity for you to brand your business and build your online identity.

This essentially means that as a small business owner, you need not compromise your brand name or your creativity. Choose the brand name you want and find its corresponding name name on the .site domain as your primary identity on the Internet.
Related: Claim your domain and make a statement online
Integrate wordplay for a landing page
To get the most out of every marketing buck that you spend, it's only efficient that you make all components of your digital campaigns highly effective. This includes building landing pages that are designed for conversions.
Even the domain name of your landing page can be used to persuade customers to make a purchase. For instance, consider greatestsale.site as your landing page domain or domain redirect:

With a catchy and meaningful domain name such as this one, you can create social media images and digital ad images with the domain name on it. This will create a higher brand recall for the campaign.
Related: How landing pages bridge the gap between marketing and sales
Expand your visibility with a URL shortener
As a small business owner looking to gain maximum brand visibility, a small investment in a branded URL shortener can go a long way.
This essentially means that every link that you share on social media, emails or any other marketing collateral can be branded with your business's name.
For instance, consider B.Creative, a digital marketing agency which uses bcreative.site as its branded link, even though its primary website is bruzzicreative.com.
An added benefit of using branded links is that they loop your offline marketing to your online presence. So, if you are promoting a product on your site in local print media, on-ground events or even flyers, you can include a branded link which can take users to the deep link on your website.
So, if your travel business is called Signpost, you can create branded links for various packages such as:
signpost.site/honeymoon
signpost.site/summer
signpost.site/beach
signpost.site/adventure
Most URL shortening services such as bit.ly and Rebrandly allow you to customise the links with a branded domain:

Create deep links for revenue generating pages
Every business has a flagship product or service which brings in the maximum revenue. Think of the product in your business which does that for you and use .site domain to make its page easily accessible by your customers. One of the best ways to understand this strategy is to look at Amazon's various deep links, which are quite contextual and meaningful:
firehd.site
amazonecho.site
aws.site
alexa.site
prime.site
punkrockstuff.site
Each of these memorable domains, when typed in the browser, will redirect you to the corresponding product pages or deep links on Amazon's primary website. The actual link of these product pages is long and clunky — almost impossible for anyone to remember. These contextual redirects make it easy for you to promote your products without having to use complicated links.
This is a fantastic way to increase traffic on your revenue-generating pages because your customers will remember such domains.
This will help them land there directly instead of coming to your website and searching for those products because then they may get distracted or even abandon the process midway.
So, if one of the bestsellers for your business is leather bags, you can buy the domain leatherbags.site and redirect it to the product page on your website.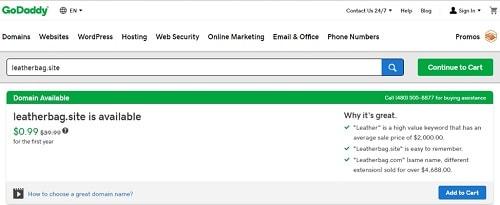 Closing thoughts on the .site domain
Managing a small business requires that you always have your A game on. With an intuitive and logical extension such as the .site domain, you can better all your marketing and branding efforts to increase your business visibility, conversions and customer engagement.