When holidays roll around, it's a great idea to decorate your shop to suit. It makes your online store feel festive and fresh and gets people in the holiday mood. If you're prepping for February 14, this is the ideal time for a Valentine's Day website makeover.
It's especially easy to make over your shop for February if you sell Valentine-related decor or products. The theme is built right in. You can decorate your website as well, or just roll with having the products themselves be the focus.
Even if your products are totally unrelated to the holiday, you can still add some romance to your website decor with banners, colors, fonts, backgrounds, photos and graphics.
For example, my Creative Market Sarah Design Mockups shop has a banner at the top. I can easily give it Valentine's Day website appeal simply by adding a pretty red color to the glitter on my drinkware images and the text. I could have added hearts and flowers, too, if I wanted, but my style is more subtle so this is just right for my brand.

If I was making a sale banner for a graphic design client, I could find a pretty photo like this one from Pexels and create an ad banner to set the mood.

If this feels daunting, don't be scared! I've narrowed it down to three main tips for making over your online shop for Valentine's Day website sales and shoppers. You can do these in any order.
Related: Try these Valentine's Day promotions in your online shop
Tip No. 1: Figure out what type of resources you need
Before you run off and hire a designer, or pop open Photoshop on your own, it helps to gather some resources. Take an hour or so to think about what sort of mood you want to have on your eCommerce site for Valentine's Day.
Think about your customer base. What do they like? Do you want it to appeal to adults planning romantic dates? Or does your audience prefer cartoonish designs and drawings? Or maybe you have more of an artistic, illustrative style to your brand.
Think about styling first and that will help in the resource-gathering phase.
Related: Everything you need to know about creating a brand style guide
Here are some options to consider.
Stock photos that show a romantic Valentine's atmosphere
KateMaxStock's Etsy shop has this beautiful set of 72 Branding Images in Valentine's Theme. If this look appeals to you, surely you can find a few images out of this bundle of 72 photos that will suit your site.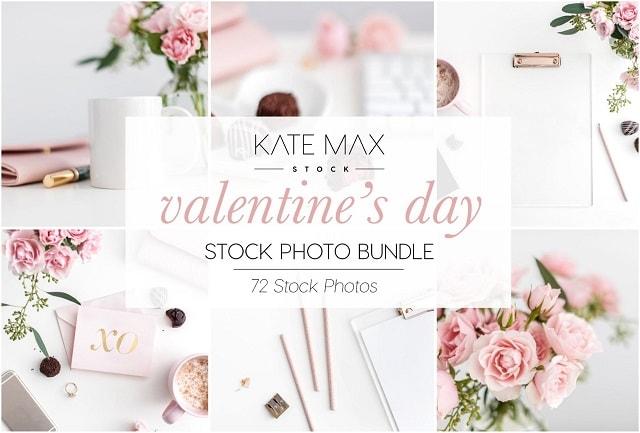 Icons, graphics and clip art in the Valentine's theme
If the KateMaxStock photos aren't right for you, then maybe you'd rather have a more hand-drawn look to your graphics. This Valentine's Day Overlays and Clipart by Lokko Studio has a ton of adorable hearts, flowers and sticker designs that would appeal to a crafty audience.
Photo props (physical, or digital if you use mockup scene creators)
And if you just need some props to decorate your existing images, then you can pop over to the Dollar Spot at Target where there is always a plethora of decorative items for holiday photo ops. Add these around your products during fresh photoshoots.
If you don't have time for new photoshoots, you can always add props to your photos digitally, using special mockups like this Valentine's Scene Creator Mockup by Pixomize.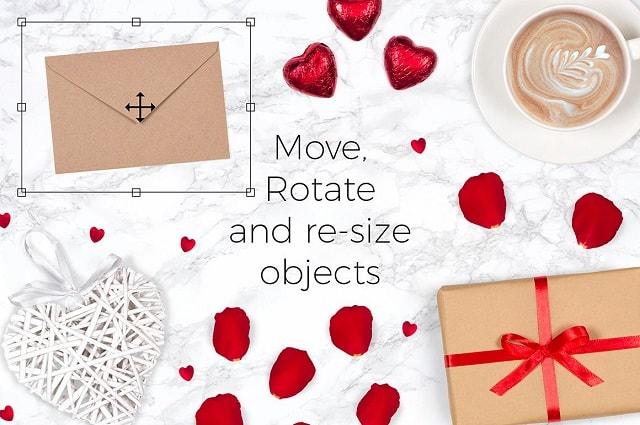 Tip No. 2: Figure out where on your site you can use them
If you sell items online, you probably sell in one (or more) of these three kinds of shops:
Each of these has different areas that can be customized for holidays such as Valentine's Day.
Banners
You can add banners to the homepage, product detail pages, sidebars and inside blog posts. There are a lot of options here.
Perfect for: Your own eCommerce websites, blogs with shop sections and marketplaces like Etsy and Creative Market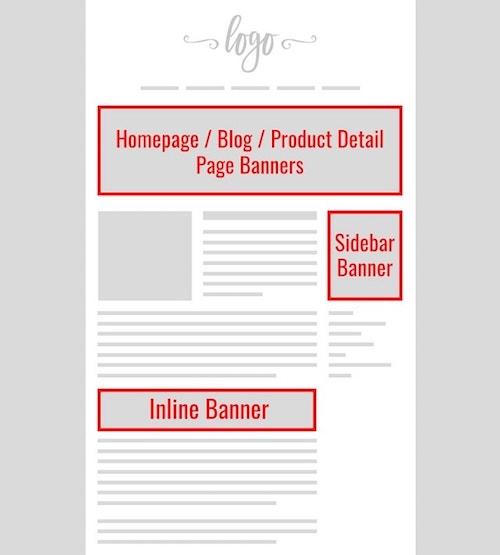 Rails
These are the areas that sit to the left and right of your main website.
Many newer sites don't have this space anymore, so don't fret if yours are missing.
Just choose one of the other options I have listed here instead.
Perfect for: Your own eCommerce websites, and blogs with shop sections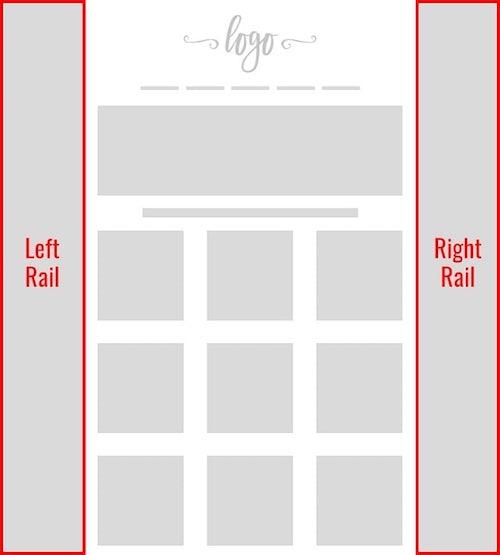 Background
This is a fun one, and sometimes requires a developer to make happen. Some sites allow you to place a large, high-impact image in the background of your main website.
Much of it is obscured, so it takes some trial and error to get the right image in there. But when it's done right, it's a real showcase.
Check out 40 Beautiful Large Photo Background Website Designs for some inspiring examples. You can also use patterns in lieu of a photo.
Perfect for: Your own eCommerce websites, and blogs with shop sections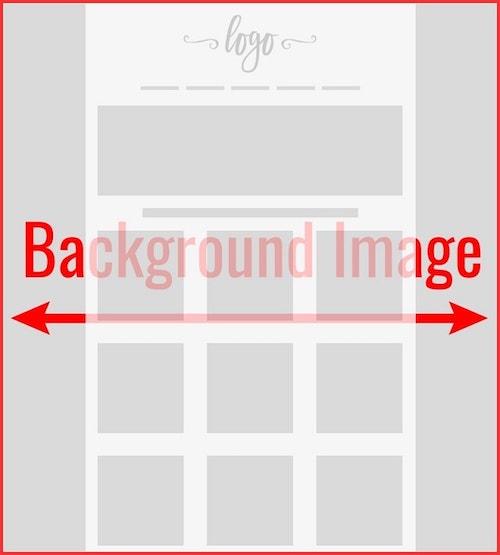 Product images
If you sell Valentine's Day products, you don't have to do anything extra. If not, you can showcase products with reds and pinks for the season. Or take new photos using Valentine's Day props. Or even add props digitally, using the mockups and mockup scene creators I mentioned above.
Perfect for: Your own eCommerce websites, blogs with shop sections and marketplaces such as Etsy and Creative Market
Related: How to take product photos that will help sell your goods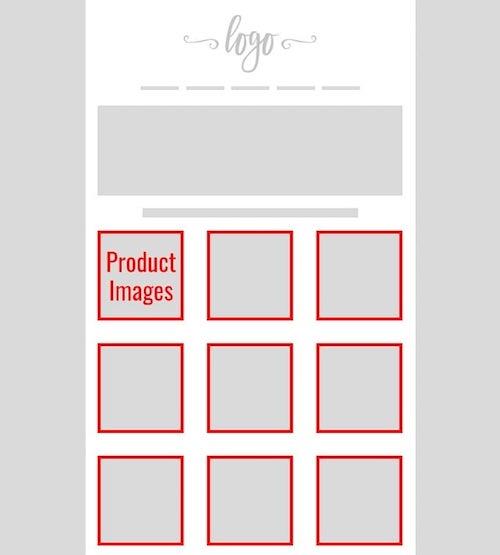 Profile Image
It's a small area to edit, but there's nothing stopping you from adding a little Valentine's Day website flair to your profile image. Show yourself in a red outfit, add some hearts around your face or even temporarily replace your picture with a Valentine graphic.
Related: Social media image sizes — The 2019 cheat sheet
Perfect for: Marketplaces like Etsy and Creative Market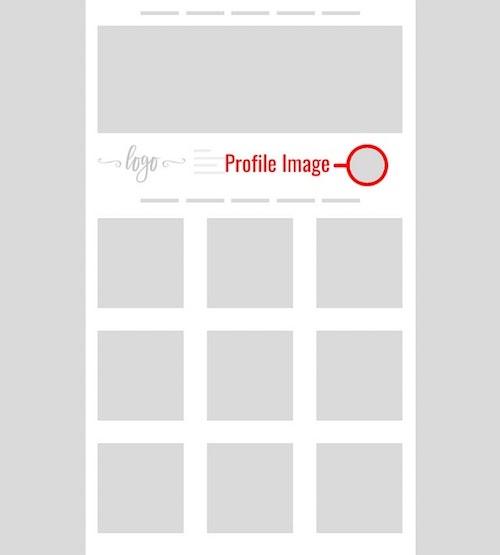 Logo
If you're feeling frisky and your brand allows it, you can even make over your logo for your Valentine's Day website refresh.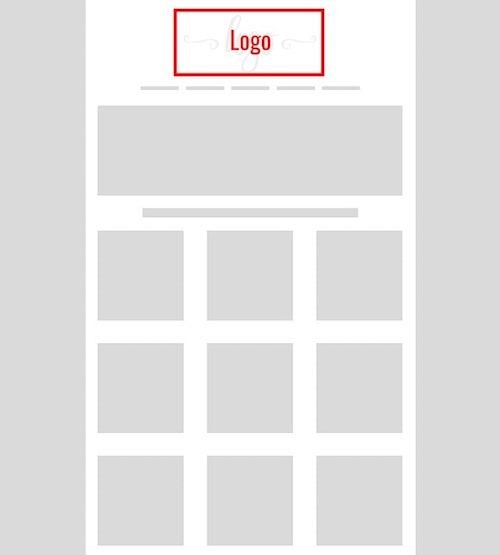 Google does this regularly with its Google Doodles. Check out this one from Valentine's Day 2017: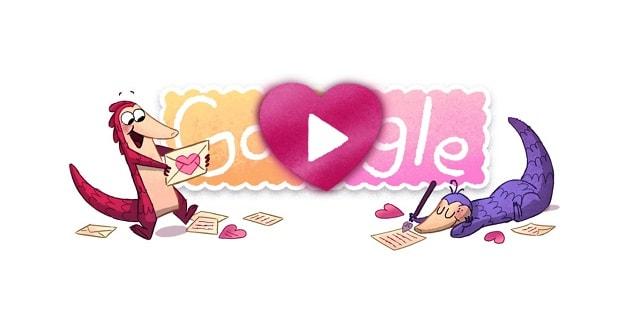 Editor's note: If you need some help with logo design, check out the Logo Design Services from GoDaddy. Just give our experts some business details and color and image choices and you'll get a professional logo in a few days.
Perfect for: Your own eCommerce websites, blogs with shop sections and marketplaces like Etsy and Creative Market
Tip No. 3: Decide what's achievable for you with your timeline and resources
Banners are the highest impact option with the least amount of effort. So, if you're a new eCommerce shop or new to working on website graphics, I highly recommend this route.
You get the most bang for your buck when you showcase your Valentine's Day spirit in nice, big graphic banners across different areas on your website.
If you're considering the sidebar or background options, you might need a developer to assist you. And if you want to get really fancy, you can even do an animation of falling snow on your site.
This is something you can only do if you have an eCommerce site or blog with a shop component that allows custom coding. If you want to DIY it, check out the three resources below. Or hire a developer to help you with it.
Related: 12 tips for hiring developers
Ready for your Valentine's Day website makeover?
What do you think? Do you feel ready to get started? If you're low on funds and time a single simple banner on your home page might do the trick. But if you have the resources for some of the other tactics I've listed here, you can really wow your customers with your Valentine's Day-themed eCommerce shop.
Just make sure you remember to change the design back to normal (or to the next holiday) when Valentine's Day is over. Have fun with your makeover!