When you first install WordPress, you might not be quite sure what to do next. If you're a WordPress beginner, it's normal to need a little help at this stage in the game. This article we'll review the right steps for setting up a WordPress site. You'll learn what plugins you should install, what kind of theme you should choose, and some beginner tips that will help you get those first pieces of content up.
Ready to get started?
Recommended plugins for setting up a WordPress site
Most website hosts offer one-click WordPress installs. This installation option is great for novice users, but it does not help website owners take that install and move it to the next level of functionality. Plugins help do just that, and fortunately for WordPress users, there are thousands and thousands of plugins available.
There are a few really essential plugins you need as a WordPress beginner. These plugins will help build a sturdy foundation for your website or blog.
1. Security plugin
The majority of hackings, code injections and malware incidents happen randomly.
A security plugin can inform you of the infection, and clean it for you so you can get back to what you like doing, like creating content.
There are lots of options for WordPress security plugins available.
2. Backup plugin
Sometimes you make a mistake, and that's where a backup plugin can help. Whether you've updated a plugin or theme, or your site isn't showing up right for some other reason, you can restore that backup. If you have GoDaddy Managed WordPress hosting, backups are included
3. Contact form plugin
Your visitors need a way to get in touch with you, but you might want to avoid plopping your email address up on your website — an easy target for scraping by unfriendly bots. A contact form can protect you from gaining unwanted emails, but also leave room for your website visitors to drop you a line or two.
I like Ninja Forms. This robust, free plugin is easy to use. You don't have to mess with code in order to put a contact form on your website.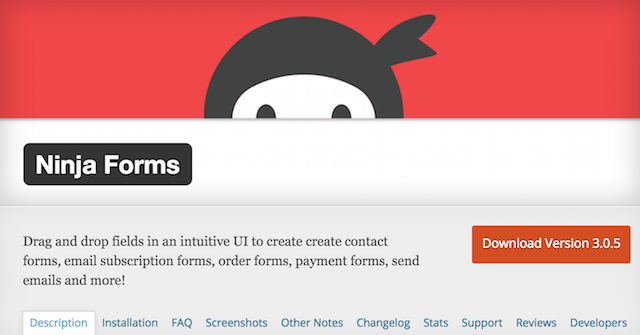 4. Social sharing plugin
Placing social share buttons on your articles allows your blog readers to easily share your post to popular social networks like Facebook, Twitter, Pinterest, and LinkedIn. A simple plugin like SumoMe can provide you with the ability to add social share buttons on your blog posts.
5. SEO plugin
As a new WordPress user, you're not going to be perfect when it comes to blogging or creating content. You might not even know what search engine optimization (SEO) is — so a plugin like Yoast SEO for WordPress can help guide you through optimizing your content for search engines.
Yoast SEO walks you through adding your website to Google Search Console and Bing Webmaster tools. Why? So those major search engines can crawl and efficiently index your website. The Yoast SEO plugin also gives you an analysis tool to tell you if your blog post is lacking any specific things — like keywords, images, and additional text — that could help your article rank better.
6. Traffic tracking plugin
If you plan to market your website or make money from it, you need to track your traffic. Google Analytics by MonsterInsights allows you to add Google Analytics tracking so you can keep tabs on your website visitors' behavior. The information you gain from Google Analytics can help you plan future content, as well as help gain you advertisers and sponsors for your website.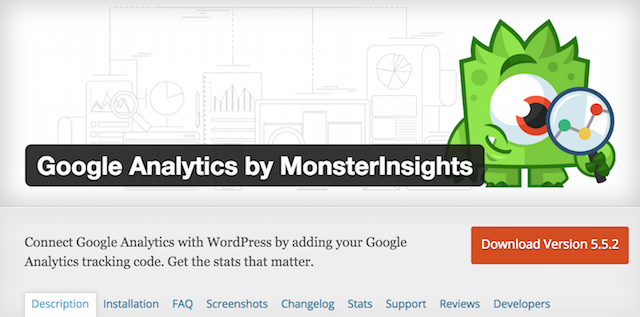 Choosing a WordPress theme
Your website's first WordPress theme, or design, isn't going to be perfection. You might not have a lot of money to spend in order to have a logo and theme custom designed for you. So you will need to do some theme shopping.
There are thousands of WordPress themes available, which can be a daunting task to vet, so here are some tips on how to choose the right theme for you.
1. Choose a theme that has a design format you like.
Even if your first theme might be a little plain, you want it to look great, so choose one that has a look that you'll love.
2. Make sure the theme is currently being developed and regularly updated.
It's important to choose a theme that gets regular updates. If your theme becomes vulnerable to malware infections or outdated in code, and the developer no longer provides support, you will face three not-so-great options:
Fix the theme yourself.
Pay someone to fix the theme for you.
Find a new theme.
Avoid that scenario by choosing a theme that's current and well-supported.
3. Choose a theme that has a lot of excellent reviews.
Whether you've picked your theme from the WordPress.org Theme Directory or some other place, look for reviews on the theme. If it's tough to find them, try searching Google for the theme's name and the word "review," If there are no results, it's best to choose another theme.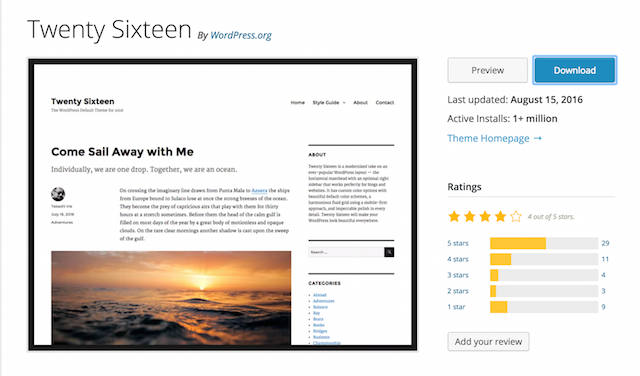 4. Don't choose a theme just because it looks like it has all the bells and whistles.
Sometimes it's not such a great idea when a theme has all the things in the world built into it. It weighs down the theme and can create conflict with other plugins. You might want to try choosing a theme that is simple and then choosing plugins for all of the other things you need.
5. Choose a theme that comes with documentation to help you set it up right.
When you surf around the internet for a theme, and finally choose one, you probably want to set the theme up so it looks exactly like the preview.
Choose a theme that promises to provide documentation on how to set it up like the preview.
Once you have set up the preview version, you've actually learned a little about how to use your theme, so you can change things out like your logo or some color schemes.
Content creation tips
Now that you've chosen a theme and some really important plugins to install on your WordPress website, you are ready to start creating content on your website. Here are some basic blogging or content creation tips for WordPress beginners.
1. Your first posts won't be perfect.
You don't have to be a professional writer or journalist just to blog.
Don't let small mistakes or minor grammatical errors scare you away from creating content.
You can always go back and edit your article. If you're worried about grammar or spelling mistakes, type your articles in a word processor like Microsoft Word or Google Docs first. These programs include tools to check for spelling, etc.
2. Vary the length of your paragraphs, but don't let them become long walls of text.
Smaller paragraphs are easier for website visitors to read and to digest information. Include one-line sentences to draw attention to important information. Use the blockquote function when appropriate. And be sure to add images!
3. If you're having problems coming up with article ideas for your blog, try doing some keyword research.
Tools like Google Trends can help you plan for your next articles. Check out some great tips for curating content for your blog.
4. Plan when you will blog, and be consistent.
Even if you only plan to blog once a week, schedule it, and make it a habit. Blogging might not be a priority, but building a habit will keep your blog updated regularly — and keep your readers interested.
5. As you get comfortable with blogging, try creating your blog articles in other formats like audio, graphics, and video.
Your audience has preferred methods of absorbing and understanding information. Some like to listen to podcasts, and some like to look at nice visual images. Adding these, aside from text, to your content lineup can help you reach a wider audience.
6. Remember to share.
When you're done with your blog post, and have published it, don't forget to share it on your social media channels. You need to tell people that you've created some awesome new content to drive traffic to it. You may need to tell your friends and followers a few times, too. Share it on Facebook, Twitter and other social network websites.
7. Be you.
When you write, write unique and quality content, but above all, be yourself. People love authenticity. If you're that awkward person who loves to be quirky, then let it shine in your website. There are people out there who will love it.
After you install WordPress: Recapping next steps
Let's recap what you should do after you install and set up WordPress for the first time:
Install essential plugins. Plugins for security, backups, contact forms, SEO, and social sharing are all must have items for new WordPress websites or blogs.
Choose the right theme. Look for a well-supported theme with a look you like, excellent reviews, and adequate documentation.
Create content. Do some keyword research to come up with topics that your potential readers are searching for online.
So there you go — my top tips for installing and setting up a WordPress site. By nailing these basics, you should have a great foundation for your WordPress website.