Maybe you want to build your own ecommerce business, maybe you're in need of some extra income, or maybe you just want to scratch that entrepreneurial itch. Whatever your goal, you've probably heard that selling wholesale products on Amazon is a good way to make it happen.
While this isn't the "get rich quick" opportunity some would have you believe, the business of buying wholesale products and selling them on Amazon can be a great way to build a profitable business. It can also be a great way to lose a lot of money.
The difference between success and failure is often the product itself. Profitable, high-quality goods from reliable suppliers keep you out of the red and put you ahead of your competition.
So, how do you choose which wholesale products to sell on Amazon? The short answer is research, market savvy and a good wholesale business plan. Keep reading for the long answer.
Determine your Amazon wholesale business model
There are two different ways to sell wholesale products on Amazon: the reseller model and the private label model. While they have some similarities, the business model you choose will impact everything from the products you choose to the suppliers you work with.
The reseller model
Wholesale sellers who purchase brand-name products at wholesale discounts and then turn around and list them on Amazon follow a reseller model of business. Brick-and-mortar stores like Rack Room Shoes follow this same model but must deal with the difficulties of building their store's brand equity in addition to selling other brands. Amazon resellers don't have this problem.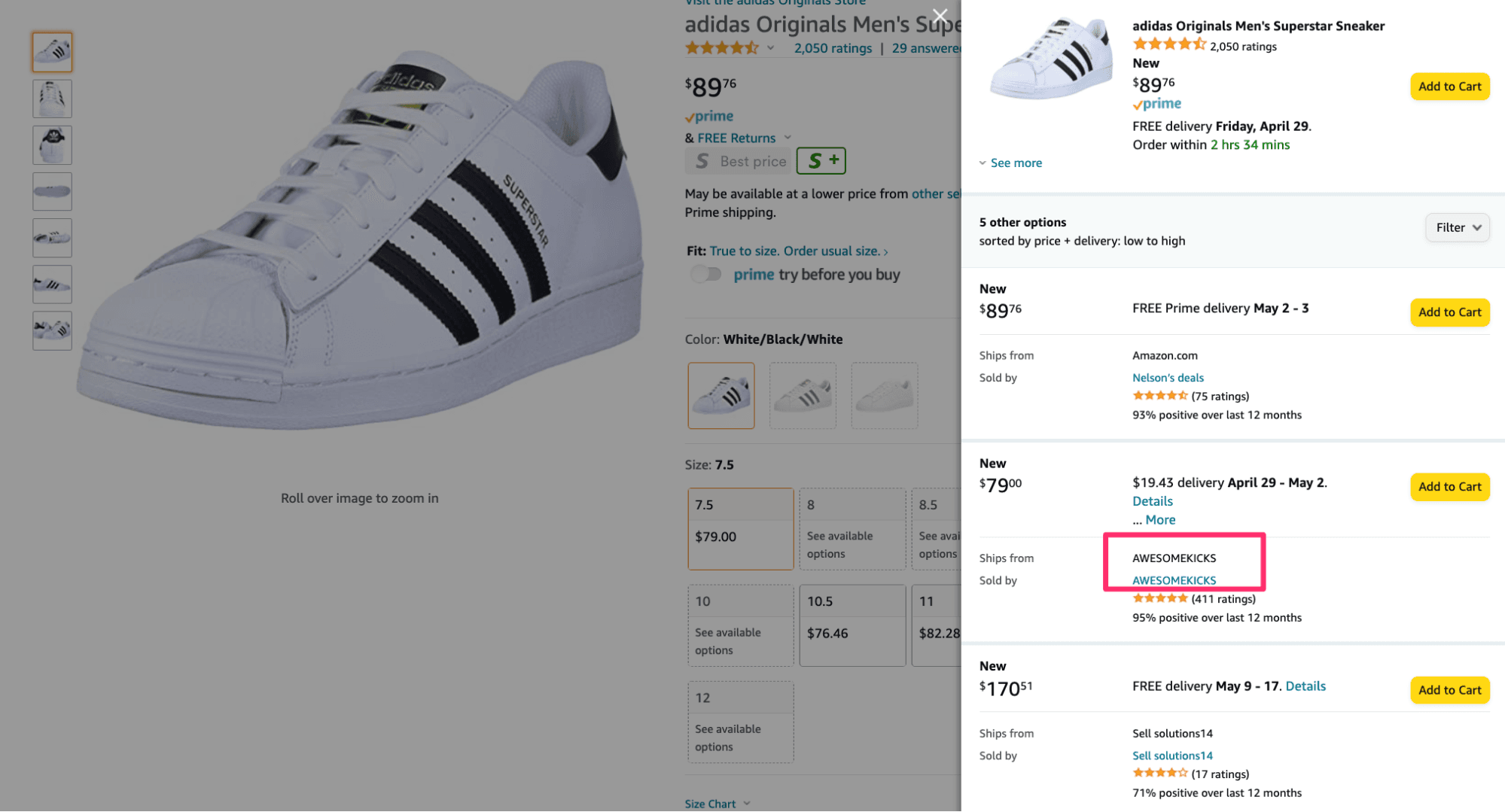 [Source]
In the image example above, Adidas is the manufacturing brand, but you can see in the buy options that Adidas isn't selling its product directly. Instead, this product is sold by Amazon wholesale reselling businesses like AWESOMEKICKS or Nelson's deals.
It should be noted that reselling is different from dropshipping, where the seller has no inventory on hand and relies on suppliers to ship to customers. Resellers do have to manage their inventory one way or another. But their model does provide a lot of flexibility. Since resellers don't have to worry about brand equity or overhead, they're able to capitalize more quickly on product trends.
This model works well for small businesses or individuals who are focused more on short-term profits than long-term business growth. Competitive pricing is key to success in this model, however, as Buy Box competition is usually a major factor. Resellers should choose their suppliers and product categories carefully to remain profitable.
The private label model
Private label sellers sit between proprietary product owners (like Converse) and resellers (like AWESOMEKICKS in the image example above). They buy generic products wholesale and then repackage those products with their own branding. A good brick-and-mortar example of this would be Walmart — you can buy a pair of black high-tops, but you're buying a generic product with a Walmart brand tag slapped on top.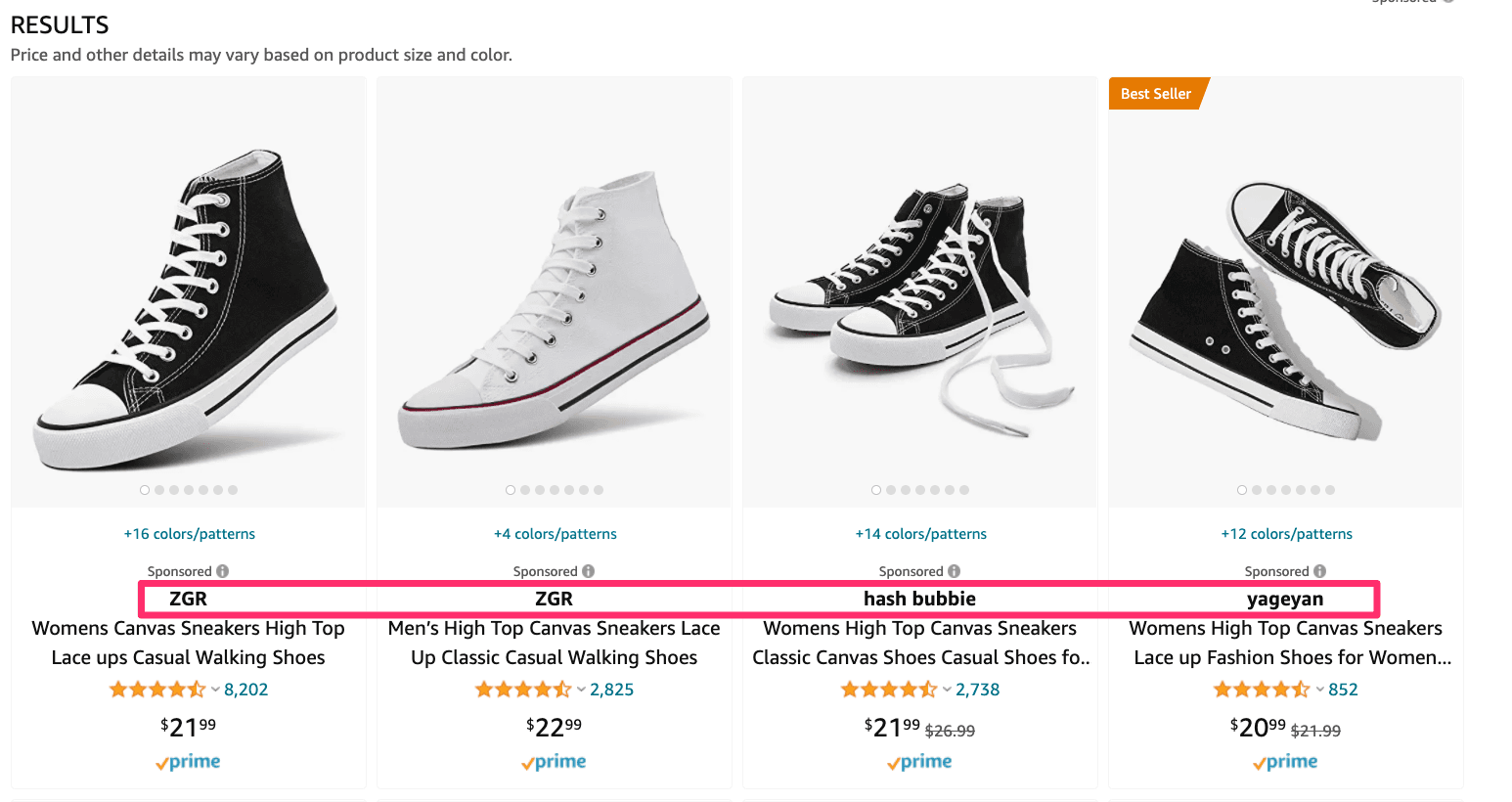 [Source]
Private labels are not counterfeiters — they don't claim to be an original product. They simply source their products from a manufacturer or wholesaler that supplies other private label products instead of creating a unique product. Because of this, identifying a profitable product niche (vs. simply a profitable product) is a major concern since brand consistency matters for this seller.
This model isn't quite as flexible as reselling, but it does offer a low barrier to entry for sellers who want to build their own business and brand identity. The challenge lies in identifying product niches that don't pit your private label against established brands or a horde of other private labels.
The core strategies for choosing wholesale products to sell on Amazon remain the same, regardless of your business model. However, each model will experience the competitive landscape in a different way, which should affect how sellers approach product research and competitive analysis.
Find the best wholesale product to sell on Amazon
Once you determine your wholesale business model, you can start your research on the best items to buy in bulk and sell on Amazon. Demand trends, your business model, the capital you have available and your fulfillment methods all play a major part in which wholesale products you choose.
1) Choose a product with high demand
The best wholesale product is one in which demand leads to high sales and profit margins. You may have found the right supplier with great wholesale prices, but if there's no market demand for the product, you're going to lose money. You can use a supplier catalog as a springboard for product ideas, or you can start from scratch. But your first step should be to research and gauge demand for your new product.
Consider products in one of Amazon's best-selling categories.

Electronics, Clothing, Shoes & Jewelry, Toys & Games and Books are often the most profitable categories. One notable reason for this is that they all offer a lot of room for variation since shopper preference plays a big part.

Study current Amazon best-selling products.

Amazon keeps a list, updated hourly, of its best sellers in every category. This is a key way to gain insight into what buyers want and choose the right products.

Study products similar to the one you want to sell.

If you already have an idea for a product, browse similar Amazon products and note indicators of demand. A high Best Sellers Rank (BSR) and the number of customer ratings are both good indicators of demand.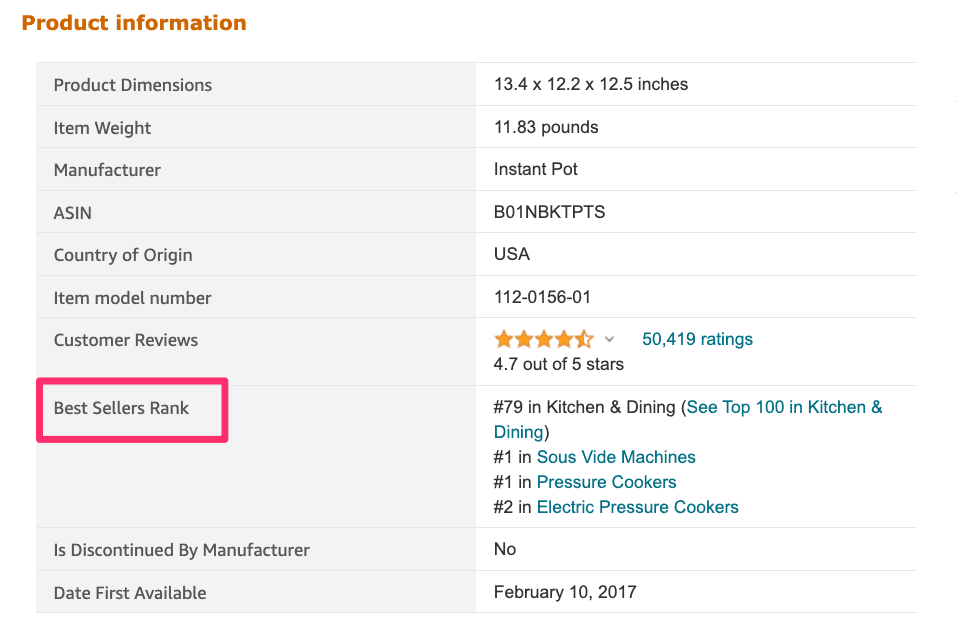 [Source]
Luckily, while you do have to do all this product research, you don't have to do it all by hand. There are many paid tools available to help you do product and demand research on Amazon. However, one of the best tools, Unicorn Smasher, is totally free. It gives you detailed insights on everything, from the number of sellers for a product to its BSR, and even estimates sales and revenue.
So now that you've narrowed down your product ideas based on demand, it's time to layer on the second factor: the competition.
2) Choose a product with low competition
Online sellers want to sell high-demand products. The trick is to find a product that people will want in a market that's not already saturated. Competition is more difficult to judge than demand, but here are a few steps that will get you started and some tools to help you along the way.
How many sellers are advertising?

Even if organic results show many sellers, a good

Amazon advertising strategy

will quickly set you apart from competitors who aren't leveraging Sponsored Products. Run searches on a variety of keywords around your own product ideas in order to see who's advertising. You can even use

SellerApp's Reverse ASIN tool

to view your competitors' keywords (and their costs-per-click).

Resellers, identify how crowded the product listing is.

You will likely have to compete for the Buy Box with competitors selling the same product. Use Unicorn Smasher to quickly look at the number of existing sellers for a specific Amazon listing.

Private label sellers, do a qualitative analysis of your competitors.

What do their product listings look like? Are their

descriptions SEO ready

? Do they have good images, lower prices, videos or a lot of reviews? What's their seller rank? These factors indicate how hard (or easy) it will be to make your brand stand out.
When it comes to tools to help you analyze the competition, there are a lot of paid options that will show you varying degrees of detail on product and category competition. These may very well be worth your money, but you should at the very least start with Amazon ASIN, an amazing free tool from SellerApp. It will give you an in-depth analysis of listing quality, the number of sellers for the ASIN, Fulfillment by Amazon (FBA) fees, product potential, keyword analysis and more.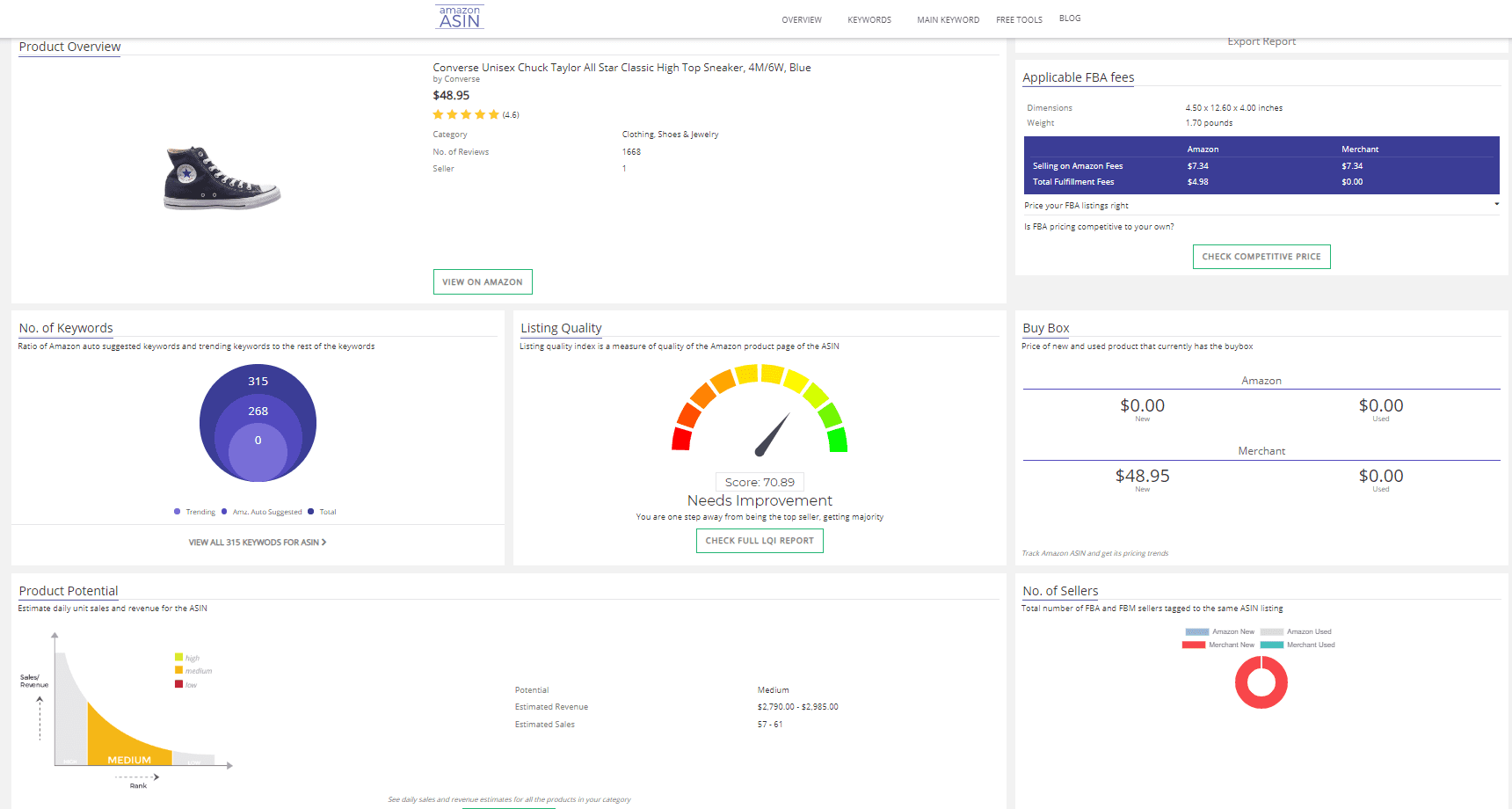 Armed with data on the competitive landscape, you're now ready to move to the next part of buying bulk items to sell on Amazon: making sure you can turn a profit.
3) Choose a product with good profit potential
You might find a unicorn of a high-demand, low-competition product, but it won't matter if you can't turn a profit on it. Cost estimates and profitability analysis are essential parts of deciding what wholesale products to sell on Amazon.
Don't get trapped in a race to the bottom.

Price competition is intense on Amazon, so don't pick a product that will make you choose between generating sales and turning a profit. Choose a

pricing strategy

that works for your product category and still ensures profitability.

Understand all the costs involved.

The true cost of selling wholesale products goes beyond a simple price tag. There are a dozen other costs to consider, and they'll quickly stack up if you don't account for them early on. Do a detailed profit analysis that factors in Amazon fees, fulfillment and shipping costs, inventory management and relevant taxes.

Look for products that are small and lightweight.

Even if you don't choose to use Amazon FBA wholesale services, smaller and lighter products are much cheaper to ship and take much less space to store. This will save you a lot of money, which in turn increases your profits. You can get a good sense of the costs associated with various dimensions by looking through the FBA fee schedule.
While it's no replacement for calculating exact costs, Amazon's FBA Revenue Calculator located in seller central is a great way to view potential net profits when you're in the research phase. You can search for any product or ASIN, and this calculator will estimate the net profits and margins of fulfilling with FBA. (Just use an educated guess for the "Your fulfillment" part of the equation.)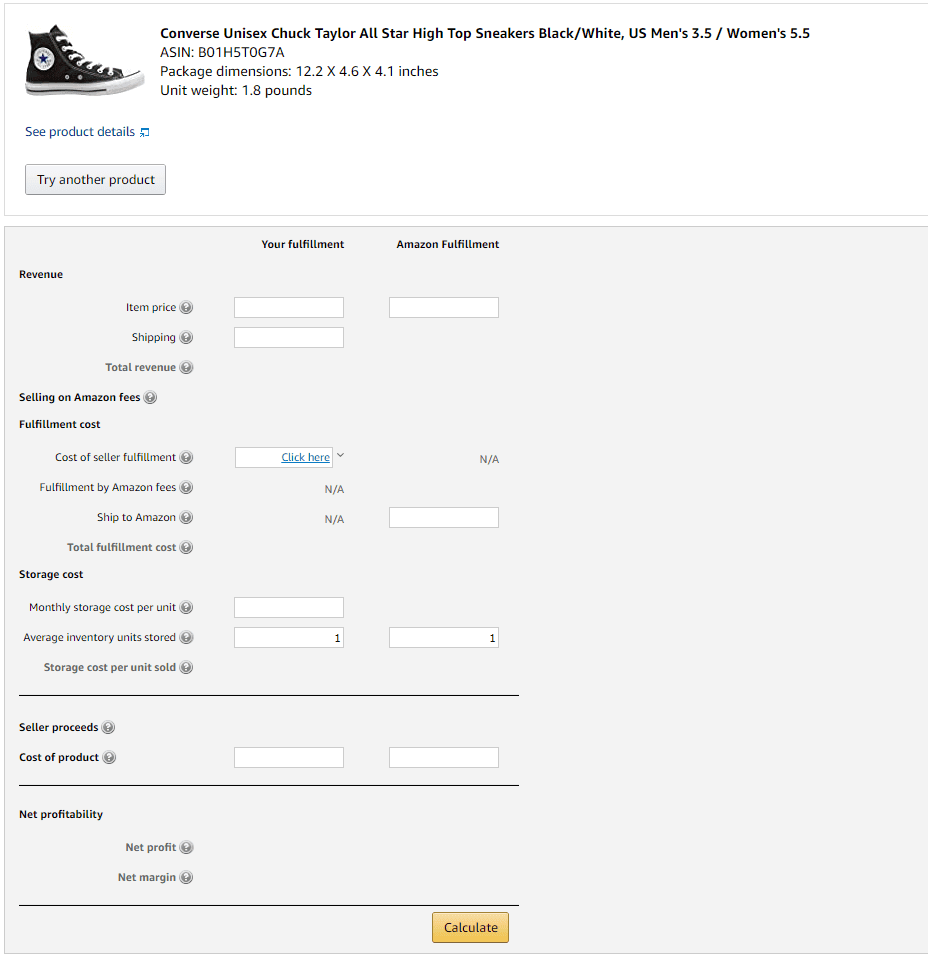 Once you have a shortlist of wholesale products you want to sell, make sure you estimate all the costs involved before making a final decision. This includes creating your Amazon seller account for the first time.
Now that you have the criteria for choosing a profitable wholesale product to sell on Amazon, it's time to dive into product sourcing.
How to find wholesalers for Amazon
Just as there's no "golden ticket" wholesale product that guarantees success in online marketplaces, there's no secret list of perfect suppliers. To be successful in selling wholesale products on Amazon, you need to identify what you need from a supplier and then learn how to get it.
The first step to finding a supplier is knowing how to recognize the best supplier for your business goals.
Decide what kind of supplier you need.

If you're a reseller, look for a brand manufacturer; if you're a private label seller, look for a supplier of "generic" wholesale products you can use to build your own brand.

Learn to identify scams.

If you plan to open a new wholesale account with a supplier, only contact suppliers in certified networks and check the

Better Business Bureau

for more information on each supplier. (Learn more about spotting a wholesale supplier scam.)

Engage with the industry.

Don't focus on a couple of wholesale products; take the time to understand your niche. Who are the major manufacturers and brands? What are the distribution channels? Who should you expect to work with? Answering these questions will help you narrow your focus and find the right wholesaler for your Amazon business.
Once you have this context, it's time to prepare for success by learning how to approach suppliers once you find them.
Learn how to communicate with suppliers
Getting a great deal with a good supplier often comes down to knowing what your supplier wants out of this deal and finding a way to negotiate a win-win. This is a step many beginners miss, but with a bit of research and practice, it's not difficult.
Learn the basics of negotiation.

Don't go into supplier communications unprepared. Even if you're an individual seller just looking for a side hustle in resale, it's worth the time to learn business negotiation.

Learn what suppliers want.

Wholesalers want what any of us want: reliable income. If you're able to offer them this kind of stability — either through longer-term contracts, larger deposits or promises of more business — you put yourself in a better position to drive a deal.

Leverage the competition.

Don't only negotiate with one supplier at a time — enter conversations with a few different distributors, and use competing offers to drive better deals with your ideal suppliers.

Show them you'll be a good partner.

Don't underestimate the power of simply being courteous, responsive and professional. Approach this like someone seeking to build a partnership instead of a shopper looking for the cheapest option. Suppliers appreciate this, and your business will benefit long term from this approach.
Start your search with a trusted wholesaler directory or network
When you're getting started, wholesaler networks are a good place to start. The best directories have a subscription cost for their service, but it's often well worth the cost in time and money saved.
Investing in a professional supplier directory isn't for everyone, but bear in mind that you don't need to keep paying for a subscription after finding a good wholesaler. A little money spent upfront might end up saving you a lot of money (and frustration) in the long run.
How to sell wholesale on Amazon
You'll make better product procurement decisions if you have a plan for how you're going to get those wholesale orders. While a full discussion on selling your wholesale products is beyond the scope of this article, here are a few top-level recommendations (and additional resources) that will get you started.
Consider using Fulfillment by Amazon.

It's an ideal program for very small businesses and resellers. In most cases, you can arrange for your wholesale orders to ship directly to Amazon (although there might be extra processing fees involved).

Have a plan in place for inventory management.

If you decide to use an alternative to FBA, you'll need a plan for managing your inventory in a way that's cost effective but still allows you to ship quickly.

Have a plan for promoting your products.

Advertising has become an increasingly important tool for success on Amazon. Consider your options, learn the challenges of Amazon PPC management (and the solutions) and have a plan for getting your product noticed.
There's obviously a lot more to selling on Amazon, but factoring fulfillment, inventory and promotion into your business plan will help you start strong.
Let research and experimentation guide you
Choosing the right wholesale products comes down to understanding the market and understanding your capabilities, needs and limitations as a seller. Product and supplier research can become time consuming, but it's worth the effort it takes to find a great product backed by a great wholesaler.
Research and experimentation are also key to discovering what works best for you as a brand owner or aspiring ecommerce leader. You may find that a better route for you is retail arbitrage rather than buying bulk items to sell on Amazon. Or you may decide to experiment with both wholesale and retail arbitrage in order to discover which is more lucrative.
With a plan in place and a strategic approach, it doesn't matter if you're selling from your garage or from your own warehouse — you can build a successful ecommerce business.