An insider's guide for how to sell clothing online
Whether you're a clothing designer, seamstress, fashion retailer or someone who just needs to get rid of some barely used threads, figuring out how to sell clothing online can be a challenge if you don't know where to begin. Should you sell through a marketplace like eBay or Etsy? Can you build your own online store? How will you collect payment? What kind of shipping will you offer buyers? There's so much to think about, but it doesn't have to be overwhelming.
Before getting into the nitty-gritty, let's look at why you might want to sell clothing online. Online shopping is at an all-time high. According to statistics from BigCommerce, 51 percent of Americans now would rather shop via the internet than in a physical store, and 30 percent make online purchases at least once a week. When looking at fashion specifically, 45 percent of online shoppers have bought shoes, clothing and accessories from eCommerce stores.
If you sell fashionable items online, you have the potential to reach a large audience that is ready and willing to buy.
In today's digitally driven world, selling clothes online can be a fruitful business endeavor. But you have to know how to do it. This guide will walk you through the basic steps for getting started as an internet retailer and provide tips on how to grow your reach.
First, let's talk about your options for selling new or used clothes online.
Online marketplace or a personal web store?
Although many people start out on websites for selling clothes such as Amazon, eBay and Etsy, creating your own web store is a better way to establish a brand while selling your products. You can give backstory on how you started, information about your dedication to quality, and details on what inspires your designs.
When customers get compliments on the clothing they purchase from you, they'll be more likely to remember your name and the types of items you offer.
This is a great benefit for those looking to establish and sell clothing online long-term because it builds brand awareness. That doesn't mean selling t-shirts online via a marketplace can't help you establish a brand. But more often than not, people will give credit to the marketplace, not you. These websites have tons of sellers, and most of the time shoppers will search for things they want based on the name of the item — not the brand. Who makes the clothing becomes less noteworthy since there are so many options.
While branding may take a hit when you use a marketplace to sell clothing online, there are advantages to doing business this way. First, since people do often search by product (and you can list your items in certain categories), someone might be more likely to find your clothing on here rather than your website, which is competing against an endless number of clothing designers and large retailers across the interweb.
More options to consider
If the big-name marketplaces are too overwhelming for you or if you just want to unload your gently used jeans, check out these shops:
These types of sites might allow you to sell t-shirts, original designs or gently used clothing. Just be aware that any online marketplace might charge a fee to sell through their platform.
If you're serious about maximum exposure, consider selling on marketplaces and your own website.
As you weigh the pros and cons of each option, remember that either one can bring you success if you do it correctly. In many cases, using both can be the best choice. Since each marketplace has their own system and instructions for joining as a seller, you will have to reference the one you choose to take the next step.
Ready to launch your own web store to sell clothing online? The following guide will get you on your way.
Sell clothing online with my 5-step guide
Name your shop.

Choose your store builder.

Fill your shop with products.

Advertise your new online store.

Measure, adjust, measure.
The process for building an eCommerce store is similar for most businesses. You need to pick a domain name, choose a store builder, decorate your digital shop, add the necessary functionality (payment, shipping, etc), and get people in your door.
1. Name your shop
Before you can sell clothing online, you'll need a domain name. Choosing the right domain name is an extremely important step when starting your eCommerce business.
You might want to include your brand name or a keyword to indicate the products you sell (e.g. clothing). It should also be somewhat short, easy to understand and memorable. One caveat: Even if you only want to sell t-shirts online, don't register a domain name with "t-shirts" or "tees" in it. You may decide down the road to branch out into hats and hoodies, so keep your name broad enough to allow for future growth.
Once you have an idea, search for it on a domain registrar. Be sure to look beyond .com to retail-specific domain names like .shop, .fashion and .boutique. These new domains work just like .com, but tell people exactly what you offer.
2. Choose your store builder
When you decide to sell clothing online from your own store, a plain-Jane website won't work. Since you'll be accepting payments and shipping products to customers, you need a few things:
Payment processing functionality
Shipping system
Inventory tracking
An automated email system
This might seem more complicated than building a typical informational website, but this isn't the case. Most website builders have an easy way to incorporate shopping functionality into your site. For example, WordPress has the WooCommerce plugin that can be quickly added to your website to give you all the store features you could ever need.
If you don't plan to use WordPress to sell clothing online, the easiest option is to use GoDaddy's GoCentral Online Store. This online store builder gives you unbeatable flexibility with marketing integration, built-in shipping methods, preset payment options and inventory management — all from one platform. It even comes with hosting.
3. Fill your shop with products
Once you have your domain name, hosting and a platform to build on, you can start creating your online store. Most eCommerce website builders have themes you can choose from to set the structure of your site. You can then add your own images, colors and content to make it unique to your brand and business. Your can incorporate standard pages, such as Contact Us and About, as well as the actual shop where you display your products.
Most store builders will allow you to add a title, description and multiple pictures for each product you want to sell. If you use GoDaddy's GoCentral Online Store, you can add as many as 1,500 products and up to 10 pictures of each. Products can be separated into categories, and you can include a search function to make it easy for users to find what they're looking for.
Pro tip: Make sure you use high-quality pictures since consumers only have the images of the product to reference when making a buying decision.
4. Advertise your new online store
When your web store is everything you want it to be, you have to drive people to it in order to actually sell clothing online. The old, "if you build it, they will come" idea might have been true in Field of Dreams, but the same doesn't apply to websites. You have to promote your products and market your store to get people to it.
Many businesses turn to search engine optimization (SEO) and social media marketing to attract a crowd, but paid advertising is an option as well.
Using a combination of the three might actually deliver the best results. It's also a good idea to offer discounts or coupons through these channels to provide a little extra motivation to get people to your store.
5. Measure, adjust, measure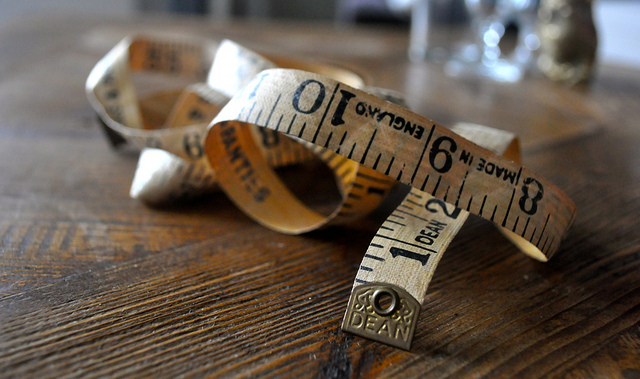 To sell clothing online and grow, you'll need to monitor your eCommerce website and adjust based on what you learn. The easiest way to do this is through great customer service. Make sure visitors can contact you and ask questions or give feedback. When sending order confirmation emails or check-ins, include an email address the customer can respond to with issues or to thank you for a fantastic experience.
Having direct access to your buyers is one of the big benefits of selling clothing online through your own store. It can give you so much insight into what you're doing well and what needs work.
For example, if you're getting a lot of the same questions, you might want to add some text or tweak certain features to make them easier to use. Similarly, if you have a lot of complaints coming in about load times of images or the organization of your products, you know those are areas you can improve.
If you have a little bit of technical knowledge, you can also use analytics tools to track the effectiveness of your eCommerce store.
Editor's note: Want to easily integrate Google Analytics with your online store? GoDaddy's Online Store takes care of that for you.
Google Analytics is a great, free option and can show you helpful user data, such as:
Which pages users are coming to from search engines
What products are getting the most clicks
Which pages users are leaving without viewing another
How many users are finding your site through search and referrals (social channels, other websites, etc.)
The number of people who know your brand and came directly to your website
This analytics tool can help you pinpoint what's working and what isn't. And while these five steps will help you get a solid start to selling clothes online, it's up to you to keep your customers happy and build a loyal following.
Become a retail spy
As you move through these five steps and begin to sell clothing online, it doesn't hurt to look to other online stores as sources of inspiration. Noting where your competitors are lacking can expose opportunities for you to fill a void in the space. Likewise, seeing what others are doing well can give you ideas for your own store. These websites for selling clothes below are just a few examples of shops doing it right.
The Outnet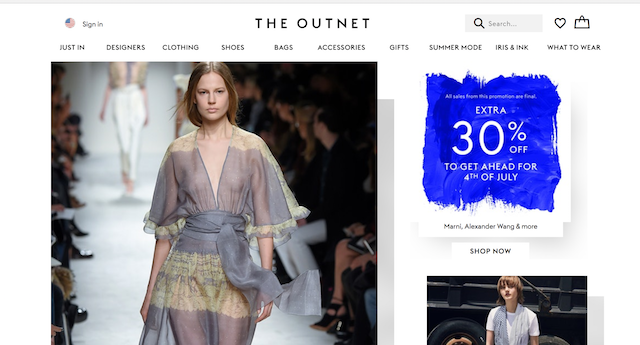 The Outnet is a clothing retailer that sells designer products at discounted prices — a niche catering to the fashionista on a budget. The low prices are highlighted everywhere around the site, and items with the same markdowns are grouped together to make it easy for customers to view the price range that works for them. Aside from this targeted focus, this shop goes above and beyond for its shoppers through helpful styling tips, access to the latest trends, and sections grouping products that go together.
Fashion Mia
When it comes to websites that sell clothing online, Fashion Mia is a standout. A clean and simple design, high-quality photography, social integration and categorization make it a good-looking website with everything a user could want within easy reach. A search function, easy-to-scan menu of categories and eye-catching promotional images make it very easy for shoppers to navigate the site. The retailer highlights a user-generated photo gallery on the homepage, which encourages customers to upload photos of their purchases to share. This drives interaction and encourages buyers to return to the site — even after buying.
Stylebop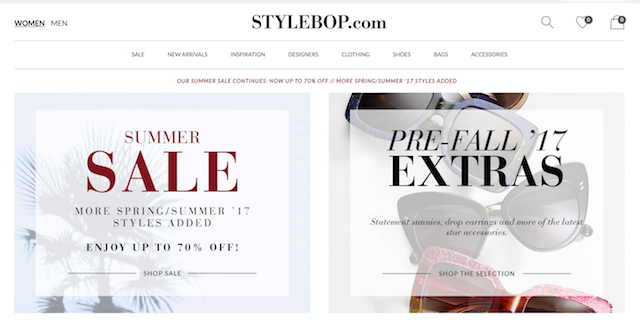 Stylebop is another one of the best websites for selling clothes. It makes shopping easy with large imagery, a fantastic search function and a sale section that's always full of variety. The clothing items are separated into categories that make it easy for users to find what they're looking for, whether it's a certain brand, type of clothing or trend. There's even a section called "Inspirations" that pairs items together based on the season or occasion, which makes putting together a stylish outfit easy. Finally, if customers have any questions, there's a phone number at the top of every page that makes it easy to get in touch with the retailer.
Wrap it up
If you're considering building a business to sell clothing online, getting started with an eCommerce website is as simple as following my five-step guide. With all the resources and tools available to online store owners these days, you can get your shop up and running in no time.
[advertisement id="25753″]