How to choose the best website builder for your business in 2019
Editor's note: This post was updated on January 11, 2019.
Websites are a must-have asset for any small business. They're like a full-time employee for marketing, sales and support who works 24/7/365 without taking any vacation time or sick days.
But while that sounds great, there's one little challenge that gets in the way:
How do you actually build the website?
There are quite a few options to choose from, all with very different approaches. You could do it yourself with a website builder like GoDaddy's own GoCentral. Or you could build a site with WordPress. Or you could hire someone else to build a site for you, like with our Website Design Service, or you could hire a local web professional in your area.
What's the best website builder tool?
I've been asked this question a fair bit by people looking to get a new website up and running. So if you're finding yourself in that situation — or if you know someone else who is — I've come up with a sort of checklist for recommending the right solution. It's all about identifying:
The type of site you need to build.
The features you need.
The resources available to you.
Let's get into it.
What type of website are you building?
If you're looking to establish or protect your online identity, a personal website is a great place to start. It doesn't need to be anything fancy — just an introduction to who you are, what you do, and the things that you care about. If you're looking for a new job, it can showcase your work experience and talents. If you're looking to build your personal brand, a personal website can act as the hub of everything you do online.
But what if you're a business?
A business website serves multiple roles.
It helps potential customers find you on search engines, learn about your business, and get in touch — whether that means making a call, sending a message, or showing up at your door.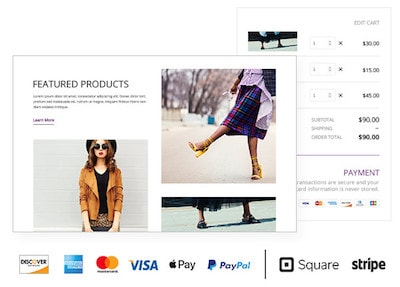 Are you selling products? A business website with an online store kicks things up a notch. It allows you to showcase your wares, sell them from your site, and track all orders from a single place.
But what if you're selling more than just physical goods? What if you're selling digital products, like software downloads, media files, or access to restricted content on a website?
Or what if your products are complex? What if they have hundreds of different variations? Or what if you only sell certain products to certain markets?
That's where WordPress comes in handy. Its extensive library of eCommerce plugins, like WooCommerce or Easy Digital Downloads, lets you create a site tailored to your specific requirements.
What features do you need?
As already mentioned, if you're building a website to sell products, you'll need some sort of online store or eCommerce functionality. But let's not stop there. There are other common features that websites need, regardless of whether or not they're selling products.
It's better to identify these features ahead of time, rather than finding out that something doesn't work after you've already started building the website.
Let's take a look at a few of the most common scenarios:
Do you need an email marketing tool?
An email marketing list is one of the most valuable assets that any website can have. It's a direct line to your audience, whether that's business customers or blog subscribers. An email marketing tool, like GoDaddy Email Marketing, gives you an easy way to manage your list, send emails, and see how recipients interact with the emails.
Do site visitors need to be able to create user accounts?
Private membership sites, online courses, online stores with customer profiles, and blogs or publications with multiple authors all require separate accounts for each user.
Do you need to connect with third-party services?
Google Analytics is widely supported by most — if not all — website building tools. But if you want to use another analytics service, like Google Tag Manager or Hotjar, the site builder tool will either need to support the tool itself or allow you to add custom code. The same goes for other services, like LiveChat or Sumo.
Do you need to run advertisements?
Advertisements are the lifeblood of online media websites, including independent blogs run as side hustles or lifestyle businesses. These sites will use an ad network like Google AdSense or an ad management platform like DoubleClick, which often requires some level of developer integration or support for custom code.
What resources are available to you?
So we've identified the type of site you're going to build, and the features that you'll need on the site. Great! Now we need to take a look at what you're working with.
First off: Who's going to build the website?
If you're building the website yourself, do you need an easy-to-use tool, or do you have the tech chops to build something with WordPress?
If you're not going to build the website yourself, do you already have someone working with you? Or do you need to find a web designer or developer to turn your vision into reality?
Who's going to manage the website after it's built?
Websites are never "done." They're always in need of maintenance and updates. A business website, for example, will need updates if contact information is changed, or for announcing new sales and promotions.
So who's going to take care of that work? Are you going to manage the website yourself? Are multiple people going to be managing it? Do you need to hire someone to help you take care of it? If you hire someone to help, do you want them to be local to you?
What's your budget?
What's the best bang-for-the-buck available to you, based on the budget you're working with?
For personal sites, you don't need to spend very much, since the main purpose of the site is to share information. But for businesses, you should have an open mind about the actual return on investment that comes from having a great website.
Let me explain:
As I mentioned at the start of this article, a business website can serve multiple roles.
It can help you with marketing, attracting new potential customers.
It can help you with sales, either by directly enabling sales through online orders, or by using custom contact forms to profile leads as they come in.
It can help you with customer support, by providing always-available information to your customers.
And it can help you drive referrals from your existing customers, by giving them an easy way to tell others about your business.
Marketing. Sales. Support. Referrals. 24/7/365. How much is that worth? How much would you pay for an employee who can do all of that for you?
A website isn't just marketing collateral. It isn't just a brochure or an ad. It's a full-time employee!
Now, that being said, I understand that what a website is worth and what you can afford to spend are two different things. So once you've settled on an annual budget, write it down.
What's your timeline?
This is the another major consideration that has a big impact on choosing the right website builder.
If you're looking to get a site up and running within a couple of days (or even a couple of hours), you'll want to use a simple tool that proactively handles a lot of the legwork for you.
If you have more time available, you might prefer to work with a tool that gives you more control over customizing the appearance and functionality of the site.
The best website builder is the one best suited to your requirements
We've hit on a handful of questions here, grouped into three sections:
What type of website are you building?
What features do you need?
What resources are available to you?
But that's just the beginning. You can go even further, thinking about things like:
What do you want the website to look like?
What posts or pages will you create?
What will you gather from site visitors via contact forms?
And with all of that information at hand, you'll be in a great position. Why? Because you'll have determined your requirements. Requirements that you can then refer to when choosing a website builder, or that you can hand over to a web designer to quote against.
Want a quicker solution? Take the quiz below and we'll recommend the best tool for the job based on the details you provide.
[quiz-cat id="60034″]
Image by: Igor Ovsyannykov on Unsplash