How to make a blog for kids
Want to learn how to make a blog for kids? This is one of the most powerful tools for teachers who want to provide their students with access to the digital world. It's also a great way for parents to share their ideas and tips with others online. A blog is a seamless, interactive way of engaging both students and older readers online. Whether you want to share craft ideas or collaborate on lesson plans, a blog is a fantastic choice.
How to make a blog for kids in 5 steps
Some people use blogging to draw more visitors to their websites. Others just want to share and connect with like-minded people. Here are the steps to starting your own.
Name your blog.

Choose a blog builder.

Create an editorial calendar.

Promote your blog.

Interact with your readers.
First let's visit a couple of very successful kids blogs before we tackle the how-tos of blog construction.
Examples of great children's blogs
To learn how to make a blog for kids, a good first step is to analyze some of the leading blogs for kids online right now. Take a deeper look at some of the success stories to learn why they're able to generate such attention online. Then adopt some of their strategies for your own blog.
Super Healthy Kids Blog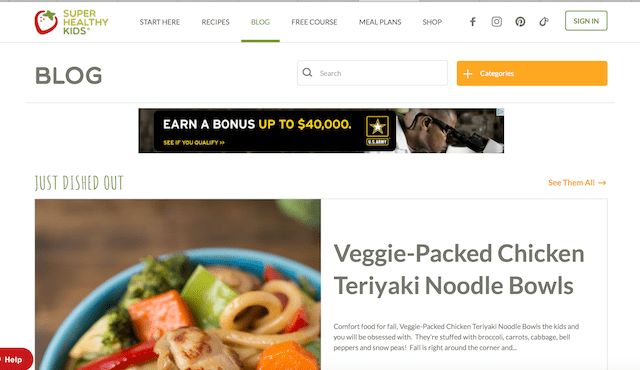 This is a great kids blog and provides an incredible amount of information around the perennial problem of getting children to eat healthy meals. Whether it's unique recipes, nutritional plans or general advice, the Super Healthy Kids blog has it all.
This is what makes it such a vibrant, fun-filled online resource for parents and kids. With over 2.8 million Facebook fans, this is a well-established blog with a reputation for offering value. The quality of its content has made it one of the go-to blogs for parents around the nation.
Red Ted Art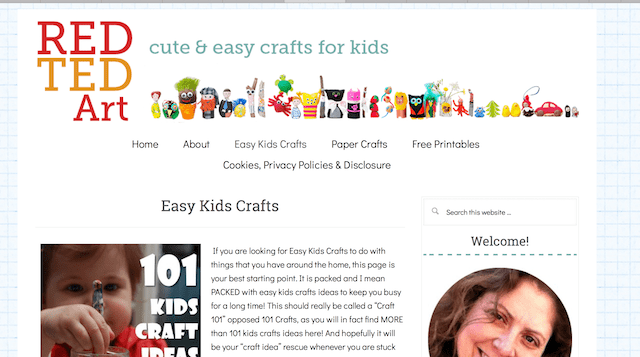 With nearly 2 million followers on Facebook, blogger Maggy Woodley is clearly doing something right with her Red Ted Art blog. The goal of this blog is to offer a range of crafts for both children and parents to work with. They have many new designs that are easy and fun to work on, with new ideas added weekly.
And this is one of the most important takeaways when it comes to the leaders in children's blogs online:
If you put in the hard work, you'll attract followers.
Parents will come to these blogs if there's something new to offer every day.
Step-by-step: How to make a blog for kids
Now let's break how to make a blog for kids down into steps. You'll need to learn blogging from the ground up, and this part of the post will teach you how to do it.
1. Name your blog
Start by picking out a domain name that will work well for your blog. In general, you want a name that gives people a feel for what the blog will encompass. If you're a teacher, it should have an educational theme to it. Check out this terrific post for more naming tips.
Go to a site such as GoDaddy.com to see what options are available to you. While many recommend you stick with a .com domain since it's recognizable, there are other options if can't find the name you want in .com. For example, you could try searching for the name you want with .fun or .club on the end.
Type in the name you want now to see if it's available:
2. Choose a blog builder
What platform are you going to build your blog on? Many bloggers go with the tried-and-tested WordPress platform. Although there is a learning curve to WordPress, it gives you access to a range of tools that will remain useful throughout your journey. WordPress plugins are numerous and simplify the process so you can focus on creating great content.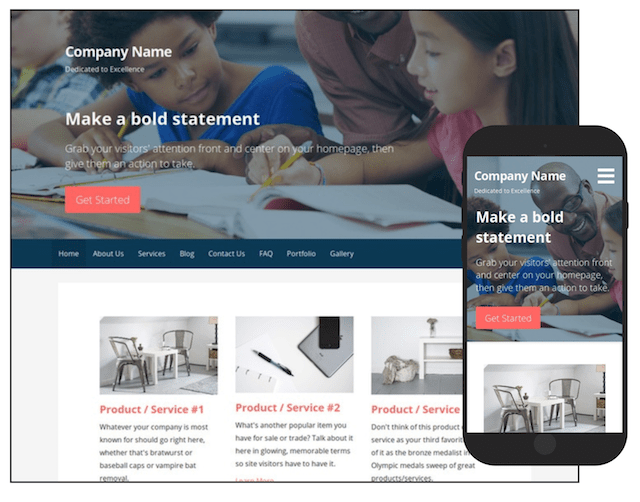 Some teachers prefer to use Edublog.org or Kidblog.com if they need multiple blogs for students. This is up to you and depends on your goals and application.
For those who already have a website they'd like to extend with a blog, read this article for instructions.
3. Create an editorial calendar
Once you've registered a domain name and chosen a blog platform, it's time to think about content creation. The goal is to list the type of content you'll create, how often you'll write it and the overall theme you're going for. This is important because you don't want to have a "learn as you go" attitude. Otherwise you could end up:
With a blog that isn't sure who it's talking to
Pressed for ideas with deadlines looming
Plan in advance, so you're not left wondering what to write about next as you work to learn how to make a blog for kids. Get more tips on creating an editorial calendar.
What to write about
The most important thing when it comes to how to make a blog for kids is content. And if you're trying to post new material multiple times each week, it's easy to run out of ideas. Here are a few:
Tell your story
Summer crafts
Kid-friendly recipes
Top 10 educational toys
Visual puzzles
Reviews of the best children's books
Interviews with teachers
Videos of local children's attractions
News related to parenting/teaching
Resources for stay at home parents
Other bloggers' posts (always credit your source)
Teachers can find a long list of ideas for student bloggers here.
For a detailed walkthrough on blog building that you can keep open as you work, refer to this guide.
4. Promote your blog
Once readers have found your blog, make sure you get their email addresses before they slip away. The easiest way to do this is to add a signup form to your blog, preferably with a dynamite headline like these. There are a number of WordPress plugins that allow you to add sign up form to your blog, then turn those signups into regular communications with your readers. This is the way to create a following and ultimately (perhaps) start making money from your blog.
5. Interact with your readers
If students or parents are taking the time to ask questions or comment on what you've posted, it's best to reply as soon as possible. Keep an eye out for activity on the blog because people will have questions for you. If you're not replying to them, they'll assume you don't care, and that is the last thing you want. If necessary, you can go ahead and set a schedule to reply to these comments on a daily basis. All it takes is five to 10 minutes in the morning or before going to sleep as you learn how to make a blog for kids.
The world awaits
Whatever your reason for blogging, there's a huge audience ready to welcome your contributions to the pool of human knowledge. After all, parents and teachers are some of the most curious people on earth. So as you learn how to make a blog for kids, keep these tips in mind. Stick to your schedule, produce useful articles, interact with your readers and in time you'll have a loyal fan base.
Image by: Visual hunt