How YouTuber Karina Garcia launched her Craft City brand
Not everyone can pay the bills with slime. But LA-based YouTube sensation Karina Garcia has made a career out of making colorful, gooey slime out of household materials. And tweens are eating it up. With her new Craft City brand, she's able to bring her products to the masses.
Karina has 6.5 million followers on YouTube. According to a recent New York Times article, she earns six figures — six figures per month. She recently expanded her business to include consumer products, including books and a line of DIY kits under her new Craft City brand, available exclusively at Target.
Riding the slime wave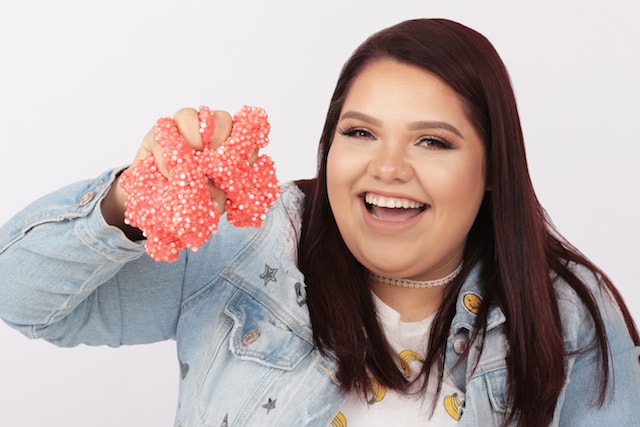 In 2015, Karina was a waitress in her early 20s who started posting slime videos on YouTube in her spare time. Today, she's often referred to as the Slime Queen, and if you look at her YouTube channel, it's easy to see why. One of Karina's most popular videos is called "100 Lbs of Slime!" Who doesn't want to see 100 pounds of slime in action?
As a subject matter expert on slime, Karina has authored a book called Karina Garcia's DIY Slime. And her new book, Karina Garcia's Must-Try DIYs: 20 Crafts & Life Hacks, will be released soon. She recently appeared on "The Ellen Show" and taught Ellen DeGeneres and Reese Witherspoon how to make slime. She was also a guest on ABC's "GMA."
Kids and tweens aren't just watching the slime videos — they're also sliming at home. (Did you know? "To slime" is now a verb!) Slime is made out of simple ingredients like school glue and Borax — plus things like glitter and food coloring to add a little pizazz. The rise of sliming has caused sales of products like Elmer's glues to soar.
Launching her Craft City DIY kits
With so many kids and tweens going crazy for her slime videos, Karina wanted to help her fans get their hands dirty. "I wanted to create a product that encourages creating on your own terms," says Karina. In early 2017, she met Oliver Bogner, founder and CEO of Brandable, and the product idea came to life.
As a serial entrepreneur and successful television producer, Oliver is well positioned to help people like Karina take their personal brands into new channels. Brandable partners with strategic influencers, content brands and trendsetters to build consumer products brands. Brands like Karina Garcia's new Craft City.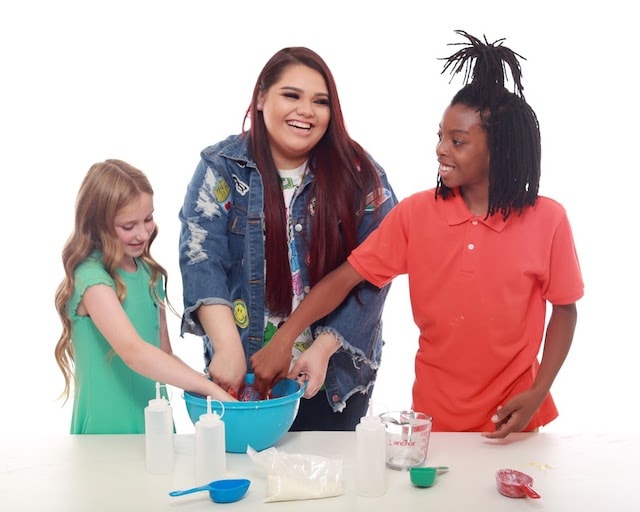 Currently, Craft City offers a DIY Slime Kit exclusively at Target stores and Target.com. "I partnered with Brandable to create DIY crafting products for mass retail, and the Craft City brand was launched!" explains Karina.
"I work hand in hand with Brandable to personally create and design every crafting product and accessory."
Karina's goal is to offer the best quality slime kits on the market. "I wanted to connect with my fans and give them everything they need to make my 'As Seen on YouTube' slime at home." And the timing couldn't be better. Her DIY Slime Kit is sure to be a hit this holiday season.
Building the Craft City brand online
While Karina's Craft City products are available exclusively at Target, the Brandable team knew that Craft City still needed its own website. The Brandable team had recently built their own site using the new GoDaddy GoCentral Website Builder, and they used GoCentral to build CraftCityLife.com for Karina as well. According to Brandable Brand Manager Melanie Holmes:
"GoDaddy was extremely quick and easy to use! You just plug and play, and the quality is great!"
"It was important to give consumers a space to be able to ask questions, watch tutorials, and stay up to date on all new Craft City products in the works!" says Karina. "And there are great new products coming soon. My Sleepover Collection will be on sale at Target starting January 1!"
In addition to picking up tips and tricks on the Craft City website, customers can ask questions about the products. The team gets back to fans within 48 hours.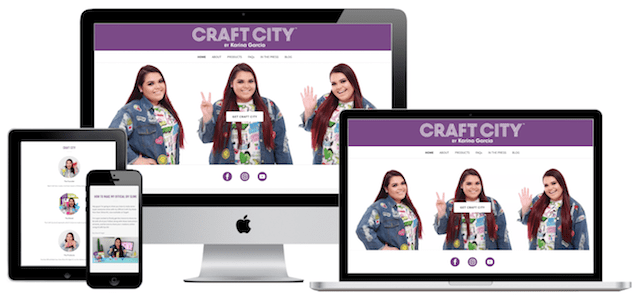 To drive traffic to her new Craft City website, Karina has been mentioning it on her social media channels. She has personal accounts on Instagram and Twitter, and she also has new Craft City accounts on Instagram and Facebook.
Looking to the future
Karina has big goals for Craft City. "I want Craft City to become the next big crafting brand, and my goal is to make it the fastest growing crafting brand in America," she says. "I see myself giving crafting tips and lessons on segments all over the country!"
It's really important to her that Craft City is — and remains — a very accessible brand. As an entrepreneur, this is one of her strengths. "I bring all of the crafting skills I've learned and developed through my YouTube channel," explains Karina. "But my ability to connect with fans and audiences is also a strength."
Karina Garcia's definition of success: Creativity, determination, uniqueness.
While slime is still her bread and butter, Karina has also branched out into life hacks and other DIY projects. Some of her most popular videos teach fans how to make their own bold lip colors.
Karina seems to be taking the fame and fortune in stride. When I asked what she likes to do to unwind, she said, "Sliming, of course!"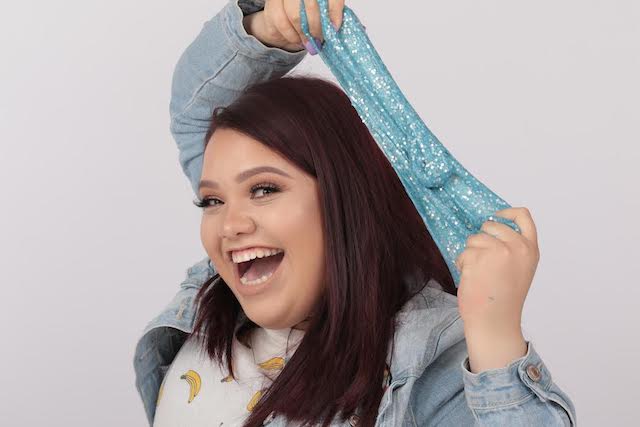 Try GoDaddy GoCentral for free
Inspired by the Craft City website? Try GoDaddy GoCentral for free. Build a simple site in less than an hour, and add additional features like email marketing and an online store when you're ready.
Bonus: GoCentral is entirely mobile-friendly. Build and preview your website anytime, anywhere, on your phone or tablet, and add or change photos as often as you like.