How to simplify online scheduling with Microsoft Bookings
Customers are the lifeblood of any business. This is especially true for small businesses that offer a service based around appointment scheduling — such as hair studios or those in the door-to-door sales industry. If you run a similar business, you'll need a highly efficient way of moving potential customers through the conversion funnel — and online scheduling might do the trick.
However, the answer to creating a more effective process doesn't necessarily involve handling every aspect in house. Instead, you'll want to automate the majority of the steps and get the customers themselves to take on some of the strain and make key decisions.
Features like online appointments are vital to developing an efficient and profitable service offering.
Wouldn't you jump at the ability to minimize no-shows with automated reminders for your customers and staff?
With Microsoft Bookings set up and in place, you can avoid conflicts by sending appointment confirmations and notifications to make sure everyone is on the same page.
Microsoft Bookings also allows you to set up a reminder email, which is sent based on how much notice you want to give before the appointment. Your customers can then add online appointments to their personal calendars with just a few clicks.
Everyone knows where they need to be and when. No-shows alleviated!
In this post, we'll look at how manually managing your appointments could result in trouble. Then, we'll look at how the Microsoft Bookings app can help with practically every aspect of the online appointment scheduling process. We'll close with how to get Microsoft Bookings.
Let's get started!
The problems with managing appointments and bookings manually
A service business — especially one that handles appointments — lives and dies by its ability to make sure customers are seen to efficiently. In fact, you could argue that all-around efficiency is the key to a successful small business.
What's more, this effect is magnified when your income relies on setting a revolving door of customers in motion. The importance of managing your appointments and bookings appropriately can't be overstated. Let's start with a hypothetical:
You: Let's get together Thursday and hammer out the details.
Your Customer: I'm booked solid Thursday. How about Friday?
You: I'm off Friday — three-day weekend. How about next Tuesday?
Your Customer: Drat, I have a previous engagement for Tuesday.
Sound familiar? Ask your staff, and most will probably admit they are busy and over-tasked.
Arranging a meetup to find a date and time that works for all involved can become a real science fair project. That is, unless you offer online scheduling. Then, your conversation might go more like this:
You: Check your email — I just sent you a link to my calendar. Book the date/time that works for you and I'll send you a confirmation and reminder email.
Your Customer: Outstanding! It's a pleasure doing business with you.

You simply don't have time or energy for going back and forth, trying to nail down a date for an important meeting, many times ending at a discouraging stalemate.
The fact is, without online appointment scheduling, your business will experience lost productivity and efficiency.
This means having to regularly reschedule meetings when date/time conflicts arise — or when an appointment is forgotten or missed. The domino effect kicks in and results in an efficiency nightmare.
Many try to control the situation themselves on an in-house basis. On the surface, this is a tempting idea for a number of reasons. Most importantly, if you're responsible for overseeing all aspects of your booking system, there's only one place to look if something goes wrong.
While this simplicity can be comforting, there are also plenty of pitfalls involved.
To start with, you won't necessarily feel any better about letting down a customer because you've handled their request personally. After all, you're the one who's failed to add their details to your schedule.
Likewise, you're likely to lose a customer if you forget to set a reminder in your favorite calendar app.
You'll find that the scope for human error is high when it comes to scheduling appointments — and the manual approach is often inferior to a system that's designed intentionally for an optimal and organized workflow.
A closer look at Microsoft Bookings
If you're looking for a better way to handle online scheduling, the answer might lie in a somewhat lesser-known Microsoft app.
Microsoft Bookings is a sleek and sophisticated way of scheduling times, making appointments and empowering the end user to get in touch with you.
This app offers a central booking page for your customers to peruse, containing everything they need to know about the services you offer and the times you're available. Online appointment scheduling lets you retain control over what information is presented, while letting the customer make a decision based on their own scheduling considerations.
This makes doing business with you effortless, even when you're not available to answer the phone or in front of a computer to respond to an email.
All customers have to do is first select the service they want and then, based on the availability you provide, choose a day and time when you or your staff are available. Then they enter their contact information and book the appointment.
It's that easy.
You're afforded more time to focus on your business's needs, since almost all correspondence via Bookings can be automated. This is a significant time-saver, as are the automatic reminders customers will receive when their appointments are getting close.
Related: Automated customer service: How to leverage automation to create a remarkable client experience
Right after your customer schedules the appointment, they are sent an email confirmation with an option to add the appointment to their calendar. Outlook and Google calendar integration is available and helps contacts tie everything together.
For those customers who prefer to speak with you when making appointments, you can enter information manually and all confirmations and reminders will be sent as usual.
That's called personalized customer service.
Those reminders in particular are crucial, since decreasing the number of no-shows is vital for maximizing your business' revenue.
It's easy to see how having a schedule packed full of solid prospects and potential customers is better than a calendar full of iffy leads and time-wasters.
Getting started with Microsoft Bookings
You'll generally need to offer customers at least three things when they're looking to make a booking or appointment:
A choice of services
A method for choosing a date and time
Somewhere to add their personal details
A functional booking page for online scheduling will consist of these elements. In Microsoft Bookings, you can find corresponding customization screens for each in your main dashboard.
The Services tab, for example, lets you set a name, description, location and specific duration for a particular service.
You can also include buffer time that customers can't book within, to avoid last-minute scheduling.
Then, the appointment itself and the customer's details are added to the Calendar and Customers tabs.
Having all of this information under one roof is a very convenient way to manage online scheduling.
Although your customers won't see the administrative side of your scheduling process, they will surely appreciate the end result!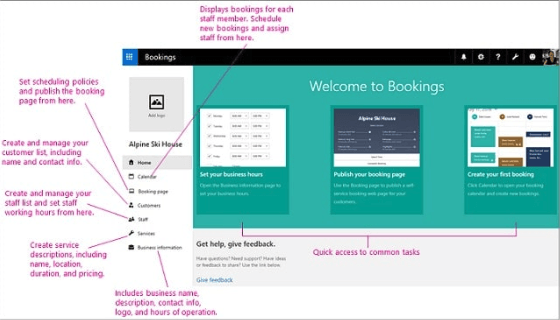 Microsoft Bookings is responsive and works across platforms
Your Bookings web page is simple to use and looks great on both larger screens and mobile devices. This is extremely important for those businesses that rely on smartphones and tablets to keep their businesses on track.
You'll also have full access to your customer, staff and calendar info where and when you need it with the Microsoft Bookings mobile app.
You can quickly come to rely on the app to email, call or text customers, or create new appointments, all from your phone. Tap, tap — done.
Standing out from the competition
Bookings beats out many of its competitors in ease of use, convenience and integration with the applications your business and customers are already using in their day-to-day activities.
For example, Facebook integration. If your customers are on Facebook, they'll enjoy the ability to book with you in two clicks.
Once customers click Book Now, all their information is auto-completed for them based on their Facebook account. They simply have to click Book, and they're done!
Additionally, when communicating with customers, you can link to your scheduling page from an email, your business's website or your Facebook page. Offering online appointment scheduling simplifies scheduling and cuts down on that frustrating phone tag that we've all experienced.
Your customers will welcome the flexibility, convenience and control.
What's more, your customizable public web page lets your customers find available times and book appointments 24/7 at their convenience.
In the background, you can manage your private calendar schedule and those time-saving automatic confirmations and reminders. Specifying the services, times and staff that are visible on that calendar is up to you and can be done from any device, at any time of the day or night.
How to get Microsoft Bookings
Access to online appointment scheduling with Microsoft Bookings is easier to get than you might expect. This is especially true if you're an existing GoDaddy customer.
Wondering how to get Microsoft Bookings? It's a snap.
GoDaddy has partnered with Microsoft to provide round-the-clock access to the Microsoft 365 suite of tools. The Business Premium plan includes versions of all the classic Microsoft Office favorites, such as Outlook, Word, Excel and PowerPoint.
Of course, Bookings is also part of the suite, which means you'll have practically everything you need to run your business efficiently, right at your fingertips.
What's more, the Business Premium plan is a steal given the value in the overall package (it includes other business tools as well, including DocuSign and MileIQ).
Related: What is Microsoft 365 and how can it help small businesses grow?
Closing thoughts on online scheduling
When it comes to offering appointment-based services, the best approach is to make the experience as easy as possible for your customers. Offering online appointment scheduling is a smart way to accomplish this — and to save yourself valuable time.
Microsoft Bookings is one of the best solutions for doing just that.
It's an efficient method of letting each customer choose their appointment date and time, sending automatic reminders, and keeping all of your bookings organized. Fortunately, it's available via a Microsoft 365 from GoDaddy Business Premium subscription.
This article includes content originally published on the GoDaddy Blog by Judith Kallos.
Image by: Jenny Marvin on Unsplash