GoDaddy guide to starting a blog.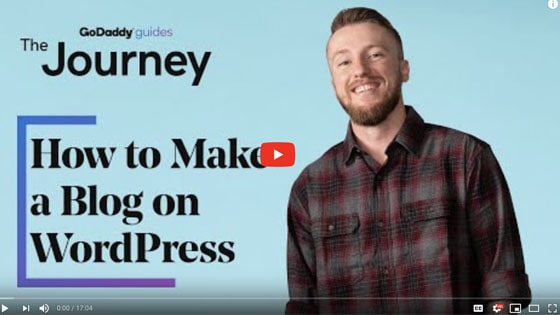 Starting a blog, whether for your business or for a personal project, is a great way to grab the attention of the internet masses. It brings people to you organically and helps build trust and relationships, ultimately opening up revenue streams.
Blogs open up a world of opportunities to entrepreneurs of all kinds.
There are many benefits to starting a blog, but before you can publish your first post, you will need to make some big decisions. The resources on this page can help.
Resources for starting a blog
Before you get your blog off the ground, you'll also need to decide what to name it — and that's where choosing a great domain name comes into play.
Now you have a name and a domain, so it's time to decide how you'll present your blog to the world. Will you use WordPress or a simple website builder? What kind of images do you want on your blog? What's your overall theme?
Get those nitty-gritty details nailed down so you can move onto the main event — the content!
Plan your content strategy before you start blogging so your voice is consistent throughout your writing.
Create an editorial calendar so you have an idea of what you will write about and when. Then, prep to master SEO. Becoming an SEO pro help make your blog visible — and isn't that what it's all about?
And, with all this time spent on your blog, wouldn't it be nice to make a little cash from it, too?
Learn how to monetize your blog and find out what tax deductions you can take advantage of as a blogger. Why not make some extra dough?
Looking for industry-specific inspiration? Blogging works for just about any industry and we've got your back with some ideas right here.
Anyone with an internet connection can start a blog, but only the savviest of entrepreneurs can make it work for them. So check out the resources on this page and let your ideas thrive.