Blogging conferences are incredibly valuable for building your blog into a business. Whether you're looking to connect with potential sponsors, want to form a support group with fellow niche bloggers, or want to learn how to make money blogging (don't we all?), there's a blogging conference for you. Meeting people and connecting face-to-face is one of the most valuable aspects of attending blogging conferences.
Since you gotta change out of your yoga pants and get on a plane to go to a conference, let's first discuss choosing the right conference for the right reasons.
Blogging conferences can help you reach your business goals
Before you buy that conference ticket, make sure you're clear about your aspirations. Once you know your business goals, then you can start shopping around for a conference that meets your needs. Most conferences have the following elements:
Networking events (parties, excursions, meals). This is where you meet peers, brands and experts.
Sessions, panels or classes (education). This is where you learn from experts and peers.
Keynote sessions. Speakers to help you get inspired and motivated.
Sponsor hall or suites. Businesses and brands set up tables or booths to show off their products and/or meet with attendees.
Awards. Used to recognize those who are making a difference in the industry or niche
A look around a conference website can tell you who the sponsors are, what kinds of education they offer, and the caliber of speakers at the event.
Look at the social media accounts or hashtags for the event to see what previous years' conferences looked like.
Get a feel for which conference is right for you. But if you want to hear from someone who's been to a conference before, then I'm your gal. Let's review a list of conferences I've actually attended.
Best blogging conferences for women
Every single conference is different and will align with an aspect of your business goals. Read through this list to find one (or four) that fits your needs.
BlogHer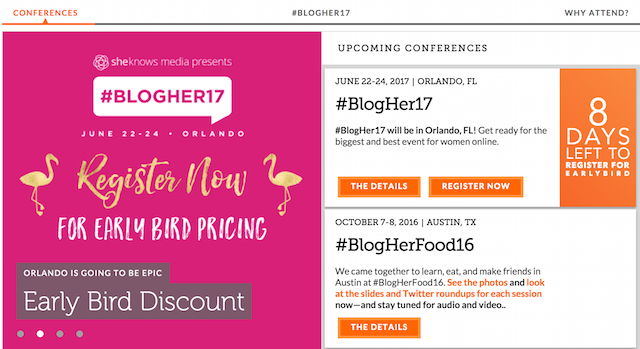 Whether you're a seasoned blogger or just thinking about starting a blog, BlogHer has sessions and sponsors for everyone.
With several thousand attendees, BlogHer is one of the largest blogging conferences focused on women.
Connect with national brands on the expo floor, at exclusive invite-only brand events or while walking around the conference. The education offerings are few but strategic — learn from well-established bloggers, experts and content creators who are achieving success in and beyond the digital space. Because so many people attend BlogHer, the networking opportunities for the blogging community are unparalleled.
SNAPConf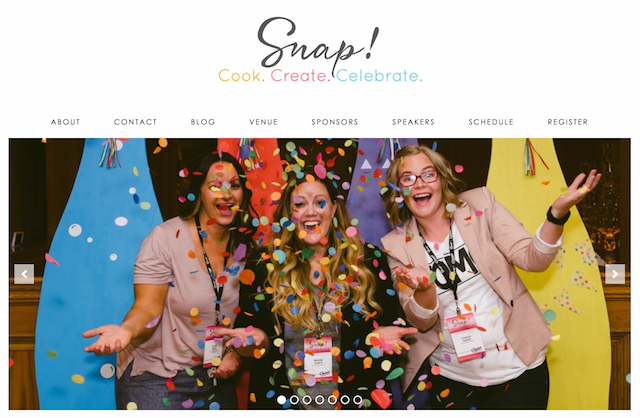 Crafters, DIYers, foodies and design bloggers attend SNAPConf to connect with brands in those niches. SNAPConf brings together an extensive group of top brands, and sponsors are there to work with bloggers — they're looking for content creators to hire, provide sponsored product to, and to learn more about trends in blogging.
Many of the sessions are led by fellow bloggers with a focus on helping new and intermediate bloggers learn strategies and ideas they can use to level up in their businesses. With off-site excursions, secret-pal gift exchanges, nightly parties and sit down meals, SNAPConf provides many opportunities for networking and getting to know the members of these blogging communities.
Altitude Summit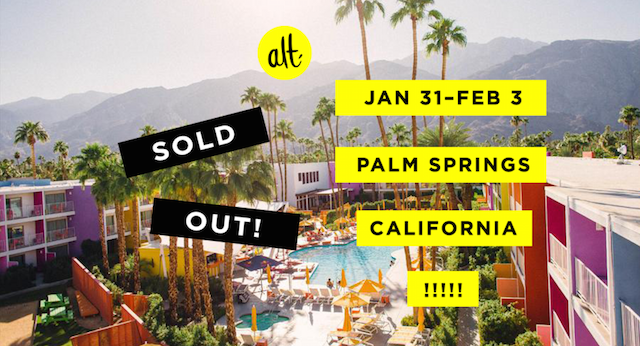 Style and design are the hallmarks of Altitude Summit (a.k.a. Alt). The curated sponsor list includes brands who have a polished look, higher-end aesthetic and designer slant in the food, home decor, DIY and design spaces.
Attendees include a list of top bloggers who are dominating Pinterest and Instagram with their polished aesthetic, well-executed party, food and decor spreads and stunning photography, as well as artists, interior designers and experts.
Connect with lawyers, social media managers, designers and accountants at roundtable sessions, get hands-on information from successful bloggers who share their strategies and secrets in the lecture sessions and panels, and be inspired by top-notch keynote speakers who are making it big with their businesses, such as Todd Oldham, Luvvie Ajayi and Guy Kawasaki.
Set in gorgeous locations, Alt creates an environment to inspire and rejuvenate attendees. It's also full of gorgeous photo ops! Though many attendees are extremely fashionable, the feeling at Alt Summit is relaxed, encouraging attendees to network with brands and one another.
Blended Conf
Set in Arizona wine country, Blended Conf is a down-to-earth conference with a focus on hands-on education you can use now. Bloggers in attendance range from beginner to advanced. Sponsors include food, event and DIY brands who are interested in working with bloggers in a sponsor relationship.
Blended Conf is casual and relaxed (it's hosted in a barn at a winery), allowing for attendees to easily connect and make new contacts.
Education sessions are focused on strategies, tools and practical knowledge to help bloggers level up in their businesses, and they're full of case studies and real-world examples to help drive the speakers' points home. Session speakers are chosen based on requests from the community, so the sessions are a direct response to the needs expressed by past attendees. You'll leave Blended Conf with a long to-do list and a solid direction for moving your blog forward.
Bloggy Boot Camp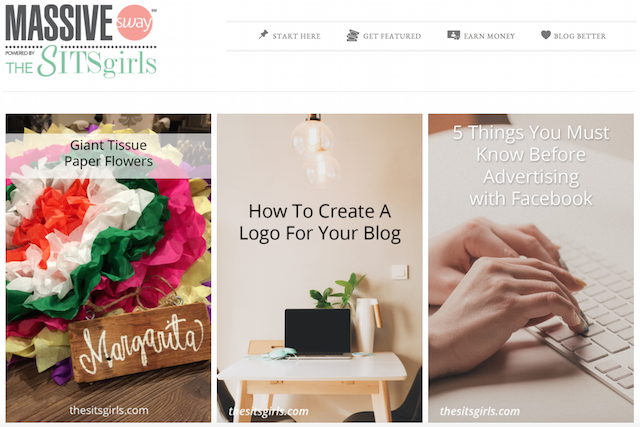 A one-day conference, Bloggy Boot Camp is focused on education and inspiration. Hear from experienced speakers about practical ways to monetize your blog, create content, and work with sponsors. Produced by The SitsGirls, Bloggy Boot Camp provides tools and ideas you can use now in an easy-to-attend, affordable conference format. Bloggy Boot Camp is expected to open a new conference for registration in 2017.
Craftcation Conference

A conference for makers, Craftcation focuses on all things handmade. From bloggers to foodies, to Etsy shop owners and crafters traveling the craft fair circuit, Craftcation provides education on the practical business side, as well as an opportunity to get creative in hands-on, food and craft classes.
Take cooking classes with Aida Mollenkamp, learn weaving with Paige Kent, and make a traveler's notebook with Amy Tangerine — all examples of past and current offerings at Craftcation. Or, dig into the business side with sessions on managing burnout with Sharon Fain and Tiffany Han, get laser focus on your branding with Lela Barker, or learn how to effectively use Pinterest in your business with Mallory Whitfield.
Craftcation is set in the heart of Ventura, Calif. with a relaxed atmosphere. Meals are buffet-style, allowing for casual networking and a come-and-go feel. Craftcation's focus is to rejuvenate your creativity and to give you tools to help your business thrive while also connecting you with like-minded makers and business owners.
We All Grow Summit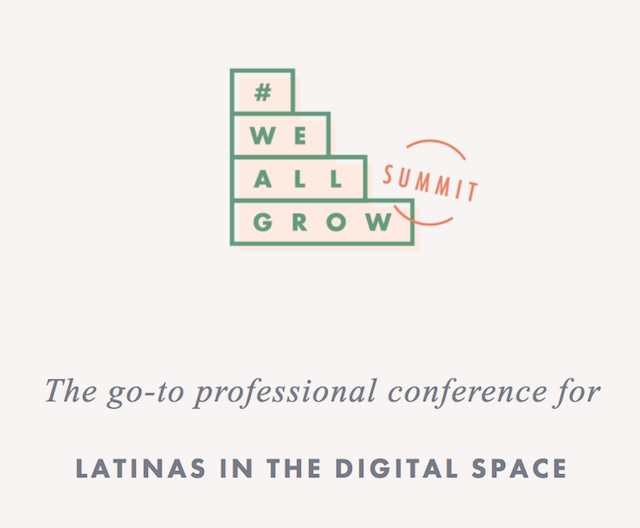 Produced by WeAllGrow Latina Network, WeAllGrow Summit is set in Long Beach, Calif. at the beachfront Hotel Maya. WeAllGrow creates an intimate atmosphere where you can connect with highly sought-after brands like Neutrogena, Disney and Mazda in their sponsor suites.
Sponsors are interested in working with bloggers in sponsor relationships, getting the word out about their products and initiatives, and are eager to hear new ways you're creating content and telling stories around brands.
The common thread among the extensive list of national and international brand sponsors is a desire to connect with the Latin market.
That said, WeAllGrow Summit welcomes attendees of all walks of life and skill levels. The education is focused on storytelling, and they host a night where six storytellers receive coaching so they can present on a common theme. The intent of the conference is to foster a connection between brands and bloggers, content creators and peers.
In conclusion
No matter which conference you choose, go with your goals in hand and a pocket full of business cards. Get ready to network, learn, and grow your business with these conferences, and be on the lookout for future opportunities both locally and nationally.