This post was originally published on Aug. 4, 2020, and was updated on Sept. 19, 2022.
Tech is a regular part of our daily lives. The education space is no different, and teacher websites are becoming popular bridges for communicating with students, whether you see them in a brick-and-mortar classroom or a hybrid virtual and in-person model .
Whether it's online classes, laptops in the classroom or multimedia-based lessons, the ways we teach and learn are continuously evolving. Many educators have moved towards a hybrid virtual and in-person teaching model to suit a wider range of educational needs.
A website is your learning hub as a modern-day educator.
Luckily, several tools can greatly improve or help you build your website, without having to learn any new technical skills.
Whether you're a full-time teacher looking for a better way to deliver course materials or a part-time tutor who's trying to build up your side hustle, this article can help.
Below you'll learn why every modern educator today needs a website, along with five tips you can use to create or improve your site.
Why every teacher needs a website
Whether it's your first year teaching or you've been involved in education for years, creating a website can be a valuable career move. Even creating something as simple as a blog can help you advance both professionally and personally.
Here are a handful of reasons that teacher websites are important.
Connect with other teachers and advance your career
A website gives you the ability to showcase your expertise. With professional design and a great blog, you have the chance to share your thoughts with the world.
Maybe you've developed a new type of lesson plan, or you've utilized mixed media to get an incredible response from your students? Or maybe you've experimented with other teaching methods and didn't find them effective?
Whatever your results or knowledge, it's worth sharing. Teaching is a system based on feedback. With a website and platform to share your voice, you open up your classroom to the world.
Building your platform helps you build a brand for your career.
By building your platform, you're building a brand for your career. Whether you decide to stay with teaching forever or create a business selling online courses, having a website is a great first step.
Offer alternative educational resources
Often, you'll have students who want to learn more about certain topics you cover. In the past, your students would've had to do their research or check out some books from the local library.
But, today you can create in-depth educational journeys on your website and compile any educational resources you have available, including videos, PDFs and more. Plus, you can host this information on your website and display it in an easy-to-consume manner.
This also gives you the chance to offer educational alternatives to students who learn differently. It can also be useful for students who had to miss class or take time off from school.
In a classroom, you're trying to provide the best educational experience for the largest number of students. You can use your website to host different forms of media, so students who may not learn best in the classroom can have a more holistic education experience.
Create a side income
Finally, by creating your own website, you give yourself the chance to earn some income on the side. With the expertise you've built, you can start tutoring online or in-person or even create and launch your own online courses.
The online course market continues to grow year after year. With a solid website as a foundation, you're setting yourself up to take advantage of this growing wave.
In time, the income you earn from your online courses may surpass your traditional teaching job.
5 tips for improving your teacher website this year
By now you're well versed in the importance of having a website for your education-related career. If you already have a website, then you'll learn some tips for improving it. If this is your first time building a website, then you'll learn how to build a solid foundation for your site.
Let's jump in.
1. Clarify your vision and purpose (make your website clear and concise)
The first thing we'll start with is the reason you're creating a website. The purpose will dictate the design and the types of pages you're going to build.
For example, a website that's built to enhance (or offer an alternative) to your in-person classes will look different than that of someone who tutors on a freelance basis.
Start with these questions to help define the direction of your website:
What goals are you hoping to achieve with your website?
Is the core focus on providing students with information? Coursework? Resources?
Will your site be promoting your services as a tutor or selling online courses?
Are there any existing websites you want to draw inspiration from?
Note that your website can be all of these things and more. But, you'll want to have a concise focus, so you don't end up with a confusing website.
The moment a visitor lands on your website they should be able to determine exactly what your site is about. If a visitor has to second guess the purpose of your site, it isn't doing its job.
Let's say you're a teacher and your primary use is to host a variety of educational resources for your students. So, you want to make it easy to access this information. But, you also tutor during the summer months, so you'll create a separate page on your site that breaks down your services and link out to this from your top navigation menu.
Before you jump into creating your website you'll want to have a clear vision of what the end result will look like and who will be using your site.
Related: How to plan a website in 7 steps
2. Create your central pages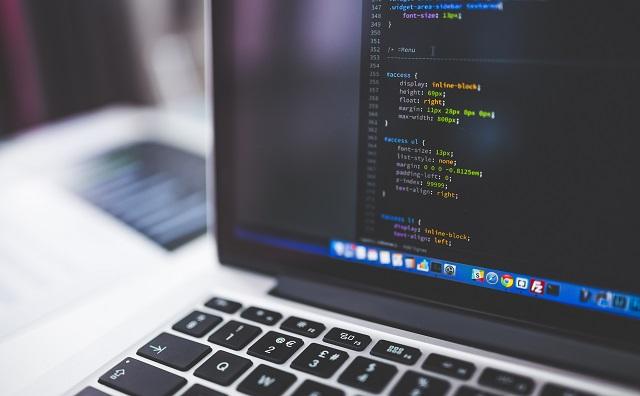 Most teacher websites will have similar pages, no matter what the purpose of your site is.
Here are some important pages that you'll need to create when building your teacher or education-based site.
Home page
This is the first page that your viewers will see, so it's certainly an important consideration when building your site.
When building this page out, you'll want to include a small summary of what your site offers, a call-to-action, and clear navigation to the subpages of your site.
The homepage is meant to briefly summarize what viewers should expect, so keep it simple and to-the-point.
Related: 10 elements of an effective small business website homepage
About page
The best place to start is with yourself. The about page is one of the most highly trafficked pages after the homepage. But, it can be notoriously difficult to write about yourself.
However, one hack to creating a better about page is making it about your students and visitors, not just yourself.
Think about how your experiences, skills and knowledge translates into helping others.
By framing your about page copy through the lens of the people you're serving, you take the pressure off yourself while making it much more engaging.
Portfolio/past work
Once again, this page may or may not be useful, depending on what kind of site you're building. But, most sites can benefit from some kind of page that showcases your past work.
For example, if you're a teacher who primarily teaches in a classroom setting, you can create a series of videos that show what your teaching style is like.
Or, if you're a tutor you could highlight the kinds of results that students of yours have gotten or the types of lesson plans that you've created.
No matter what field of education you're involved in, there's a creative way to demonstrate the kind of work you've done in the past and the type of work you're capable of doing in the future.
Coursework/resources
This page can serve two different purposes.
First, let's say you're a teacher who teaches in a classroom setting. In addition to the in-class resources you provide, you can create a digital hub for everything related to your classes.
You can host this information via a WordPress course plugin or use simple media embedding tools to host your videos, digital downloads and more.
The second purpose is for hosting your actual coursework.
Let's say that you're a teacher who primarily teaches in an online or hybrid setting. If you don't want to use a third-party platform, you can use a plugin to create in-depth courses on your website.
Some popular onsite plugins include (for WordPress):
Or, if you prefer using a third-party platform there are all kinds of tools that can host your courses. Here are some of the most popular:
Services
Once again, this page depends upon the reason your website exists. If you're employed by a local school district, you might not be offering services on the side.
But, you might be creating a website to sell freelance and consulting services. In this scenario, this page will be invaluable.
Here you'll be spelling out the actual services you'll be offering to clients and students alike. You'll want to be specific with what you offer, but make sure that you also focus on the benefits of what you're offering.
What will your client or student gain from working with you? Better grades? Acceptance into their dream school? Mastery over a topic they've been struggling with?
Try to get as specific as possible with the result you're delivering to people who decide to work with you.
Blog/additional content
Another popular and useful element of your website will be your blog. Blogging was mentioned briefly above, but it's worth diving in deeper.
Blogging can not only be a great way to share your perspective, but it can also help to generate new leads, students and clients.
Maybe your big dream is to speak at teacher conferences across the world? Building a popular blog can be the exact path you've been looking for.
Even just using your blog to share your perspective and teaching tips can be beneficial for your fellow teachers.
You might not find the right reason to blog right out of the gate, but it's always a great option to have once you find the right purpose for it.
Related: Teacher blogs — Deepen the pool of knowledge
3. Upgrade your website software and plugins
There are all kinds of tools, plugins and software you can use to transform your website into a multimedia powerhouse.
Whether you're looking to add videos, lectures, or even entire courses to your website, there's software that can make this process simple and painless.
For example, GoDaddy's Websites + Marketing offers a variety of educational website templates you can choose from. These templates are built for educators and teachers of all kinds.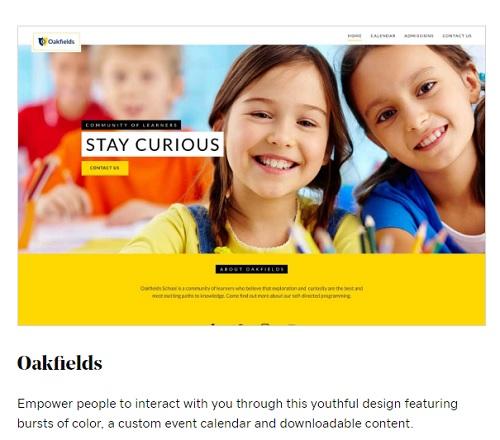 Or, if you want greater levels of control and customization, you can always build your site using WordPress. With WordPress, you'll find a massive selection of education-related themes.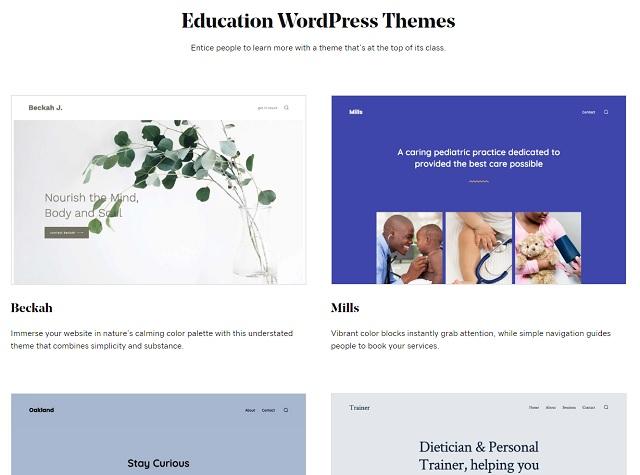 Plus, there are all kinds of plugins like LifterLMS and LearnDash, which can make it easy to host online courses and more.
Related: Intro to WordPress — Get to know the world's most popular CMS
4. Determine your service offerings
If you're going to be using your website to sell your services, then you're going to have slightly different website needs. You'll still have similar pages and structure (like what was highlighted above), but you'll also want to break down your services on separate pages.
Here are some common services offered by teachers and educators:
Tutoring (for course help, test prep, or language learning)
Education-based summer camps
Consulting services based on education specialties
Online courses
5. Update the latest school and education information
It's no secret, but resources expire. Especially online when links change and websites disappear.
If it's been years since you went through your website and double-checked every link and read through your site's pages, then that time is today.
Even if you're working at a middle school or high school, there are probably still some things that need updating. When students or parents visit your website, you'll want to provide them with the latest information, not what was true years ago.
A great website can also help to build a better relationship between teachers and parents. Parents always want to know what's going on with their kid's education. Instead of having to schedule a meeting, you can just direct parents to your website.
You can use your website to spread information about upcoming events, class schedules, trips, speaking and more.
Closing thoughts
By now you should have a better understanding of the importance of having a website as a teacher, along with the multiple directions you can take with your site.
Maintaining a website might seem like a ton of additional work, but with the ability to advance your career, improve your student's education, build better parent-teacher relationships, and even earn a side income, there's no reason not to.
Hopefully, the tips above will help you move your website in the right direction this school year.