Looking for ways to spark more business this summer? Need to light a fuse with your marketing initiatives? Maybe your sales numbers are in the red (white and blue). OK — that's the last Fourth of July marketing pun.
Thankfully, Independence Day is around the corner, and you can use the excitement of the holiday to attract more customers. An estimated 88 percent of Americans celebrate July 4 — spending more than $7 billion around the holiday.
Creating a Fourth of July marketing campaign for Independence Day can be a great way to increase business.
Whether you operate a traditional brick-and-mortar business or an eCommerce store, here are five marketing ideas celebrating Fourth of July.
Communicate the patriotic attributes of your brand
Establishing a common ground (aka building rapport) is one of the best tactics for increasing sales. Because Fourth of July marketing brings with it an aura of patriotism, customers are actively looking for brands that position themselves as patriotic or align themselves with other sentiments of the holiday.
If you market the patriotic attributes of your brand, you can easily establish common ground with these customers.
Assess your brand from a variety of angles to find the most patriotic connection. Are your products made in the U.S.A? If so, make sure you communicate that in your Fourth of July marketing collateral. Do you operate a family-owned business? Talk about your ancestors and how their patriotism has impacted the business.
To establish rapport with your customers this Fourth of July, try communicating your brand's patriotic attributes.
Offer Fourth of July discounts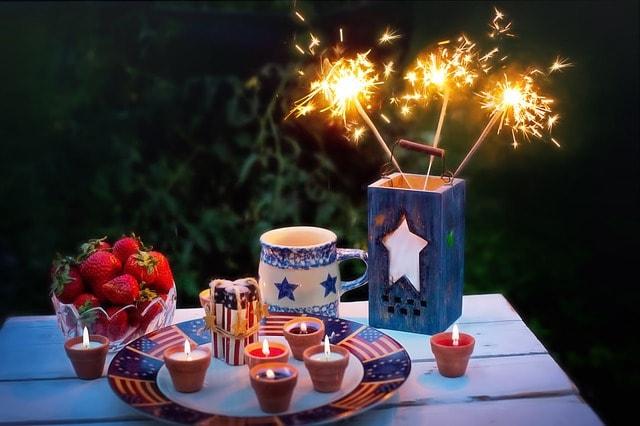 Discounting your goods and services with your Fourth of July marketing is one of the easiest ways to take advantage of the holiday buzz. Customers are more engaged around the holiday — making it easier for you to break through the traditional communication barriers.
If you operate a traditional brick-and-mortar business, you can run Fourth of July marketing promotions in the store, such as:
Discounting items in your store that are red, white, or blue.
Using red, white and blue stickers on your sale items.
Offering discounts to customers wearing a patriotic outfit.
If you operate an eCommerce business, you can run sales promotions like:
Using a July 4 coupon code like "Independence," "Uncle Sam," "Fireworks" or "America."
Running a time-sensitive sales promotion using a countdown that will elicit conversions.
Offering an email coupon for everyone on your email list to entice more people to sign up.
The goal of your sales promotions should not be short-term revenue. Instead, try to attract new customers to your business with the hope of developing a lifetime customer.
Create and implement a social media strategy
Social media should be an integral piece of your entire Fourth of July marketing mix, especially around the holidays. By using Fourth of July-themed hashtags and sharing topical news or photos, you can increase social impressions, engagements, and followers.
Many businesses struggle to develop and implement effective Fourth of July marketing strategies on social media. However, it's important not to neglect this powerful marketing channel, as 50 percent of consumers say that a brand's social presence during the holiday season does affect their purchasing decisions.
You should be using social media to promote your brand for Independence Day.
Here are some considerations for optimizing your social channels effectively:
Update your brand's social profiles to red, white and blue-themed imagery and language.
For instance, you can change your business's Facebook header to the American flag or some custom patriotic header using a free design tool like Canva.
Use appropriate hashtags on your posts leading up and on the Fourth.
Hashtags are a way for social media platforms to identify topics and relevancy on their user-generated-content. Businesses can use hashtags in their posts to increase the visibility when users on that social platform search that term. For instance, using #IndependenceDay on a post would allow for your post to be seen by users searching for "Independence Day" on that platform.
Host a promotional contest.
Social media is built for engagement. In fact, the social algorithms are designed to prioritize the most viewed, shared, liked and commented posts first. Therefore, you can run social competitions and contests to drive more engagement to your posts.
Publish topical posts on your blog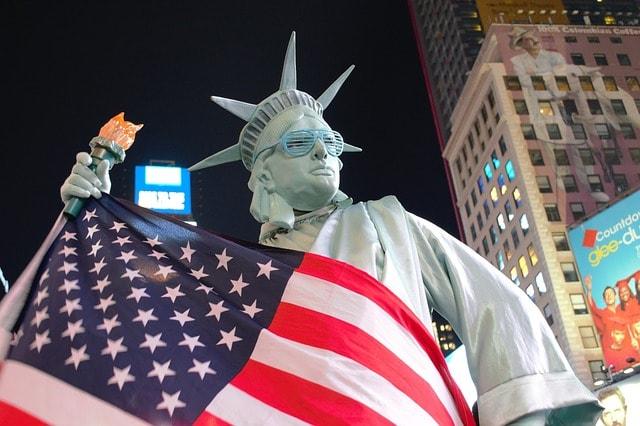 Social media is an important digital marketing channel to invest in, but your website is arguably more important. Unlike social media, which offers limited flexibility and control of the user experience, your website is an owned asset for which you control entirely.
You dictate the messaging your website visitors see.
You can integrate pop-ups and feature any products or services you want, and you can use retargeting pixels to promote your brand to visitors after they leave your website.
Because of the control afforded to brands on their website, it's wise to invest into the UX of your site and strategies that will increase inbound traffic. Creating and executing an onsite content strategy is one of the ways for brands to drive more visitors to their website. In a nutshell, your brand should aim to create content that is informative, engaging, and solves a problem.
Editor's note: Need a great blog platform? Check out GoDaddy's Managed WordPress, which features a Quick Start Wizard to get your site up and running fast.
As it relates to Fourth of July marketing, think about relevant topics that your target customers are searching. If you're a local business, this might be something like "Where can I watch Fourth of July fireworks in [city]?" People searching for that information could make their way to your blog — and if you optimize the blog effectively, they are hopefully exploring other pages of your site afterward.
Be active in your community
There is much more to Independence Day than fireworks, BBQs and parades. The spirit of the Fourth of July marketing is found in camaraderie. Find ways to be active in your community around the holiday — not just to increase your brand awareness, but to support the freedoms and beliefs for which the holiday stands.
If you're a small business, donate time or resources to a local event. You can help give back to your community while also interacting with your customer base. If you're an eCommerce business, you can host an online fundraiser or donate a percentage of your revenue on the Fourth to a relevant charity like the Wounded Warrior Project.
The Fourth of July is a great time to market your business, but it's also an opportunity for you to remember and support the sentiments of the holiday.
Fourth of July marketing takeaways
With the lull of the summer season, July 4 is a rare opportunity for businesses to drive short-term and long-term revenue. Using a carefully crafted Fourth of July marketing strategy that incorporates sales promotions, patriotic-themed activities, social media, optimized blog content and community activism, your business can increase awareness and business with your Fourth of July marketing.