When thinking about how to start a clothing line, the phrase "clothing line" might trigger a montage of movie-esque clips in our brains.
Images of colorful fabric tufts being thrown in the air. Designers surrounded by crumpled papers staring at a wall full of hand-sketched designs. A seamstress tirelessly sewing at 3 a.m. A slew of high-fashion models sashaying down the runway.
While there may be bits and pieces of this fantasy in real life, the ultra not-so-fashionable truth is that starting your own clothing line is like starting any other business: you need the money to buy or create inventory, some amazing products, a place to sell the product (whether that is online or in a physical location), tools, and the know-how to run a successful business. And let's not forget a killer online presence.
That's a lot to think about.
This guide will teach you how to start a clothing line with detailed steps — from naming your business to promoting your clothing line and everything in between.
7 steps to starting your own clothing line
For entrepreneurs looking to make their mark in the fashion industry, here are seven steps you'll need to take in order to start your own clothing line:
Now that you've reviewed the seven steps to starting your own clothing line, let's get started on developing your clothing brand.
1. Find your niche and unique selling proposition
There is a ton of competition in the clothing industry. In such a competitive market, you really need to find your niche. Here are a few things to consider when narrowing in on your niche when starting your own clothing line.
Who will you be selling to?
Who is the target audience for your clothing line? While we all hope that every single person on the planet will wear the clothing we worked so hard to bring into fruition, we need to ask ourselves who our most likely customer is.
Will you be selling women's fashion, men's, kid's, seniors or unisex?
What is the age range of your target market? Are they younger teens who bop around the mall every chance they get? Are they male skateboarders between the ages of 14 and 25 who fancy oversized tees and long, shaggy hair?
When starting a clothing line, it's also important to think about your ideal customer's interests. What do they do on the weekends? Do they go to wine and paint nights with their girlfriends? Do they go to cigar lounges and drink scotch on the rocks? Or do they stay in and research business trends and stock market changes?
Brainstorming activities that your target audience likes to do, what movies they watch, what other brands they follow, and how they dress are all different ways to get into the mindset of your customer and narrow down your niche.
With all the preparation for your market research, keep in mind, too, that all this can change after you actually launch your own clothing brand.
While you may have started off targeting millennials aged 25 to 35, you might notice that in terms of sales, the people who actually buy your clothing are from ages 16 to 25.
You can always figure out ways to rebrand in a way that fits your current customer demographic or you can add in additional products or marketing strategies to reel in the customers you want to target later on.
Related: What information should you include in your buyer persona customer profile?
What style of clothing will you be selling?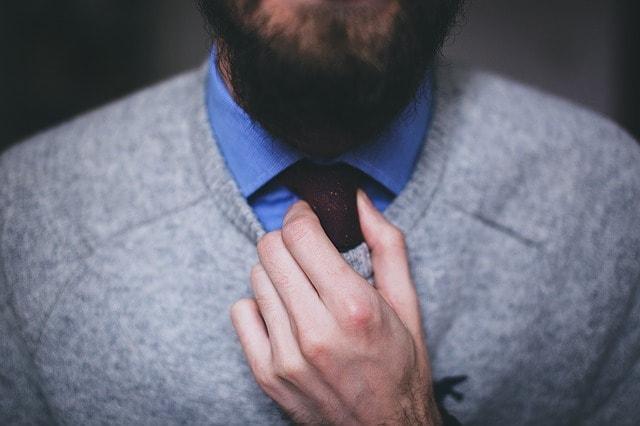 Movies have genres, clothing has styles.
When starting a clothing line, you have to know what distinct style of clothing your company is going to sell.
If you decided that your target customer is a 25- to 35-year-old female who is a pro Instagram scroller, frequents the beach, adores Free People, tries out trendy brunch spots every weekend, and religiously attends music festivals like Coachella, the style of clothing that best suits your demographic might be bohemian. From there, you can decide what makes up a good chunk of your clothing brand's inventory according to the likes of your consumers.
What's your unique selling proposition?
In any industry and no matter what you do, there is always going to be someone doing something similar to you who is selling for higher or lower than you. Higher prices evoke a sense of exclusivity and premium quality, while lower prices appeal to a more general mass of people because of its affordability and convenience factor.
When determining your unique selling proposition, especially in the clothing world, there are a few factors to consider.
Ask yourself what sets your clothing brand apart from competitors.
Do you do something different or better than other brands on the market? Do you have premium fabric that makes your clothing feel like they were taken directly from the gowns of gods? Or do you donate a portion of your proceeds to various charities?
Think about all the ways that make your clothing line more valuable than others to a customer and use it as a foundation for your selling proposition.
Related: Find your unique selling proposition to build a website that really works
2. Name your business
Naming your business can be one of the most fun, but sometimes one of the most stressful parts, of starting a clothing line.
Your clothing brand's name will be used everywhere — in logos, clothing designs, shirt tags, website graphics, social media, thank you cards, and more — so make sure you create a name that you can proudly proclaim from the rooftops.
There is no "right" way to come up with a business name, but there are several techniques and tips you can use to steer yourself in the right direction.
Related: 10 tips for naming a business or blog
Brainstorm names for your clothing line
One of the best ways to come up with a business name is to brainstorm a giant list of related words and feelings.
Don't think about if the words make sense. Instead jot down as many words you can think of that:
Directly relate to your brand (words like "clothing," "apparel," "designs").
Convey the message or feeling of your clothing line. (What do you want people to think of when they read your name? What emotions do you want people to feel? What kinds of words resonate the most with or attract your target audience?).
Once you have a long list written down, you can circle the words you like most and try combining words or seeing how you can incorporate words or phrases together to create your new clothing line name.
As you narrow down a handful of options, there are a few more questions to ask yourself before you announce your name on your Instagram Stories.
Is it memorable?
Does your clothing line have a memorable name? Is it easy to remember?
Part of being memorable is if your name is easy to spell. Granted, there are always going to be people who spell words incorrectly, but do your best to create a brand name that isn't egregiously difficult to type out and search for.
Another factor of being memorable is the length of the name. Do yourself and your consumers a favor and pick a name that isn't annoyingly lengthy.
Is it timeless?
While you may like your clothing name now, will you like it in the future?
Calling your clothing line "Slay Bae Boutique" might be trendy and appealing to customers right now, but what about in five years? Ten years?
Also think about how it will feel when you self-promote and tell people the name of your clothing line. Will you be proud to say it? How would it feel to talk about your clothing line in front of people of various ages (for example, people in your target customer age range, older investors and business owners, or your family members)?
If you're proud of your name in front of your target audience, but a bit sheepish when speaking in front of buttoned-up businesspeople, you might want to rethink your brand name.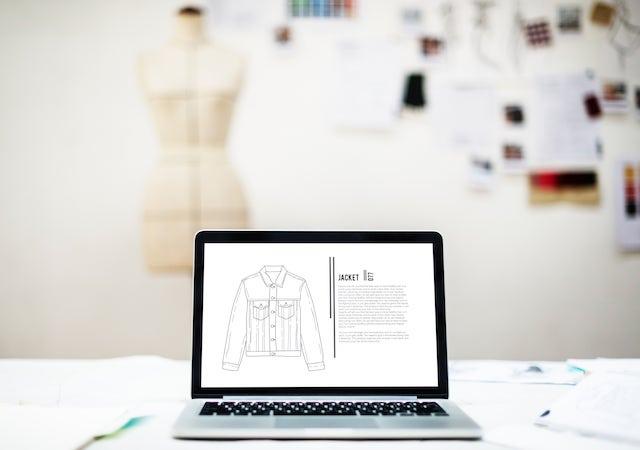 Is it available?
Before you get too attached to a name, one of the most vital factors you need to consider is if the corresponding domain name is available. In order to have a fully functional business, your name needs to be available for purchase as a business name and as a domain name.
To avoid any future heartbreak, always check to see if the business name you're looking at is not already trademarked or in use elsewhere. If you're in the clear, the next step is to see if your potential company name is available as a domain.
Pro tip: One of the easiest ways to check to see if your domain is available is by searching the WHOIS database or by using GoDaddy's easy-to-use domain name search.
Getting the exact domain name you wanted used to be a lot harder because there were only a few domain extension options (most of them being .com, .org or .net). But now, we have a hoard of creative domain extension options at our disposal.
With the help of GoDaddy, you have access to extensions like .shop or .store that clearly indicate to buyers that there are shoppable items on your site or you can venture out with more niche domain extensions like .clothing or .fashion.
Related: Domain extension guide — What you need to know before you pick a domain name
3. Take care of the logistics
While it's easy to get carried away with the fun parts of starting a clothing line, it will significantly help you in the long run if you set aside time to sit and create a business plan.
This includes everything from taking care of the not-so-fun legal stuff, getting your financials in order, and the vision of your branding and sales goals when the time comes.
If you're looking for a full rundown, check out this handy dandy starting a business checklist. But if you're looking for a quick version, read on for the basics.
The following content should not be construed as legal advice. Always consult an attorney regarding your specific legal situation.
Legal registrations
Starting a legit clothing line requires that you set up your new business with the government. This includes registering your business (locally, state-wide, or federally), getting an Employer Identification Number (also known as your EIN), and getting any necessary business licenses.
Starting costs
What initial starting costs do you need to plan for when starting your clothing line? Do you need any equipment or software? If you're planning on creating your own designs, purchase a design software like Adobe Illustrator to turn your designs into vectors for easy printing.
About that printing ... how are you planning on printing your designs? Will you outsource to a screen printer or are you planning on printing yourself?
If you go the do-it-yourself route, you will need to look into screen printing presses and everything else you need to take into account like buying screens and an array of ink colors. There is more information on costs below.
Inventory

What about inventory for your clothing line? Where are you going to find wholesale clothing? Are you going to find somewhere online or do you have the luxury of scouring the fashion district of California, or even more lavish, overseas?
Are you planning on printing custom tees, storing them in your house, and selling your inventory as you get sales or are you thinking about printing on demand with companies like Printful?
There are pros and cons to consider for each option as you consider how to start your own clothing line.
While having pre-printed inventory is helpful because you can ship as you please and can sell at local festivals and markets on a whim, you are also responsible for storing your inventory, which can take up significant room in your house.
Even more than that, if the new T-shirt design you thought was going to be a winner, well, isn't, you might be left trying to get rid of sluggish inventory and salvage a minimal profit in comparison to the amount of money you put in. On the other hand, using a on-demand printing services can save you from having the pitfalls of excess inventory.
Sales platform
When starting your own clothing line, you also need to figure out where you are going to sell your clothing.
The easiest and quickest way to get your clothing brand off the ground is by having an eCommerce store online.
With an eCommerce store comes the costs of purchasing your domain, hosting your website, paying for website plans and any added features like customized website templates or security measures like SSL certificates. You also need to decide if you'll be solely selling on your website or on a marketplace site like Etsy or Amazon to get in front of more potential shoppers.
We'll talk more about websites later in this article.
Editor's note: Set up your online store in minutes with GoDaddy Online Store. This elegant but easy eCommerce solution offers flexible shipping and payment options plus marketplace selling features that enable you to easily sell products on marketplaces like Amazon, eBay and Etsy and manage your orders and inventory all from one place.
4. Get your funds in order
Starting a clothing line requires quite a bit of overhead cost simply because of the money you need to invest for product production.
Because of that, one crucial step you need to consider is how you will fund your clothing brand. Do you have money saved to safely self-fund for the time being? Or will you look for other sources of funding such as applying for a business loan, getting an investor, or opting for crowdfunding? These are just a few funding options for a new business owner.
Related: 10 small business funding options — from angel investment to traditional loans
Business loans
A business loan is when a company or bank lends you money on the terms that you are able to pay them back.
There are many options to apply and receive business loans including online lenders, business credit cards, personal loans, and loans from the Small Business Administration (SBA).
Be on the lookout for small niche business loans or other non-traditional financing options that work heavily in your favor, like loans for female entrepreneurs.
Angel investors
If you're blessed enough to have a billionaire uncle that will invest in your clothing line, scoop that blessing right up. But if you don't have relatives or friends that are rollin' in the dough, you may want to look into finding an angel investor.
Angel investors are accredited by the Securities Exchange Commission (SEC) and have a net worth of at least $1 million and make $200,000 on an annual basis. These investors give you money in exchange for equity in your company. If you're starting from ground zero though, this option may be better suited down the road when you know you have something prosperous on your hands.
Crowdfunding platforms
Crowdfunding is essentially where you have people (or a crowd ... get it?) invest in your idea.
Some of the most well-known crowdfunding platforms like Indiegogo, Kickstarter and GoFundMe allow you to make an account, create a "pitch" that explains your idea and how people can invest, and start receiving funding.
Know that each crowdfunding site has their own set of rules.
Some crowdfunding sites ask you to set a goal of how much you'd like to receive. If you meet or exceed your goal, you are able to keep the money, but if you don't reach your goal, the money is returned to the people who invested in your idea. Be sure to thoroughly read the rules of each platform to see which crowdfunding site works best for your intentions.
Related: Top 20 crowdfunding platforms of 2019
5. Start building your online brand
The world has gone digital, which means branding yourself online — and doing it well — is of utmost importance. Your online branding boils down to a few key ingredients.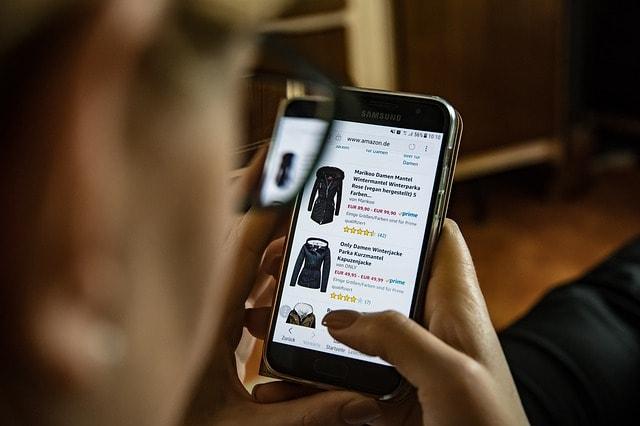 Email address
While it is definitely tempting to take the easy way out and create a free Gmail account for your new business, it isn't the most professional. Because you're reading this, we know you want to be taken seriously, so build your business up from the get-go properly and scoop up an email address with your domain name.
Related: How to use a custom domain name for email
Social media
Love it or hate it, as a modern business, you need social media.
While your personal Instagram might be filled with photos of yesterday's spread at the local trendy food spot or throwback images of you and your buddies hanging out in Hawaii, your clothing line's Instagram purpose is, ultimately, to gain leads and put yourself directly in front of your ideal audience.
Whether your grid is filled with styling inspiration, minimalistic product photos, or influencer testimonials, social media lets your audience know you exist and that they'd be living an even better life with your products in it.
In order to do all this though, you need to secure your social media handles.
In a perfect world, your clothing company name is available, but sometimes this isn't the case. If you find that your clothing line name is taken, you can try naming alternatives (for instance: add a "the" in front of your name, add "apparel" at the end of your name, add "shop" before or after your name) or you can try messaging the owner of the account to see if they would kindly change their name.
Business branding
To start promoting your clothing line, you need to have your business branding fully established. This includes all the smaller components (like your brand's colors and fonts) to the more critical assets of branding like your company logo.
While your brand colors may seem like a trivial thing to actually sit down and consider, colors play a psychological role in how customers view your brand.
Sweeter, more feminine brands tend to use lighter, pastel colors to evoke feelings of femininity and softness while more masculine brands have a tendency to use stronger, more vibrant colors.
A few tips about choosing your clothing line's colors? Pick three to five colors you can use in rotation, including your main color, secondary color, and any tertiary colors. These supporting colors can be used as fun pops of pigment on your website in the form of colored hyperlink text or eye-catching buttons. At a loss for colors? Utilize color personality tests and color palette generators for inspiration.
One of the most important assets of your branding is your company logo. Your logo will be the first touchpoint people see and associate with your brand.
You're going to want to think through this carefully. What colors will you incorporate in your logo? Are you going to have words in your logo or not? If you can come up with a logo on your own and design it in a way that you are proud of, major kudos to you. But for the less design savvy business owners out there, you may want to consider outsourcing your logo to a graphic designer.
If you go the graphic designer route, remember that you are dealing with a third party. They don't have any insight into your business other than what you tell them. When you communicate with a graphic designer, keep in mind of the following things:
Give them as much direction as possible. Tell them what feelings you want to evoke in your customers. Do you have any logos you like as inspiration? Finding other logos that you are drawn to will give your graphic designer a better image of what you have in mind.
Expect redesigns. It is almost a guarantee that you will have back-and-forth edits with your graphic designer about what you like and what you want to improve on. Stay patient in the process and be open to your designer's opinions. You are hiring someone because you don't necessarily have the skills (or the time) to do it yourself, so respect them as the expert and be open to their feedback.
6. Build a website
If technology intimidates you, it's time to face that fear head-on and immerse yourself in the world of websites. Even if you don't get your hands dirty and pass the job to someone more skilled, as a business owner, it's important to have enough basic knowledge of the functionality and design aspects you want in order to communicate your ideas thoroughly to someone else.
There are a few ways to go about building a successful retail website for your clothing line, one of which is by hiring a website designer to build you a fully functional and modern website. If you're looking for a wholly unique design, hiring a professional website builder will get you the custom, one-of-a-kind functionality and designs qualities you're looking for. At the same time, however, with great customization comes great skill, which also means you need more money.
Do-it-yourself
If you aren't in need of a super-customized site, you can always check out a content management system like WordPress and use an eCommerce plugin like WooCommerce. While you don't have to be an expert by any means, building your own website with WordPress or any other content management systems requires a bit more know-how in the technical department.
Although there isn't a right answer when it comes to building your own website, we highly recommend taking a stab at creating your own online store with the help of GoDaddy.
Website building is no longer only for computer coding connoisseurs.
With GoDaddy Online Store you have access to easy do-it-yourself websites. You can select what type of website you are looking to create and GoDaddy will suggest website templates in your specific category of design.
To start your clothing line website, choose retail website templates that are centered around the goal of displaying and selling your sweet collection of clothing products.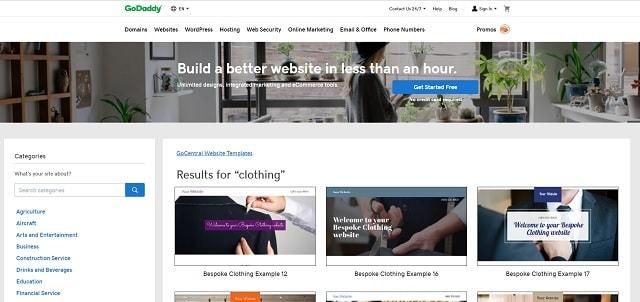 These websites also have various built-in marketing tools (like email marketing, social media integration and local business listings), and mobile-friendly designs for your shoppers who are browsing on their phones at 2 a.m.
You can take GoDaddy's website building tool for a free month-long trial run.
From there, choose a pricing plan that fits your needs and budget.
This is a more cost effective website solution than outsourcing your website to a designer (which is important when you're starting a clothing line on a shoestring budget). In addition, you will get a better understanding of how your website works in case you need to change anything in the future (which you absolutely will). You'll also get the monumental satisfaction of having created your own website. You can also get a custom website with GoDaddy web design.
Related: How to start an online store in 3 steps
Get in front of buyers
Unless you have a strong foundation of followers that flock towards everything you talk about, getting potential consumers to your online store when you're starting from scratch can sometimes be as tough as 3-month-old beef jerky. To help bring your products in front of thirsty buyers, consider connecting to marketplaces.
As mentioned previously, with GoDaddy Online Store's marketplaces feature, you can easily sell your goods across the sea of marketplaces like Amazon, Walmart, Etsy and others.
The best part? When you connect your online store to these marketplaces (also referred to as "channels"), the changes you make on your online store (like prices and product descriptions) are automatically synced to your separate channels. This means you aren't spending all your free time changing one number on five individual sites.
7. Promote your clothing line
While it's tempting to sit back and sleep for a week after hitting "publish" on your new site, this is when promotion really begins. In order to get people to your site, you've got to use a variety of tools and techniques to get your products in front of your ideal customers.
Some of these techniques include:
Social media: Create a business Instagram account, use sponsored ads for more awareness, and create engaging Instagram content.
Email marketing: Every email you send should have a specific call-to-action in order to get consumers to visit your online store. GoDaddy Online Store's built-in email marketing tools allow you to brand, send, and track statistics in one place.
Branded packaging: Every part of your online store process is essential to the customer's experience. This includes your product packaging. Find ways to insert character and connect with your retail customers through product packaging like adding thank-you cards or using custom-branded poly mailers or boxes.
Collaborations and partnerships: What brands align with and complement your own clothing line? Fostering partnerships or collaborations is a great way to make connections in the community, validate your brand, and get in front of a new audience of potential buyers.
Giveaways, contests, and T-shirt collaborations are a great way to get started.
Related: Tips for partnering with other local businesses
Future steps in starting your own clothing brand
Starting your clothing line is one thing. In order to be successful, the process of creating new products, promoting the heck out of them, and making a sale is a never-ending cycle.
Make sure to clear out stagnant inventory to keep your ideas fresh and current.
Don't be afraid to venture off the digital scene to enter the physical world in the form of retail booths at markets and festivals.
Starting a clothing line takes loads of hard work and preparation, but it's absolutely achievable.
Take each step one at a time and remember to take a breath if you feel overwhelmed.
With the resources mentioned in this article, you are one step closer to turning your idea of starting your own clothing line into a concrete concept. Congratulations on the exciting adventure ahead! The world of fashion and retail awaits.