Sending email newsletters is an excellent way to grow a loyal business following — but hitting "Send" isn't the final step in a truly effective email marketing strategy. It's important to understand how to use email analytics to maximize your efforts.
Quickstart guide to email analytics
Here's what I'm going to cover in this article:
I'll also sprinkle in a few tips for making the most of email analytics. Let's dive in.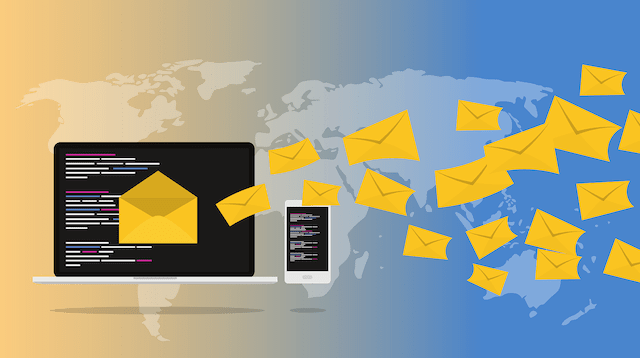 What are email analytics?
Email analytics are used to indicate how your newsletter subscribers are behaving when they open and read your email. Key email marketing metrics include opens, clicks, unsubscribes and bounces.
Opens: This is when the subscriber views your email newsletter.
Clicks: This is measured when the subscriber clicks on a link within the newsletter.
Unsubscribes: This is when the email contact on your list decides that your newsletter isn't for them, and unsubscribes.
Bounce: This is when an email is sent back from a subscriber. Their email might be down or in some cases, deleted.
If you're not paying attention to any of these stats for your newsletter, you're missing out on what your email subscribers want.
Basically, you're talking to the wall.
Email analytics can also help you keep your list healthy. From time to time, you have to use these stats to cull your subscriber list.
Yes, you sometimes have to remove subscribers who aren't doing anything on your list.
Related: How to grow your email list
How to understand key email marketing metrics (and put them in context)
Of all of your metrics, your email open rate is the absolutely most important stat of them all, as it's the actual percentage of people who opened and viewed your newsletter.
To calculate it, you divide the number of opens by the number of sent out emails and then subtract the number of bounces.
If you have an email marketing provider, then you don't have to do the math — they usually calculate it for you.
What's a good email open rate?
Here are a few average email open rates by industry:
Arts and entertainment: 47%
Business and industrial: 41%
Design and development: 39%
Marketing and advertising: 25%
Nonprofit: 28%
Professional training and coaching: 36%
Shopping: 41%
Other than email open rate, you need to know if anyone is clicking on the links to your content.
Why? Well, if they're not clicking on the link, then it's like window shopping.
They saw it but weren't interested in clicking further to learn more or buy whatever you want them to see.
Asking how to improve your open rate is the wrong question
Wait? What? Yes, asking how to improve your email open rate is not the right question. It's too general, and frankly, if you go in this direction, you're just throwing darts all over and missing the bullseye.
The right question is what is specifically getting people to open the email?
Sure, you could do things like tweak your subject lines, build a more engaging email list, research the best time to send your email newsletter, fiddle with content length, or see if you need to change the frequency at which you send your newsletters.
You could get thousands of people to open an email, but it doesn't matter unless you figure out why they are doing it. Stick to what works, and keep with it until your clicks increase.
Have patience. Building and maintaining a healthy list, especially with a great email open rate, takes time.
Related: How to write the best email subject lines
Use calls-to-action to improve click-through rates
Click-through rate is the percentage of people who actually clicked on a link in your email newsletter to go to a website.
It's calculated by dividing the unique clicks by the delivered number of emails and multiplying that by 100.
Again, most email providers will calculate this number for you.
While email open rate is extremely important, once people view your newsletter, you want them to do something.
Remember, return on investment is the game, and every click means you've not only gotten people to view your newsletter, they actually did something.
The trick to a potentially great click-through rate is to make sure your newsletter campaign has a goal.
For example:
Do you want your subscribers to buy something?
Do you want them to share an article?
Do you want them to contact you?
What do you want them to do? That goal is what you're going to link to within your email to your subscribers. This is your call-to-action (CTA).
Once you've established your goal, you need to find a place to put your call-to-action. That CTA could be a simple link or a clickable image.
Make sure that the image and any call-to-action text are enticing.
Color, boldness and size matter.
Test these out one by one to see what works better each time you send an email. Don't make all of these changes at once or you'll never figure out what's actually working.
Keep your content compelling and no TL;DR — too long; didn't read
People have an average attention span of 8.25 seconds, so try not to make your newsletter a novel. You can use things like subheads to break up copy and keep your subscribers engaged.
Related: How to write an email that people will actually read
How much data is enough to collect to determine what needs to be changed?
This number depends on how big your list actually is.
If you're new to email marketing, you might need to collect a month's worth of data before determining what exactly needs to be tweaked.
As you gain more subscribers, it's easier to collect data and determine from one email to the next if you need to tweak the subject line or title of the email, or rearrange your call-to-action.
It's important to be patient when collecting data so you can determine if there's actually a trend in your list subscribers' behavior.
However, if you need a number now, a 1% to 3% increase in your numbers could help determine early on if you're doing well. Anything below that isn't really too much of a change.
That being said, use caution! Don't assume just one thing is working.
You might have awesome images or your calls-to-action are on point, but don't assume that just one thing is the ticket to a better click-through rate.
Related: Best practices when creating a newsletter
Email analytics tools to track your email marketing progress
There are a lot of email analytics tools to track how well your list is doing.
Many email newsletter providers include email analytics, and third-party software is available for this purpose.
Two popular tools are Google Analytics and built-in email analytics tools in email marketing programs like GoDaddy Email Marketing.
How to use Google Analytics for email tracking
Google Analytics is a free and trusted tool. Honestly, even if your email newsletter provider offers its own analytics tool, you should still use Google Analytics.
In addition to tracking how visitors use your website, Google Analytics can provide valuable insights into subscribers' interaction with your emails.
The best way to do that is to set up goals in Google Analytics. Here's how.
1. Sign up for a free account with Google Analytics
If you have a Google account already, you can just go to the Google Marketing Platform home page and click on the blue button to start using Google Analytics for free.
If you have multiple websites, you'll want to set up an account for each.
2. Add Google Analytics to your website
In most cases, you may only need the code that Google Analytics gives you. You add that somewhere in the header of your site, between the <head> and </head> HTML tags. If it makes it any easier, add it right before the </head> tag.
If you have WordPress, you can use a plugin like MonsterInsights to help set up Google Analytics with WordPress. Here's an article that includes a step-by-step guide on how to set up Google Analytics for WordPress.
Once you've added the code to your site, Google Analytics starts tracking all the traffic behavior on your site.
3. Create a goal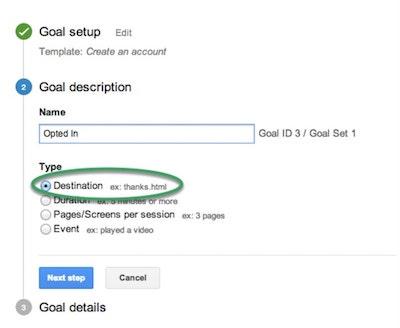 A goal is what action you want people to actually perform.
In Google Analytics, you can track to see if people are actually doing what you want them to do, whether it's buying something, subscribing to something, clicking on a link to go to another page or more.
You definitely want to create a goal for your "Thank you" pages, whether it's after a purchase or a new email list subscriber.
By the way, this can be set up inside the GoDaddy Email Marketing platform.
Once Google Analytics is enabled, your email marketing provider allows you to give a specific name per campaign so it's easy to find in Google Analytics, among all of the other data you receive. You can even tell them to track clicks, opens, eCommerce links and more.
Pretty nifty, right?
4. Tracking your list-building efforts
If you're wondering why this is any different than viewing your daily opt-in numbers inside GoDaddy Email Marketing, the difference is that you can see a few specific pieces of information in Google Analytics.
For example, you can see which websites people came from before they joined your list.
Were they referrals?
Did they come from search engines?
Did they find you through some other site?
Additionally, you can see if social networks, like Facebook or Twitter, are sending you a lot of traffic. You can even compare to see which social network or website channel is attracting more subscribers.
Other stats available through Google Analytics are how much time people spend on your site, and if they abandoned your form (in case you had a form set up where you also asked if the visitor wanted to subscribe to your newsletter) or shopping cart.
Tip: Try installing popup software, or if you use WordPress, a popup plugin, to help attract subscribers to your list.
Popup Ally and OptinMonster are pretty powerful popup plugins with a lot of features. They even allow you to test your opt-ins (also known as A/B conversion or split testing) so you can deliver the best performing opt-in to your visitors.
Related: Best practices for email opt-ins
5. Do more of what works and less of the rest

Once you've set up Google Analytics with your website and your newsletter campaigns, and have started gathering data, you can start seeing what works and what doesn't.
Focus on the strategies that are driving email signups, opens and clicks.
Customize your email newsletter content to keep attracting people from the channels that actually work.
For example, if you love to use Facebook every day, and only a few people are subscribing from your business page, then it's probably not a worthy venture to pursue for long.
Related: How to use Google Analytics
Built-in email analytics in email marketing programs
A lot of third-party email marketing programs have their own built-in analytics. You can even integrate Google Analytics, which is a powerful companion.
Often the email analytics dashboard for these email marketing programs will show you quite a few stats that will break down where your subscribers are from, top links clicked in the newsletter, Twitter tweet number, Facebook Like number and more.
GoDaddy Email Marketing is a service that allows you to not only maintain an email newsletter list but also create beautiful newsletters and track your email behavior.
Aside from that, GoDaddy can help with Facebook pages, Google My Business listing and much more.
It's kind of like having a whole marketing toolbox in one place.
GoDaddy Email Marketing automatically generates link tracking so you can see exactly how your email campaigns work together with your website. You're able to see how many of your contacts clicked through to your website thanks to tracking.
By utilizing Google Analytics, you can see how long they stayed, what they clicked on, which pages they read, and where they went from there.
Here's how to get started with the Google Analytics add on for GoDaddy Email Marketing.
Takeaways and next steps
Phew! That was a lot to take in, right? Well, here are some takeaways:
In order to track your email list's progress, you're going to have to know how to use email analytics.
It's going to take a lot of patience as you need to gather enough data to make an educated decision on whether something is working well or if something needs to be changed.
Once you've made small tweaks, always test it out.
Use Goals in Google Analytics to track where people are coming from when they subscribe to your newsletter, and if your email marketing program has Google Analytics integration, take advantage of that.
Smartly look at your email analytics to determine what channels are right for you, and focus on those.
May your open rates and click-through rates increase!
This article includes content originally published on the GoDaddy blog by the following authors: Dean Levitt, Emma Wilhelm and Nathalie Lussier.