3 ways to engage your employees in social media marketing
Running a company profile on the major social media platforms is a smart move, since any task that helps you win traffic is worthwhile. However, to really expand your reach and visibility and maximize your gains, you'll want to get every employee on your team involved in social media.
The solution is to make the act of using your chosen social media channels easy, so it becomes second nature.
The long-term goal is to ensure that all of your team members become comfortable with social media to the point where it becomes part of their day-to-day work.
Related: A beginner's guide to social media for small business
3 ways to engage your employees in social media marketing
In this article, we'll explore several ways to encourage your employees to be active and effective on social media. By the end, your entire team will be raring to go, and willing to help drive traffic via each channel.
Ensure that employees are up to speed on the social media platforms you're using.

Devise and implement clear policies for employees using social media.

Give your employees the right social media tools.
Let's get started!
1. Ensure that employees are up to speed on the social media platforms you're using
Before you can even think about maximizing engagement, you'll need to make sure all of your employees are comfortable with:
What platform you're using or planning to introduce down the line.
How to use those platforms for the task they're undertaking.
To engage your employees means to streamline their potential workflow. If they're uninformed about how to use social media — not a far-fetched assumption for many small businesses — they'll be spending time climbing a learning curve when they should be marketing.
Just to touch on the previous points a little more, it obviously makes sense to lay out exactly what platforms you're using, and whether you'll introduce more channels in the future. This gives your team an overall expectation of what they're getting into. For example, if you're only using Facebook, this is likely going to be a quicker task than posting to Facebook, Twitter, Instagram and Snapchat.
While we're not suggesting your team members need to be experts, they should know how to use the platforms you're intending to use.
Of course, the greater their knowledge, the better. However, you'll often find that technical ability varies, so making allowances for everyone to get up to speed is a solid plan.
2. Devise and implement clear policies for employees using social media
Once your team members are comfortable with the platforms you're using on a technical level, it's time to turn your attention to how to use them from a optimal branding perspective.
Without this kind of guidance, your social media channels can turn into the proverbial Wild West — lacking in tone and consistency and potentially promoting the wrong message.
In extreme cases, this can severely impact your business if your followers react negatively. It's no exaggeration to say that a serious social media snafu can happen to any company.
With this in mind, you'll want to set a social media policy that offers clarity. Here are just some of the things you'll want to specify:
The point here is to make sure the social media account doesn't offend your audience and reads as though it comes from one person.
This gives you the best chance of converting followers, which should be your overall social media goal.
Of course, you'll want to adapt your own policy to your specific business requirements. In our opinion, these are elements to think about regardless of what you're trying to achieve.
3. Give your employees the right social media tools
Finally, we're going to look at your team's path to marketing on social media. While most platforms make posting quick and simple, there's something to be said for researching business-specific solutions to help you further.
If you're just posting to one channel, you might not need anything other than what the platform offers. However, as soon as you run two or more social media outlets, additional tools become almost a necessity.
A great place to start is with the minefield that is posting frequency. There's all sorts of formulas and techniques for finding the optimal posting time — a potentially overwhelming amount. However, Buffer is perfect for automating this on your behalf: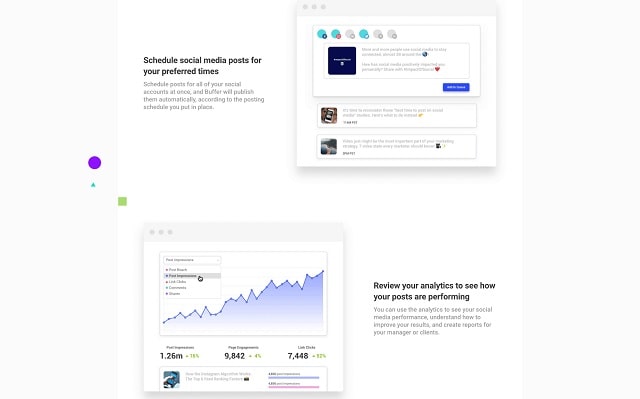 In fact, this could be a great tool regardless of the number of channels you operate. However, Hootsuite is definitely useful for those with multiple accounts: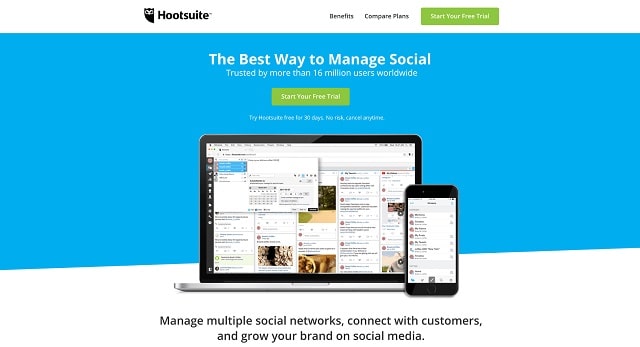 You can also consider a Trello dashboard (or something similar), where employees can view all of your social media (and administer to each channel) from one screen.
There are other social media marketing tools that can be a real benefit depending on your goals (such as Meet Edgar), but to get started, you might not need any more than a couple at most. This is especially true if you're trying to engage your whole team initially.
Editor's note: If you don't have enough time or employees to focus on social media, let GoDaddy help! The experts at GoDaddy Social not only manage your presence on your social networks, but also can help turn an online interaction into a lifelong customer.
Conclusion
Social media is usually a great idea if you want to maximize the reach of your business. It's a mostly free way of finding new prospects and customers, so ensuring your whole team is on board gives you the best chance of success.
This post has looked at three different ways to engage your employees in social media marketing. Let's quickly recap them:
Make sure your team is fully aware of the platforms you're using and knows how to use them.
Be clear on how social media should be used in relation to your company branding, tone and overall voice.
Introduce any necessary tools to help your team do their job quickly and effectively. This will mean they're more likely to integrate social media marketing into their daily work.
Put these tips to work and get your employees engaged in your social media marketing.