How to get started as a local dog trainer
If you are looking for a career with unlimited potential and the ability to make a huge difference in the lives of a dog, their family and those who come into contact with the dog (like groomers, vets and neighbors), becoming a local dog trainer could be the perfect path for you!
As pet ownership has skyrocketed, nearly every pet-oriented career is in demand.
According to the 2017-2018 National Pet Owners Survey conducted by the American Pet Products Association (APPA), 68 percent of U.S. households, or about 85 million families, own a pet, with dogs being the most popular — up from 56 percent of households in 1988. APPA also found that in 2017 U.S. pet owners spent nearly $70 billion on their pets, and that number is expected to increase in 2018.
Related: Starting a dog resort
A career in demand
With growth in pet ownership comes an increase in the need for training. Beyond potty training, dogs need to learn basic commands and things like how to stay calm in their crate when needed. This can present a challenge for first-time pet owners and those with busy careers, among others.
This is where a local dog trainer can make all the difference.
And the good news is, becoming one is not as hard as you might think, and there's plenty of potential for growth. The Bureau of Labor and Statistics estimates dog trainers earn between $9.43 and $26.93 per hour, but top trainers can charge well over $100 per hour.
Learning to become a local dog trainer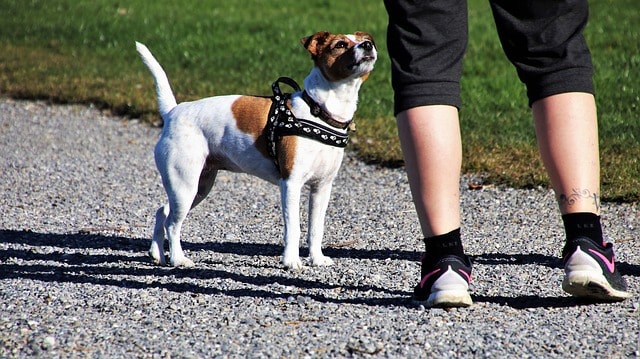 So, how can you get started on this career path? There are various programs to teach you how to train dogs. The International Association of Canine Professionals has a list of approved schools, and you can also approach a local dog trainer in your area to work for them and have them teach you.
Many corporate stores, like PetSmart and Petco, offer the ability to work while you train. They will hire you to be a dog trainer and send you to academies for training, and usually require that you work for them for two years afterward.
This can be an amazing way to learn if you need to work while training.
There are online options available as well, like ABC, the Animal Behavior College, which offers an online certificate program. The certificate shows you have completed the program successfully and are ready to begin training dogs.
Apprenticeship is not mandatory in this field, nor is certification, but both will help you tremendously in the pursuit of the career you've worked hard to build. Many employers want to see that you have a certificate or a work history of one to two years to prove you have the skills needed to train dogs effectively.
A bad trainer can actually do more harm than good, so school, certification and continuing education are important in this field just like any other.
Related: Jobs working with animals: Turn your passion into profit
Working as a local dog trainer
Once you complete a training program or apprenticeship, you can begin working with veterinarians, groomers, boarding kennels, humane societies or animal shelters. You can also start your own business.
If you choose to open your own training program, it's important to get licensed in your area and carry insurance.
Contact your local business license or zoning board for information on what license is needed as well as zoning classifications your business will require. Signing a lease without verifying the business can be approved is a costly mistake.
Business insurance is vital as well. PetBiz or Governors Insurance offer animal industry plans that cover injury to the pet and animal loss as well as professional liability.
Choosing the proper location is also important.
Outdoor, fenced-in areas are a must for safety, as are large, open indoor areas that can be easily cleaned.
Related: How to start a business — The checklist
Promoting your business as a local dog trainer
An attractive website and Facebook page are also vital to your success as a local dog trainer. Potential clients will want to see photos of your facility and read about your training programs as well as where you trained and any awards you might have won.
Most of all, they want to see referrals from other locals they might know, so don't be shy about asking clients to review and rate your business on social media platforms and even on your webpage. Encourage them to submit written testimonials and post them along with success photos and videos.
If you love dogs, have a knack for training and are patient, loving and kind, becoming a local dog trainer can take you anywhere you want to go.