How to start a school from your home
So, you want to learn how to start a school? And no, we're not talking about the kind with desks, teachers, recess and school supplies. Instead, we're referring to an online school that allows you to showcase your knowledge and reach students from all over the world.
It's no secret that we're undergoing an economic overhaul. People are in need of new skills as they struggle to transition between careers. Instead of looking for a new job, or fighting for what you've already got, why not create your own job opportunity by starting a school?
Whether you're going to create an online course, an academy — or even hold in-person workshops — it all starts online. Below you'll learn how to plan your courses, structure your offerings, get started building your site, and learn the ins and outs of how to start a school.
How to start a school in 4 steps
With the job market in upheaval, many people are looking to upgrade their skills to increase their marketability. Here's how to turn this opportunity to your advantage.
Do a personal knowledge and passion inventory.

Define your courseware deliverables.

Build a website.

Advertise your courses.
Now let's look at each step one by one.
The ABCs of how to start a school
Now that you're sure you're ready to make the jump into being an online courseware provider, it's time to get down to the nitty-gritty. If you've been working for a few years, chances are you've accumulated some skills or a body of knowledge, that people are dying to learn about.
The most important part of learning how to start a school is in the planning and surveying work. The more time you spend planning, the better off you'll be when you finally launch.
1. Do a personal knowledge and passion inventory
Teaching, or creating any kind of online business, requires a certain amount of self-exploration. But beyond that, learning how to start a school requires a lot of motivation and persistence. So, you'll want to make sure it's something you're passionate about and willing to see through for the long-term.
If you don't have a definite idea of what kind of school you want to run, then ask yourself the questions below:
What are your top three talents?
If you had all the money in the world what would you spend your time doing?
What could you easily talk about into the late hours of the night?
What kind of things do people routinely come to you for help with?
What kind of books do you read for pleasure?
What aspects of your current job do you enjoy the most?
What would be your ideal business?
Spend some time with the above questions. The more honest you are with yourself, the better your chances of settling on a course or school idea you'll truly love. No matter the topic you choose, you'll have plenty of ways to profit off your education idea.
2. Define your courseware deliverables
Once you have your topic solidified, it's time to start thinking about how you're going to create and bundle your courses. For example, do you feel comfortable in front of a camera? If so, you could create a video course. Or maybe the thought of video terrifies you and instead you want to compile a series of eBooks or in-depth articles for customers to download.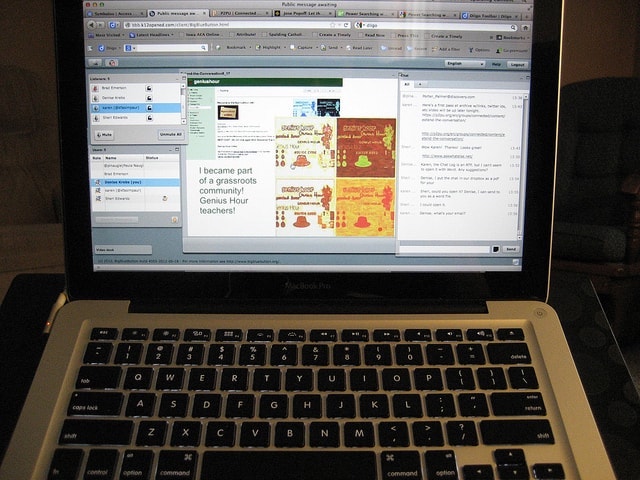 Spend some time thinking about the format of your online school, as this will determine how you structure your site. The following questions will help you get started:
Are you planning on creating a single course?
Do you want to create a series of smaller courses?
How will you format your courses? Video? Text? eBooks?
How will you deliver your courses? Via download? Print materials that are mailed?
3. Build a website
Even if you're planning on teaching in-person courses, or holding workshops, a website is still incredibly important. This will act as the foundation of your online school, regardless of how you plan to deliver your teachings.
Providers like Teachable and Pathwright can help you create and deliver online courses.
Although these are solid options, they might not be the best option. At the end of the day, it's always a better idea to manage your own website. That way you're in control of the presentation, the marketing, the pricing and all customer interactions. You're not outsourcing the success of your online school to someone else.
With that being said, there are some setup costs you're going to have to incur.
Secure a domain name
It's important to choose a brandable domain name that is easy to remember and has something to do with the kind of school you're creating. Your domain name is something you should spend a lot of time researching and thinking about. Check out this helpful how-to on getting  a domain name that will stand the test of time.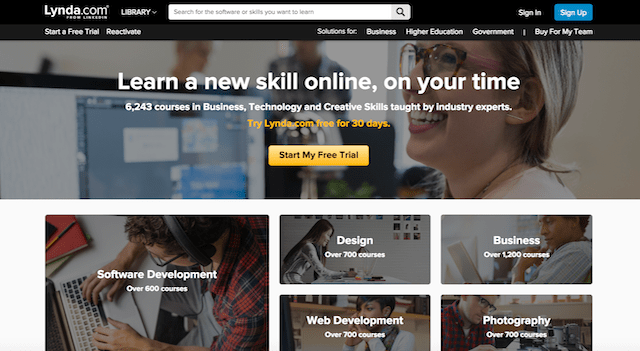 You'll also want to choose an appropriate domain name extension. Beyond the traditional extensions like .com and .net, there are unique extensions geared toward online schools:
Start your search for the perfect domain below:
Buy web hosting
Beyond your domain name, you'll also need a web host to house your actual website files. Hosting is what makes your website viewable by people around the world — without it, you'd be the only one who could ever see your web pages. GoDaddy offers several web hosting options for your needs.
Editor's note: Some website building platforms, including GoDaddy's Managed WordPress and GoCentral Website Builder, include hosting.
Get an SSL
If you're planning to sell your courses on your website, you'll need to secure your site with an SSL certificate to encrypt credit card numbers submitted to your website during ordering.
Here are some tips for choosing the right SSL certificate for your website.
Choose a website builder
With your domain and hosting taken care of, it's time to build out your website. There are all kinds of tools out there geared toward beginners, which will help you create a home for your new online school.
One common approach is to install WordPress and add a suite of plugins to help you create and manage your online school. Read more here about how to build a WordPress website for the first time.
If you're a total beginner, it will be easier to use a tool like GoDaddy's GoCentral Online Store, which comes with everything you need:
A swipe-to-style website builder
Powerful, reliable hosting
Tools to help sell your courses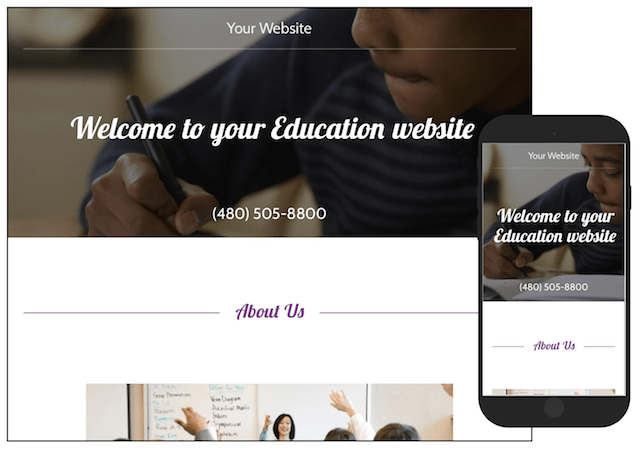 The look of your site will differ based on what template you start with. But the central elements will likely include:
About page. Share your story, your qualifications, and communicate what your students will walk away with after taking one of your courses.
Services page. This will focus on the courses you sell and act as the jumping off point for a potential students.
Contact page. Give your readers a way to get in touch with you before they become a student. If you're running an in-person school, then this is incredibly important.
Blog page. Maintaining an active blog can help you connect with students, and provide them with plenty of value before they decide to take one of your courses.
Before you start building your website, read this terrific post for basic tips and best practices.
eCommerce functionality
It's important to plan how your new school is going to accept payment from day one. This will determine how you're going to structure your site and the types of courses you're going to create.
For example, will you create a course that's entirely based on video lessons? Or, maybe you'd like to offer a series of sessions to subscribers for a monthly fee? Or perhaps you'll use primarily text-based lessons that you hide behind a payment firewall?
Whatever style of courses you're selling, you're going to need a way for your students to pay you safely and securely. The GoCentral Online Store option mentioned above comes with eCommerce functionality, so you can start selling within minutes. Best of all, it comes with built-in security to keep hackers from stealing your customers' private information.
If you decide to take a different route, then at the very least you'll need PayPal, Stripe or another payment processing integration.
4. Advertise your courses
The steps above will help you build a foundation for your online school. Hopefully, by now you have a domain name, a web host and have your website set up. Now, it's time to start getting students.
As with any new business, you're going to have multiple methods of marketing your school and getting you out there in front of potential students.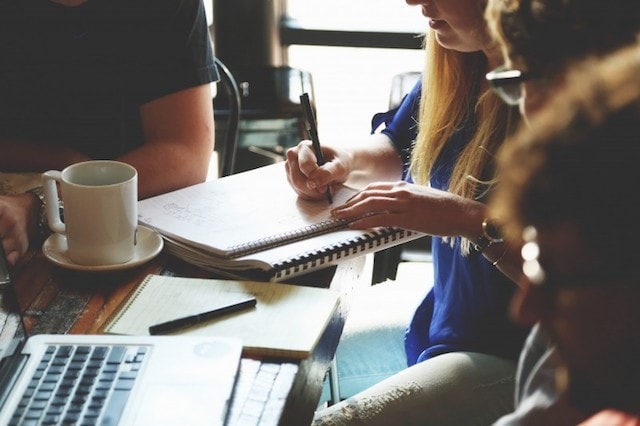 One of the most effective means of getting new students is through education-based marketing.
For example, you could create a blog that offers free advice or teaches easy-to-implement skills at no charge. People who feel they've benefited from your freebies are more likely to enroll in for-pay courses.
You could do the same thing with video, creating videos that address smaller skills or issues, which point viewers to your courseware. You might even consider promoting your courses on Facebook — learn how here.
The options you have for marketing your business are virtually endless. Choose a method that works for you, track if it's resulting in new students, and branch out to other methods in time.
Make money from what you know
The process of learning how to start a school is going to be filled with ups and downs, but by implementing the tips above you'll lay a solid foundation for your future success. If you have a valuable skill or expertise to share, you can turn that into profit by following these steps.
Image by: n_sapiens via VisualHunt / CC BY-SA