How to start your speaking career
Dr. Peter Hanson never really considered himself a speaker. Then he wrote and published his book, The Joy of Stress, and speaking became a priority and a job almost in itself. He embraced his new speaking career, saying, "It is just another form of communication. You need to utilize it to the best of your capacity as an opportunity for the audience to see you, hear you, and feel your mood and energy. It's basically theater."
Moving from expert to expert speaker
Whatever your industry, expertise or interests, you could have a speaking career in your future. And it might be easier than you think. Start by determining what you will speak about and establish yourself as a credible source. Dr. Hanson is a renowned physician and published a book on practitioners dealing with stress, so he had a ready-made topic and target audience.
You might have similar instant credibility — a lawyer who has published in legal journals, a nurse who served in Afghanistan, a business owner who survived a hurricane, a dog trainer who works with TV and movie animals, and on and on. You can use this experience to establish your identity and potential audiences for your speeches.
If you are establishing yourself as a speaker on a topic that diverts from your current job or identity, you need to back up your claim and be prepared to promote yourself in this new capacity.
For example, if you want to become a general motivational speaker after years as a salesperson or executive, you should consider a website, blog, social media posts, marketing materials and testimonials that show how your experience translates into an ability to motivate and light a fire under businesspeople and other audiences.
Test the waters
Once you have your expertise and topics set, develop a general outline for what you will say. Then, says Dr. Hanson, try "off-Broadway settings."
Pursue and take opportunities to speak for free to test your material and build your reputation.
"Don't think anything is too modest a venue," he says. Community organizations, churches, schools, area business groups and professional associations are all good potential targets. Just make sure that your "pitch" matches their needs and interests.
"Try out different venues, and see how different audiences respond to your material," Dr. Hanson says. "See how the presentation model feels for you. Get used to fielding questions and gauging audience reactions. If you test the waters, you learn what works and what doesn't. Try different scenarios."
You'll have to get used to thinking on your feet, Dr. Hanson stresses. "Consider the specific audience and what they are interested in. Where are they in their careers? What is happening in their field that is challenging or frustrating? What can you offer them that will inspire or help them? You need to know their interests and motivations."
"The agenda shouldn't be 100-percent yours and none theirs," Dr. Hanson says. "You shouldn't walk in with a canned speech for any audience."
Dr. Hanson prefers to have the lights up during his speeches so that he can interact with the audience and gauge their interest. You can watch people's faces and body language to see if you are engaging them, turning them off, or simply boring them. "If the audience is leaning forward, wanting facts, give them that," he says. "If they are responding well to lighter material, you can be more entertaining and have a bit more sizzle. If the audience goes stone-cold quiet, you need to change course or temper your speech."
If everyone — or no one — has questions at the end, the speech probably wasn't successful.
Visually speaking
Audiences, especially professional or technical groups, likely will expect a PowerPoint program as part of your presentation. However, while it is important to have good, visually appealing slides, Dr. Hanson says, "Don't read from them. That is an insult to your audience. Instead, use what's on the screen as a reference, and put your passion out there on the stage." If you have video or audio that is relevant to your program, keep is short. While humor is often welcome, keep cartoons and memes to a minimum.
Go from volunteer to validated
As you gain more experience and confidence in your speaking career, you can pursue other — paid — opportunities. You might want to consider joining the National Speakers Association (NSA), the professional organization for speakers. This is a good source for tips, marketing ideas and mentoring.
For the true professional speaker, Dr. Hanson suggests seeking an agent. "They are more likely to be able to take your speaking career to the next level, and secure top-notch engagements for you. It is well worth the agency commission if you can get someone to represent you."
Another benefit of an agent is that he or she can "talk you up" to speakers bureaus and other organizations that book speakers. "It's hard to do this on your own," Dr. Hanson says.
Once you have an agent, let that person negotiate contracts and book speeches. "Don't try negotiating with potential clients on your own. You only end up in competition with yourself. The lowest fee you set will be the price everyone will expect to pay," Dr. Hanson says. "Work with your agent to set your fee and keep it there until he or she suggests otherwise."
Sail into a speaking career
One fun and adventurous way to hone your speaking skills is to become a guest speaker/lecturer on a cruise ship. Many cruise lines hire people to give informative and entertaining presentations to passengers. In return, these individuals — often called "enrichment staff" — generally receive free or greatly reduce passage and food. Speakers with some celebrity status might get a small fee as well.
"I had a great time, and I was able to visit Greece, Italy and Portugal," says Robin Oldaker O'Bryan, who served as an historian and lecturer for Viking River Cruises. "Cruise ships are hiring lecturers all the time. Of course, it helps if you have educational credentials and have experience speaking, for example, at conferences. It's a great way to travel," she says, and it "looks good" on your resume.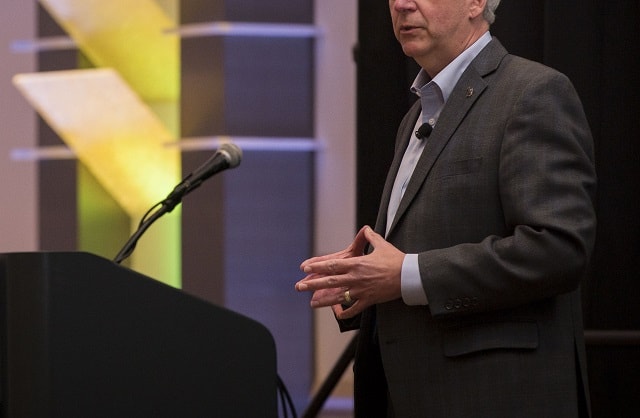 Generally, cruise lectures or presentations are fairly brief — about 45-60 minutes. They usually take place while the ship is out to sea, so you likely will be free to explore the ports of call with the other passengers. Most ships are equipped with all the equipment needed for a multimedia lecture.
Sometimes, the cruise line will present you with a script for your presentations; others will just provide you with topics and guidelines.
For the most part, lecturers will be expected to address topics related to the historical or cultural aspects of the various cruise destinations. However, some cruise lines might hire speakers to address more general topics, such as arts and crafts, fashion, self-improvement, and theater and dance.
Even when the subject is somewhat serious and/or intellectual (O'Bryan spoke about art history), presentations are expected to be lively, engaging and entertaining. "The ship has a very social atmosphere, and you should be prepared to mingle with the guests and be friendly and approachable," she says.
There are several agencies that provide guest speakers for cruise lines. Among these are:
If you don't want to sign up with an agency, some cruise lines do book guest speakers directly. The best way to pursue this is to prepare a package that includes a DVD of you speaking, a list of topics you can address, a short biography and a headshot. Send your package to the cruise line's Entertainment Department.
Pro tip: Be sure to do your homework first by researching where the company's cruises go and what subjects might be of interest to them.
Talking tall
You might not go from zero to 60 bookings in a flash, but you can use your expertise, enthusiasm and personality to launch a professional speaking career. But don't do it just for the income, Dr. Hanson says. "It's about being able to move people, convey your passion, and inspire your audience. It's about making a positive difference and giving your audience what they need and want."