Starving's overrated: How to sell art online
Upcoming event: See how our commerce options can help your business adapt to the shifting landscape at GoDaddy Open 2021 on September 28.
The first step away from being a starving artist is learning how to sell art online.
Because when you know how to sell your art online, the world becomes your marketplace. You're no longer restricted to selling your work to only those who see it in person. You can use the web to promote and sell your art across the globe.
Sell through a middleman
When you sell art online, you multiply your chances of finding potential buyers. No longer are you limited to the people who wander into a physical gallery on a single street in one city. Art lovers anywhere in the world can discover your work — either through your website or third-party art sale sites like:
Selling your art across a number of websites is key to finding more buyers and opportunities to sell your work.
But as an artist, it's important not to rely on third-party platforms alone to sell art online. You must have a home base website that you own, control and manage.
Your own website gives you power over your brand, builds your credibility and helps you create relationships that will give you more visibility. It's the foundation you need before you can grow your presence on other third-party art sites.
Establishing your art businesses across all of those platforms may sound like a big undertaking. But it's not as difficult as it seems.
To teach you how to sell art online, we've put together this list of steps.
Sell art online from your own website in 8 steps
Get a branded domain name.

Build an eCommerce website.

Fill your website with great content.

Add retargeting pixels.

Build an email list.

Make sure your site talks to search engines.

Bring viewers to it through social media.

Connect with third-party art sale sites.
This step-by-step guide will help you build an online gallery for your art — from top to bottom.
1. Get a branded domain name
To build a website, you first need a domain name. The Salvador Dali Society, for example, uses dali.com for their website.
Your domain name is the address that sends potentials customers to your home base, so choose a domain that accurately reflects your business. Consider:
Using your name or business name.
Use terms that are easy to associate with your brand.
Using phrasing that describes your art. Just be careful not to box yourself in with a name that you may outgrow. For example, you may only sell oil paintings now, but you may grow into selling mixed media too. Using "oil paintings" in your domain name could make it difficult for you to grow into other areas.
If the .com version of the domain name you want is taken, don't fret. Try using an art-related extension like .gallery or .art.
For more tips on picking the right domain, use this GoDaddy guide.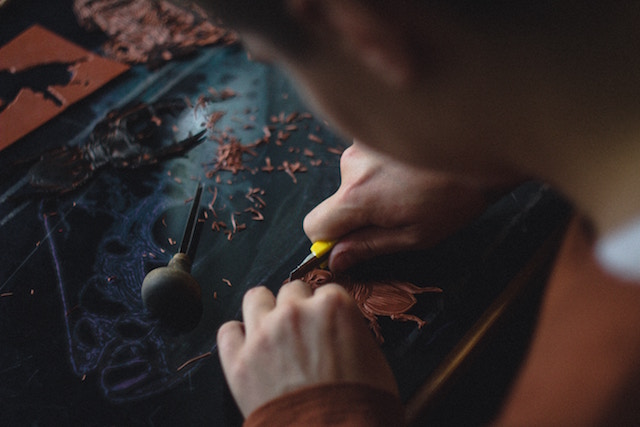 2. Build an eCommerce website
To sell art online, your website must have the ability to process payments. So, once you choose your domain name, begin to build your website.
But, don't build just any website. Build an eCommerce website.
An eCommerce website has the functionality to:
Display an online store with product pages.
Connect with payment gateways that transfer money from customers to your banking account.
Support secure credit card payment transactions (you'll need an SSL certificate to safely process payments).
Collect shipping information from customers.
The list of requirements might sound complicated. But, there are some simple solutions for launching an eCommerce website.
You can add a merchant account to your existing website or install an eCommerce plugin — like WooCommerce for WordPress eCommerce sites — that sets up your entire store. Another way to launch an eCommerce website is to install an easy, full-service solution like GoDaddy's GoCentral Online Store.
With GoDaddy's quick install eCommerce store, you get everything you need to sell online — from inventory management to payment processing.
For a more detailed look at all of your options for setting up an online store, check out this eCommerce starter guide.
3. Fill your website with great content
Next fill your site with words and images that introduce potential customers to you and your work. Make sure to include:
An About page that explains who you are and where you get the inspiration for your art.
A Contact page so customers can get in touch with you.
Photo galleries of work that is both for sale and already sold.
Product pages that feature your items that are for sale along with enticing product descriptions and high-quality photos.
Updates and news that help your audience keep up with your latest projects.
When you have useful, interesting and informative content on your site, you can build better connections with those  who land on your page. They can get to know you, view your art and make their purchase right from your website.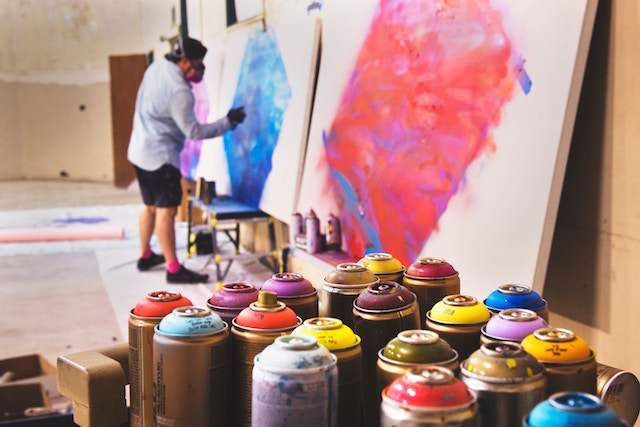 Stumped on what to write about? Check out my list of 11 topics here.
4. Add retargeting pixels
Not all website visitors will purchase a piece of your art during their first visit to your website. So it's important to create a connection that will allow you to interact with them again.
You can do that by adding retargeting pixels to your website.
A retargeting pixel is a piece of code that you take from Facebook and/or Google and install on your website. When that code is added, Facebook and Google can collect data on the users who visit your site.
This user data is valuable because you can then use Facebook and Google ads to sell art online by retargeting the people who have already visited your website.
For example, say someone visited your website and viewed a piece of your art, but didn't purchase it. Through retargeting, you could tell Facebook or Google to display an ad to that person to lure them back to your website.
The full retargeting process involves setting up Facebook and Google audiences and ads. But it starts with adding retargeting pixels to your website. So be sure to do that step early on so you're ready when you want to do paid advertising campaigns later on.
5. Build an email list
Another way to build a connection between you and potential customers is by setting up an email list. When you have an email list, you can directly reach out to your followers when you have new art to sell or events to promote.
As previously mentioned, visitors might not be ready to buy from you the first time they see your art. They may need to interact with you a few times before they buy your art. So make sure you can stay in touch with the people who visit your website by asking for their contact information.
Use an opt-in form that asks site visitors to enter their information so they can join your email newsletter.
Editor's note: GoCentral's site building tools include a signup form you can add to your online store for quick, easy signup.
People aren't always eager to give up their information without getting something in exchange. So set up a free giveaway or offer on your site to give in exchange for their visitors' email addresses. That opt-in offer could be:
VIP access to exclusive content like interviews or an event
A coupon or discount for future purchases
A downloadable PDF or digital piece of art
As you develop your opt-in offer, consider what your target audience would be most interested in receiving from you. Then, create a form on your site that highlights that freebie and makes it easy for audiences to provide their information and opt-in to receiving emails from you.
Develop your list building strategy with this guide.
6. Make sure your site talks to search engines
To sell art online through your website, you need to draw potential buyers to your site.
One of the ways to bring new visitors to your website is through search. Interested collectors can find you when they search for phrases related to your specialty or style of art.
But, they can only find you through search if your website is friendly to search engines. You must use search engine optimization (SEO) to get your site to show in search rankings.
While there are hundreds of factors that go into ranking websites on search engine result pages, there are a few best practices you can focus on — even if you aren't an SEO expert.
Tell Google where to find you
Submit your site to Google. Tell Google that your site exists by pasting your URL into their search console.
Make it friendly
Use a mobile-friendly site design. When a site is 'mobile-friendly,' it adjusts its layout and design based on the viewer's screen size. All websites must be mobile-friendly, as more and more audiences are using their mobile devices to browse the web. This provides a better user experience, which will help you sell art online. More importantly, search engines give higher search authority to mobile-friendly sites.
Get links back to your site
Search engines consider websites with a lot of backlinks as authoritative. They give those sites higher search engine rankings. So work to get other websites to link to your art website.
Publish fresh content
Search engines also see sites with a lot of content as authoritative. So publish multiple landing pages that talk about your art and regularly publish keyword-friendly blog posts.
Tweak each page for SEO
When you publish pages and posts on your site, ensure that each is optimized for SEO. Assign a keyword to each page and post, and use that keyword in the meta title, description, ALT tags, subheadings and body of the content.
As previously mentioned, there are a lot of ways to optimize your website for SEO. This list includes only a brief overview of the strategies you can use to rank higher in search engines.
Get the lowdown on how to use SEO to sell more here.
7. Bring viewers to it through social media
Another way to drive viewers to your website is through social media.
Creating a social media strategy can be overwhelming at first. There are dozens of social media platforms so it can feel like you have too many options to choose from.
But as you get started, don't try to create a presence on every social platform. Instead, focus on the sites that will work best for selling your art online.
Because you are in a visual industry, start by creating profiles on the three top visually-driven platforms:
Also, create a Facebook page — it'll help you sell art online. Facebook has almost two billion active monthly users per month. The audience is too large to ignore. And, as mentioned early, Facebook presents great opportunities for remarketing to interested audiences. Once you get started using free social strategies, branch off into trying paid promotions.
8. Connect with third-party art sales sites
Once you finish each of the previous steps, you will have a strong foundation for your art business's digital presence.
Then, you can start to sell art online using third-party websites like DeviantArt, Minted and Zazzle.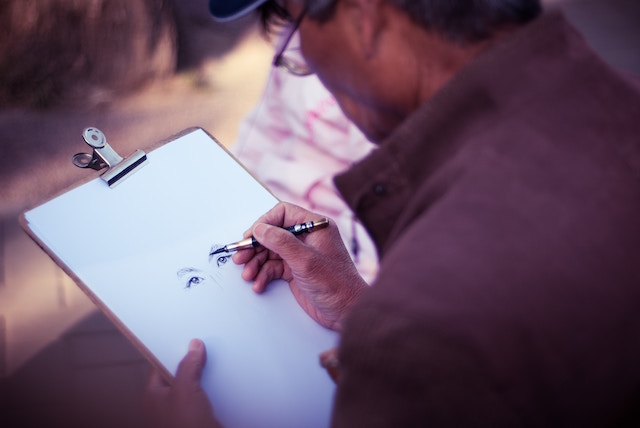 It's important to go through these eight steps first because you don't want to fully rely on third-party sites for selling your art online. You want to create a website that you own, manage and control because then, if something happens to the third-party website (like they close your account or shut down the site), your connection to your audience won't be lost.
Plus, when you have a professional website, third-party websites will see you as a serious artist and give you priority for marketing on their websites.
Creating your website is the first step away from being a starving artist.
View our free step-by-step guide to selling your art online.
You can sell art online
By being able to sell art online through both your website and other sites, you open up a massive marketplace for your artwork. In time, it will lead to a loyal following and a flourishing art business.
For more tips on how to promote your website and increase your online sales, check out our entire library of marketing articles for artists.
Image by: Tiago Faifa on Unsplash