The local business guide to using AdWords
How many times have you turned to Google to answer a question in your lifetime — or even just this month? We use Google in times of need, whether that's finding a solution or discovering something new. With the ability to touch more than 90 percent of all internet users, Google's advertising platform, AdWords, provides endless possibilities for local business. Targeting potential customers in this "micro-moment" of need positions you to provide their resolution. But how do you get started using AdWords?
The internet is filled with forums, articles, eBooks and noise on how to get started using AdWords — but so much of it is written for the masses, avoiding your burning questions with roundabout answers. You need the play-by-play for local or small business. By the end of this article, you'll have your first campaign set up, launched and attracting new customers.
Get started using AdWords (the RIGHT way)
Pick a username and password … easy, right? Unfortunately, AdWords is known to be a bit complicated, even with seemingly simple things. To sign up, visit adwords.google.com and click Start Now. When signing up, you need a Google-based email. Otherwise you'll be prompted to create one. It's best if this email is associated with your business to keep things seamless for the future.
Creating your first campaign
Time to get started! You'll be asked a couple simple questions, but don't be fooled — these are extremely important.
Choosing your daily spend
How much do you want to spend per day? This is your daily budget, and also Google's safety net so prices don't pile up without your consent.
Start small to build confidence.
We recommend trying $10, and you can always go up (or down!) from there. Think about this number as a monthly rate, so multiply your daily spend by 30 to make sure it aligns with your budget.
Targeting your audience
This is who will be seeing your ad, and where they'll see it. As a local business, be realistic with yourself. You might ship nationwide, but who are you serving most? Think about your typical customer, not where you want to be in five years (just for now!). Don't go too wide when setting your location and consider how far people are willing to drive. To begin, choose your town or 10 to 20 miles from your business. You can always expand your radius or to nearby towns if your results aren't producing enough impressions.
Search vs. display network
What are those? Search Network means your ad will be shown to those actively searching for what you offer. Your ad is part of search results. Display Network means your ad will be shown passively on websites other than Google. Notice that you're automatically opted into the Display Network? Uncheck that box since you're new to using AdWords. Let's focus and dominate search results first.
Picking your keywords
Now, on to the good stuff! Keywords can make or break a campaign because they are the elements that determine when and to whom your ad is shown.
As an AdWords novice, ignore all the suggestions Google gives you — it's overwhelming.
Instead, think about a word or phrase that your customers would use to describe you. Brainstorm how someone would find you and try to explain what you do, not who you are. Another item to consider is adding your town or area in your keyword phrase.
Bidding on keywords
How much are these keywords worth to you — or how much would you spend on a single click? The idea is the higher the bid, the more likely your ad will show (we'll explain ways to boost your rating without money later). Try $1 so it's easy to monitor at first. Select I'll set my bids manually so you're in control.
Writing your ad
Now it's getting real! Time to write the text of your first ad. First, it's going to ask you for a landing page. This is simply where someone goes when they click your ad. Most marketers using AdWords use their home page, but that's a mistake!
Ask yourself: does this landing page address the question/need that my ad presents? Your landing page should include your keyword(s) and other content that's included in your ad.
Use a page on your site that gives a prospect what they expect to find. Otherwise, create a simple one with a software like Instapage or Teacup. Also, Google favors "good" content, so the more relevant your landing page is to your ad, the higher you'll be ranked in search results — meaning you get a better position for less money!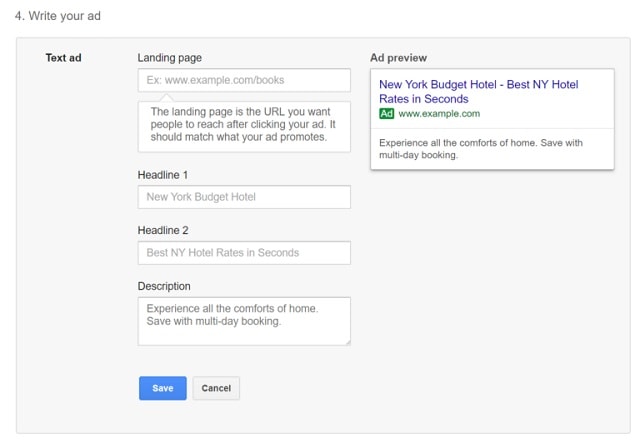 To write your ad's content, try this easy formula:
Headline 1: Use your keyword(s)
Headline 2: Describe your service or product
Description: Why are you different from your competitors; what makes you special?
When you're happy with your ad's preview, save and continue.
Billing information
You're almost out of the woods … you just need to fill out your credit card details. No worries, though. The great thing about using AdWords is you're only charged when someone clicks your ad.
To launch your campaign, you'll need to activate it from your AdWords dashboard. Once the ad is approved, you'll be live and ready for clicks.
Best tips for local business
Now that your ad is running and you've broken the ice on using AdWords, here are additional tips that can take your campaign to the next level.
Ad Extensions
These are one of the easiest ways to maximize clicks. Ad Extensions are the small links you see under the text of some AdWords ads. You can build these right inside the AdWords Manager. They're free to include, and though there are many types of ad extensions, these are best for a small business:
Call — Add your phone number for one-click calls to your business.
Message — Allow prospects to text or email you instantly.
Location(s) — Provide directions to your business, a great option if you have multiple locations.
Callout — Display a special service that's not included in your ad, like "free delivery," "Open 24/7," or "homemade bread."
Sitelink(s) — A link to a specific page, like your business hours, blog, or About page.
Create a Google My Business profile
If you're using AdWords, you need a Google Business page. It goes hand in hand with using AdWords since people will be searching (and now finding) you on Google. This page is the small profile that pops up when someone searches something like "Restaurants near me."
This pop-up shows your location on Maps and extras like your business hours and customer reviews.
Don't worry if you're a company without a store or a unique service, you can create a Google Brand Account instead. Oh, and both are free.
Be authentic
People need to trust you, so don't mislead anyone with a fancy ad and not deliver. Put yourself in your customers' shoes and try to make everything as easy as possible. When they search your keyword(s), think about what they're truly looking for.
Hopefully, that answer is you!
After a long-winded breakdown, we hope you have some better, truly straightforward answers about using AdWords. This step-by-step guide should get your first campaign off the ground — but keep in mind, this is a long-term marketing strategy. A typical AdWords ad takes more than 90 days to begin producing real results, so keep an eye on your campaign and maintain the confidence you need to succeed. Good luck!