If you or your employees take frequent business trips, then keeping costs down is vital to maximize your ROI. Airfare is often the largest expense for business travel, with the average cost of traveling in economy class coming in at $470. With a few trips per month or multiple employees traveling on each trip, you could end up spending thousands of dollars on flights.
There's a better way to pay for business flights — with reward points earned on your normal business spending.
When you follow the right rewards strategy, you can cover the cost of airfare and even score the occasional upgrade for a more comfortable and more productive flight.
Paying with points, not dollars
If you don't already have a business rewards credit card, apply for one and start putting all your purchases on it. You can choose either a business credit card with your airline of choice, or a credit card in a rewards program that partners with that airline. Whichever option you select, shop around to make sure that you're getting the most points back for every dollar you spend, as the best business credit cards will earn you double or triple points for spending in certain categories.
Shop around for a business rewards credit card that earns double or triple points in certain categories.
For example, the United MileagePlus Explorer Business Card earns 2 miles per dollar spent on certain business spending categories. But the Chase Ink Business Preferred earns 3 points per dollar spent on certain business spending categories, and its points transfer to the United MileagePlus program at a 1:1 ratio, since Chase and United Airlines are partners.
While 3 points per dollar is an excellent return on your business spending, you can earn even more by shopping through your card issuer's online shopping portal. All you need to do is log in to your credit card account, go to the shopping portal, and search for a retailer. If the retailer is available through the shopping portal, click the link and you'll earn bonus points for any purchases that you make.
Let's say that you prepare your business taxes using H&R Block. If you have a Chase credit card, you can shop through Chase and earn 9 points for every dollar you spend on the H&R Block site. That can go a long way toward cutting the cost of business trips.
Airline frequent flyer programs also have shopping portals, so you can earn miles with each program the same way.
Pro tip: To save time, put together a list of retailers where your business typically shops and check which ones are available through the shopping portals of your credit card issuer and preferred airline.
When to upgrade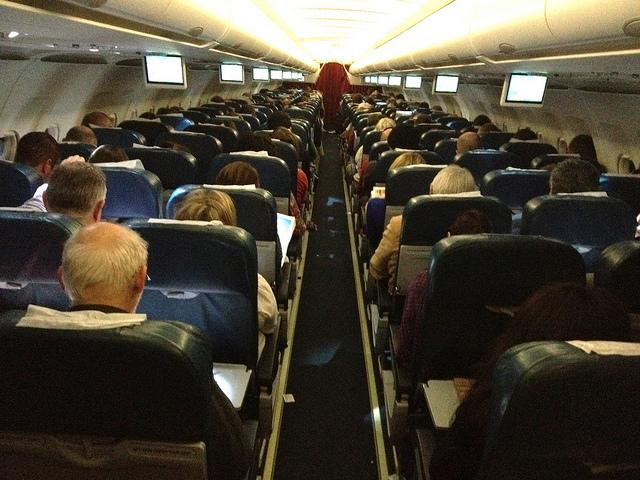 A standard domestic flight costs 25,000 miles for a round-trip economy ticket or 50,000 miles for a round-trip first-class ticket — but don't let the difference in cost convince you that economy is always the way to go. Upgrading to first class, or business class on international flights, can result in a more productive trip for a better value.
Sometimes, upgrading to first-class means more productive business trips.
There are several advantages business- and first-class have over economy, which can include:
Free checked bags
Free access to the airline's airport lounges
Free in-flight Wi-Fi
More comfortable seating
Consider a business trip from Los Angeles to New York. Flying first-class might cost you 25,000 more points, but you won't need to pay bag fees. You can grab a meal at the airport lounge to reduce your food costs. On the flight itself, you'll have much more space, making it easier to work or relax so you're well-rested when you touch down.
Whether or not you should upgrade depends on the trip you're taking.
For short-haul domestic flights that are two hours or less, economy is usually the better value, because the flight isn't long enough to reap the benefits of first-class. On longer flights, business- or first-class are well worth those extra points. You can compare the cost in points for economy- and first-class fares by plugging your trip details into RewardExpert.
Scoring upgrades and perks for business trips
Unfortunately, free flight upgrades have become a rarity, so it's unlikely that you'll get unexpectedly bumped to first-class. However, if first-class isn't full, you can sometimes buy your way in at the check-in counter for $50 or $100, which is an excellent deal. You are also eligible for complimentary upgrades if you've flown with an airline enough to reach one of the elite status tiers on its loyalty program.
While the right credit card might not get you upgraded to first-class, it can entitle you to perks that improve your traveling experience.
Most airline credit cards include one or two free checked bags, and some offer airport lounge access. There are also non-airline credit cards that include airport lounge access for cardholders, such as the Chase Sapphire Reserve and the American Express Business Platinum Card.
There's no reason to spend your business's money on airfare when there are much better deals available with points and miles. By choosing a business credit card that fits your spending habits and making purchases through online shopping portals, you can accumulate enough points to cover your flights in no time — and make business trips more enjoyable all the way around.