Small business is proving to be big business amid the ongoing coronavirus pandemic. Somewhat surprisingly, the entrepreneurial spirit is thriving, despite the economic recession. There's no time like the present to consider ways to make your small business bigger.
Startups reached a record high during the 16-month period from March 2020 to June 2021. Data from NPR's The Indicator from Planet Money reveals that people started more than 440,000 businesses in June 2021. The Wall Street Journal also reported more than 3.2 million applications for employer identification numbers (EINs) were filed in 2020.
Small businesses already in existence have managed to get creative with their business models and quickly pivoted their offerings to meet customer needs in 2020.
Startups just launching are equally cognizant of what it means to pivot, innovate on the fly, and retain the need to be nimble and resilient during uncertain times.
Ready to make your small business bigger?
As I write this in August 2021, it's a bit difficult for me to predict how Q3 and Q4 of this year will pan out. However, what I do know is that small businesses can ensure their companies continue growing in 2021 and beyond if they take these five steps now — if they haven't already:
Build a website.
Review your business plan.
Build a business support system.
Consider B Corporation Certification.
Listen to your customers.
Let's get started building your business!
1. Build a website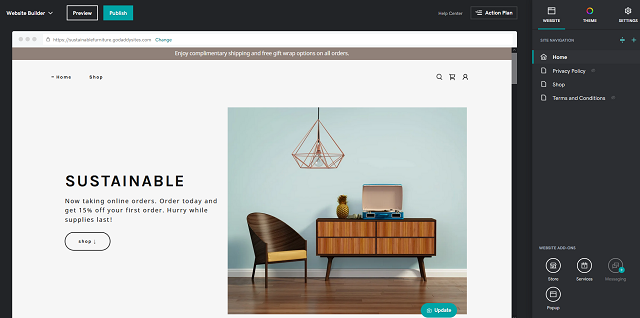 One of the most valuable tools in a small business's toolkit is its website. Websites help create visibility for small businesses. Customers, both existing and new, are looking for your business online.
How can building a website benefit your business? Having a basic website acts as a home base, especially if you have a brick-and-mortar storefront. It allows customers to find you, learn about your offerings and services, and contact you for more information.
More advanced websites may be optimized using keywords and relevant copy for SEO purposes. This allows the website to rank higher in search engines and to reach customers in local and national markets.
A well-designed website also may help create a seamless customer experience. Customers can make purchases through the site and businesses can use a website to accept payments and process orders. How else can you make your small business bigger by leveraging your website?
Showcase your offerings through high-resolution photography, establish a blog, link to social media platforms where your business maintains an active presence, and encourage customers to sign up for newsletters where they may learn more about new and exciting news about your business.
Surprisingly, statistics show that only 50% of small business owners have a website.
The good news is that it's quite easy to get started creating a small business website. You may work alongside website building and hosting companies or hire a website developer to help build an impressive and functional website for your business.
Editor's note: Want a beautiful website in no time? Try GoDaddy's Website Builder for free. It's easy to use, visually appealing, and easily integrates with social media platforms.
2. Review your business plan
Many entrepreneurs draft a business plan when they start a business.
This document details what the business does, analyzes its target audience and competitors, examines cash flow and what makes the business profitable, and sets timelines to reach business goals.
As time progresses, small business owners are encouraged to return to their business plan to review it and refine its components.
Here are a few questions that may help you begin the review process.
What milestones was your business able to achieve after a year like 2020?
How long did it take to reach these goals? Will you need to adjust timelines to reach future goals?
Have there been changes to your company's offerings, such as new products, services or pricing?
Is your target market growing or shrinking? For example, you may find that while your business originally intended to reach millennials, it has caught the interest (and sales) of Gen Z as well.
Do you have new members of management or staff? If so, you may decide to update the About Us section of your site with their biographies.
How has cash flow changed over the last year for the business? If it has improved dramatically from one quarter to the next, what factors contributed to these changes?
Remember that reviewing your business plan does not mean focusing on making a perfect business plan. This is an ever-changing document that is meant to better understand how each area of your business — from its financials to its marketing strategy — is being built for growth and success.
3. Build a business support system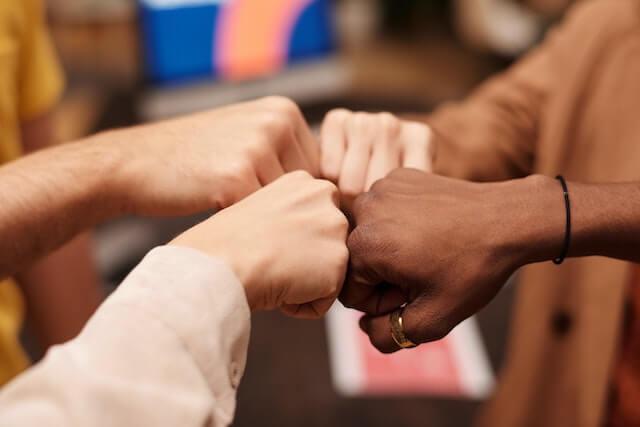 As an entrepreneur, you shouldn't have to go it alone trying to make your small business bigger. There will be moments when you have questions you'd like to get answered, need a shoulder to lean on when moving through the ouch spots or simply want good people to cheer you on when you succeed.
Build up a business support system. Aside from close family and friends, some of the people you may wish to add to this system include mentors and business coaches who can provide relevant insight.
You can find mentors for your business through platforms like SCORE and even take workshops that provide free business training to learn new skills and acquire the necessary knowledge it takes to run your business.
Another crucial part of your support system should include individuals with legal and accounting backgrounds. Legal professionals can help if you have questions about your business formation and accountants or CPAs can answer your tax and bookkeeping questions.
4. Consider B Corporation Certification
Amid a year of civil unrest and the ongoing impact of climate change on our planet, customers are expecting more from businesses. They want to spend their hard-earned dollars with companies that are honest, transparent and walk the walk when it comes to sustainability.
Do you want to truly make a difference with your business and allow your company to be the best for the world rather than in the world?
You may consider obtaining B Corporation Certification, which allows a business to balance purpose and profit and use business as a force for good. Becoming a Certified B Corporation is a voluntary process that is completed with the assistance of B Lab.
Think of it as an audit. Most entities that decide to designate their businesses as Certified B Corps start off as limited liability companies or corporations. The business must pass a test known as the B Impact Assessment (BIA). The company also must be able to meet legal requirements and meet with a B Lab Standards analyst for an assessment review before they are approved as a Certified B Corporation.
Before you begin the process, consider consulting a legal professional to determine if a Certified B Corp designation is the right decision for your business.
5. Listen to your customers
Earlier, I mentioned that having a website can be a helpful tool in creating a seamless customer experience. Whether you're launching a new startup or growing your existing business, take the time to listen to your customers.
Listening to customers allows businesses to do more than just respond to their needs.
This is the time to get to know and understand your customers. Problems facing customers during COVID-19 might be different than they were before the pandemic.
Dine-in restaurants, for example, initially dealt with the issue of being able to serve customers. In the past, a customer would be able to enjoy a meal indoors, but that was not an option during the first few months of the pandemic. Many restaurants resolved this issue by listening to customers and providing take-out and delivery services. Some even installed drive-throughs to make it easier to place orders and help customers get exactly what they needed.
Listen to customers and pay attention to the needs of your target market. Identify their problems and pain points.
How can your offerings act as a solution? Is it possible to develop new products if your existing services are unable to help solve these problems?
Study and plan how you will best be able to serve customers in calm and challenging times alike. Reach out for customer feedback on a year-round basis and keep a sharp eye on customer behavior changes and audience interests. The bigger the business, the more investors will take interest in your startup — and its loyal customer base!
The above content should not be construed as legal or tax advice. Always consult an attorney or tax professional regarding your specific legal or tax situation.