You have probably heard a lot about the importance of personal branding. With the crazy explosion of competition in the world of web design and development, an authentic brand takes on an even more outsized role. Some people— think actors and musicians — have been doing this for decades.
In the old days, branding often consisted of not much more deciding on a name and creating a logo. Over time, though, branding morphed into a much more sophisticated and comprehensive process, where your face, personality and unique traits take center stage.
For web pros, personal branding as an individual versus as an agency or business is becoming more common as well.
Developing my own personal brand: A short history
For 17 years, my partner and I ran a marketing, design and copywriting agency called Cat's Eye Marketing. We started with a simple logo and worked hard on developing our brand. Looking back on it, even though we had an agency name, it really was always about us
We found that was who our clients hired: the people, not the brand.
When I discovered WordPress in 2007, we were gradually moving our business more to the web side with a smaller focus on the traditional print materials we had created for so many years. In 2010, we made the decision to move full-time into web design and copywriting. It was time to retire the agency.
I didn't bury myself in a lot of research when I decided to brand myself as BobWP. The two driving factors behind the decision:
I wanted to associate my brand with WordPress, and fortunately, adding the "WP" to the end of my name was easy.
I needed something simple and easy to remember.
It worked like magic.
8 things I've learned about personal branding as a web pro
I'm not saying this was instantaneous. Nor is it something that will work for everyone. But here are eight things that helped me build strong personal branding.
Choose a name.

Show visitors who you are.

Build a unique brand.

Clarify and refine.

Make it about you on social.

Your reputation depends on it.

Promote your brand.

Know that it takes time and be open to change.
Let's go!
1. Choose a name
This part gets a bit tricky and is something you need to think hard on. You might feel that by using your name, people won't take you seriously as a professional. But that has changed. As an example, I know someone who had branded herself as a business for quite some time. Recently, she changed the brand to her name because she realized that people are looking for a person they can trust with their project. How you build the brand is probably even more important.
2. Show visitors who you are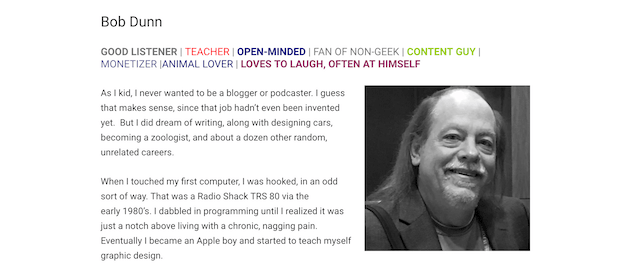 Your individual brand as a web pro should be a reflection of not just your work, but who you are and what you stand for. So show that on your site. You can get a head start on that by writing a memorable bio, one that speaks to a defined audience, connects your profile with your personal branding, and lets your core values shine.
A good bio also lets your readers and potential clients know how you can solve their problems, while giving them an inside peek into who you are and what matters to you.
Unless there is some reason for not showing your face on your web, include a photo. There is nothing that builds a more immediate connection with potential clients than seeing who will be building their site. And make sure that the picture reinforces your brand. For instance, arms crossed with a serious look gives a completely different impression than a casual pose with a friendly smile.
3. Build a unique brand
What do you want people to remember about you? Maybe it's your amazing customer service. Or your specific niche in the industry. Or the problem you solve.
Remember that as you meet potential clients, or work with new ones, your approach and their experience with you will be what they will remember and tie to your name and your personal branding.
I learned the importance of this early on. I specifically built my web brand around not only WordPress sites, but also teaching people how to use them. And through my local workshop and WordCamp presentations, BobWP eventually became an instantly recognizable brand.
4. Clarify and refine
This is something anyone should do, but it's especially important in the web pro industry. Tie your strengths to your personal branding and don't try to be everything to everyone. If your strength is in development, then make that part of your brand. If it's design, same thing.
One thing I learned was the importance of clarifying what I could and could not do.
When I was as clear as possible with clients, the gray areas all but disappeared, and along with them the disaster projects. When clients understand exactly what you do, you will have branded yourself as the expert in that area.
5. Make it about you on social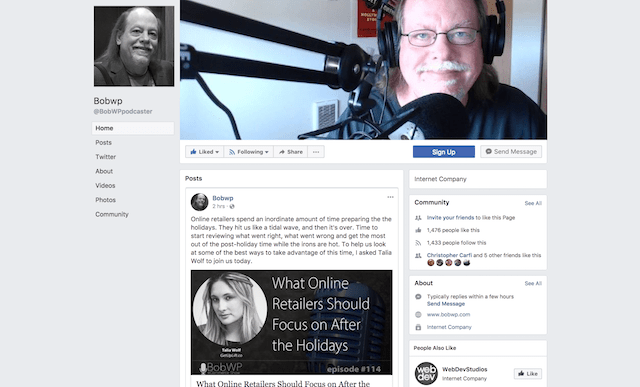 Logos are nice, but promoting your name on social, where a lot of branding takes place these days, will give you more mileage because people will fairly quickly begin to associate the name and face with the unique product or service.
For social, be sure to use an up-to-date (and consistent) avatar on all platforms. Stay away from a big focus on your logo if you want to build personal branding. Recognition of your face and your name will go a lot farther in the long run than some symbol or cool design.
6. Your reputation depends on it
Your professional reputation and your personal branding are intertwined. Whether you are popping up in social feeds, on Slack, or in person at a conference, you will be immediately recognized, before people even meet you, by the reputation you have built through your brand.
I have always made myself approachable, whether online or in person.
That is part of my brand. People are not (or I hope they are not) afraid to come up to me at a WordCamp and introduce themselves. For me, that is a very important part of my personal and professional brand.
7. Promote your brand
Building your brand as a web pro will go as far as you can take it. Put your face and name out there constantly. To build a successful brand, you cannot be camera-shy.
And do invest in business cards.
These might seem old-fashioned to you, but they are still useful. We live in a world where we see and meet so many people every day. If you are making the effort to do IRL networking, you need something for people to remember you by. Beyond your name, the information you choose to put on your card is up to you. I have changed my cards dozens of times over the years to represent the changes in — and growth of — my brand.
8. Know that it takes time and be open to change
This is probably the biggest learning curve. When I started BobWP, I knew it would take a lot of work. Meeting new clients. Teaching workshops. Speaking at and attending conferences. Diving into social. Personal branding takes time to build up and each step along the way makes it stronger.
Don't be afraid to pivot and change.
Over time, you will learn what works for you and your clients. If something isn't working, make a change. Make sure your brand reflects those changes and inform your community and clients of them. People are much more adaptable and flexible than we give them credit for.
Embrace the adventure
Make your individual brand as a web person reflect not only what you do best, but who you can serve best. It's an adventure, so have fun with it. You will have bumps along the way, but if you approach it with an open mind, you'll find that the benefits of personal branding far outweigh the challenges.