Did you know that small businesses are losing over $10.3 billion in sales every year due to inaccurate business information? In today's modern world, consumers expect instant gratification. So when they search for your small business online, they want to see accurate info no matter where they're searching. Seems reasonable, right?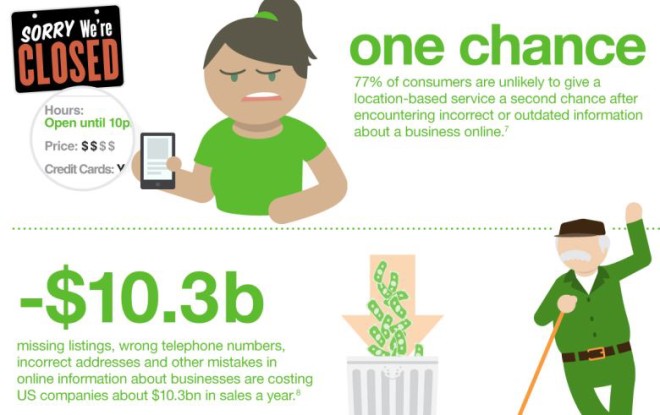 Having an outdated address, phone number, hours of operation or services on your website — or third party websites like Yelp®, FourSquare®, and Facebook® — can cost you customers. It's an easily overlooked mistake businesses make all the time, and it totally defeats the purpose of being online in the first place.
In an age where the average customer expects real-time results online, getting your business details updated everywhere your customers are looking can be time-consuming and costly. Luckily, there are tools like Get Found that help business owners update their information in one place, and then sends it out to top websites like search engines, social media sites, review sites and local directories — saving you time and keeping your business up-to-date.
The bottom line is that staying current across the Web will help you attract more customers. Plain and simple. Customers are using the Web to search for businesses like yours today. Make sure what they see is what they get!