As of 2016, Facebook has surpassed 1.5 billion monthly active users, making it, by far, the most popular social platform. It's done this by not only giving its users an entertaining service to catch up with friends and communicate with each other, but by turning the site into an inclusive online experience where people can post pictures, read and share articles, schedule events, and do whatever else they get on their computer for.
Now, with the recent addition of the Facebook Shop and Services sections, Facebook is positioning itself to be the go-to destination to browse and purchase products. In order to be fully prepared for this new change, marketers will need to start taking advantage of everything that their videos can do.
What are the Facebook Shop and Services sections?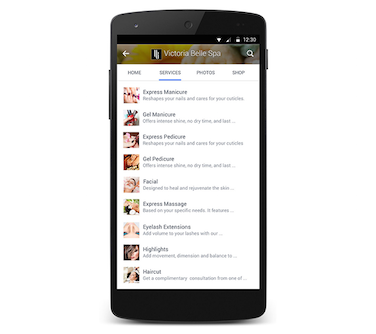 According to a recent post made on their company blog, nearly half of people come to Facebook in order to actively look for new products. However, prior to the introduction of the Facebook Shop and Services sections, these people had to leave Facebook in order to purchase a product, which often led them to sites that aren't mobile-compatible. Since over half of users access Facebook via a mobile device, this posed a problem.
Facebook Shop and Services pages are designed with mobile users in mind.
To make this process easier, both for the shopper and the businesses that cater to them, as well as to help drive more sales, the Facebook Shop and Services sections were developed. Although one is meant for products while the other is meant for services, both simply add a tab to the top of a business's page. From there, users can browse through the business's offerings and make a purchase without leaving the page. All of this is designed to work seamlessly on mobile devices.
What this means for video marketers
Video has become a major component to Facebook's growth. Between 2014 and 2015, for instance, Facebook video views quadrupled to a staggering four billion streams a day, putting it in direct competition with YouTube for the first time.
As such, Facebook has turned into an even more attractive prospect for video marketers looking for new ways to reach the often-elusive millennial audience.
However, as studies have shown, millennials expect a lot more from their advertisements than a simple sales pitch. Instead, they want to see campaigns that make an effort to target their interests and that incorporate aspects of mediums beyond television, such as Q&A's, performance marketing, and, of course, social media. Most importantly, they want to see advertisements that are personal and that look and feel authentic.
Millennials demand ads that look and feel authentic.
With the introduction of the Shop and Services sections, video marketers now have a great opportunity to fulfill these expectations. Why? Users will not only see advertisements while browsing their News Feed or reading articles, but as they are shopping for products. This means they no longer have to make a general advertisement, and can instead start putting together much more dynamic and creative campaigns that relate directly to what a user is looking at.
Video marketing ideas for Facebook Shop and Services sections
The following are some examples of how you can do just this.
1. The product/service overview video
Already a standard feature on many eCommerce stores, a product overview video is a great way to both inform the customer about the features of a product or service, while also subtly promoting the brand. Try to keep the video short and to the point, while still covering everything a typical customer may want to know. If possible, show an employee using the product or service in order to include a personal touch.
2. The DIY or how-to video
Similar to the product/service overview, DIY and how-to videos can turn your Facebook store page into a resource that customers can use to learn new ways to use a product or service. For instance, a business that sells art supplies could include videos alongside its products that show customers new tricks or techniques. Likewise, a vehicle manufacturer could produce videos that walk customers through making repairs on their own.
3. The story of your business
One advantage that Facebook Shop and Services sections give marketers is that anyone viewing the videos included in them will presumably also be interested in the brand. This means that marketers have a great opportunity to sell not just products or services, but the business itself. For example, they can include a short video that talks about the business's history, values and goals. This can not only give the shopper some context, but also help personalize the business for them.
4. The customer testimonial
One reason why social media is such an effective medium to advertise and sell products and services is that it utilizes word of mouth.
To take this advantage a step further, savvy marketers should try to put together videos on their Facebook Shop or Services page that showcase actual customers talking about and/or using their products.
Just like a product review, this can go a long way toward convincing shoppers to make a purchase.
That's a wrap
Facebook's new Shop and Services sections are a promising opportunity for marketers looking to develop more creative, personal, and relevant campaigns. However, more traditional marketers who still think of video as a costly and time-consuming expense may be put off by the prospect of developing all this new content.
Services such as Magisto for Business make video marketing more accessible to busy small business owners. With Magisto, for example, you can quickly and easily put together a variety of videos, add in features like captions and commercially-licensed music, then optimize them for Facebook and upload them to the store site automatically.