How to coordinate your remote workforce using webinar technology
In this day and age, even a smaller business can have a workforce spread out over various parts of the world. While there are plenty of ways to coordinate your efforts in that situation, nothing beats webinar technology.
A key factor in the popularity of webinar technology is it provides an opportunity for screen sharing, which offers a human quality other online conversations don't have.
In short, webinars and video conferencing are ideal for collaboration — regardless of your industry.
In this article, we'll discuss how webinar technology can help you get the most out of remote collaboration. You'll be able to support and communicate with every part of your workforce – especially when you're using a powerful webinar platform such as ClickMeeting. Let's get started!
An introduction to webinar technology
For the uninitiated, a webinar is a portmanteau of "web" and "seminar." As you might guess, it's simply an online video conference or seminar:
There are some big differences between a webinar and a traditional seminar, especially as the former offers an arguably greater interactive experience. For example, while seminars usually use screen projections, they're not immersive. They can also be difficult to even see, depending on any given audience member's vantage point and the projection technology used.
However, with webinar technology, everyone's view is as good as their device's screen.
Plus, since viewers are physically closer to the content, they can see and understand it in more detail.
What's more, there's also an opportunity for interaction and collaboration during a webinar. For example, you'll often get access to a live chat feature that lets participants ask questions throughout the presentation. Depending on the goals you set, this can mean the entire audience has a hand in the end result. For that reason, webinar technology is ideal for group brainstorming sessions and similar collaborations.
Of course, once your interest in conducting a webinar has been piqued, you'll want to settle on a solution. While there are plenty of options available, you'll want to think carefully about your choice.
How to choose the best webinar technology
Your choice of webinar platform will ultimately come down to your goals and expectations. First, you'll want to consider how you'll use the platform itself. For instance, if you're mainly going to conduct passive meetings with your internal team, rock-solid audio and video will be a key requirement.
However, live chat and smooth screen sharing are a priority for creative, collaborative teams that are often in different locations. What's more, larger workforces require more administrative work to set up any kind of presentation. If you're in that situation, you'll want plenty of functionality that helps you invite attendees and prepare your webinar.
ClickMeeting, for example, is one solid solution for preparing and presenting webinars, meetings, and video conferences: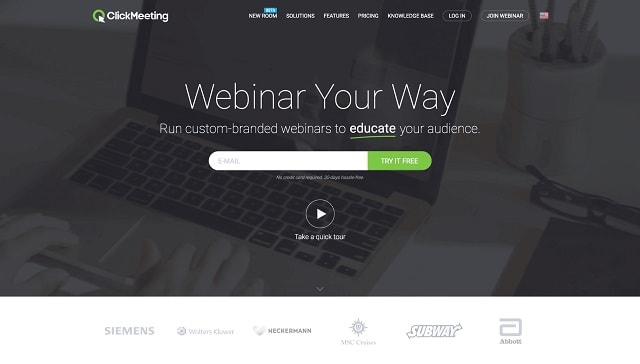 In addition, it's as flexible as your needs are, and can be scaled to suit your requirements. For example, you can set up a dedicated waiting room complete with the meeting's agenda to greet early attendees, offer a timeline of events, and send out customized invitations based your attendee's roles. However, being prepared is only one aspect of running successful remote meetings and video conferencing.
How to coordinate your remote workforce using video conferencing
Whenever you're looking to coordinate a complex task such as running a webinar, it's always helpful to see how others have tackled it. For example, the team at Zapier documented their own approach to remote meetings, and there are a number of takeaways you can glean from their experiences.
Pay attention to attendee time zones
First, you'll find that your attendees' time zones are important, as you don't want to arrange meetings that are at inappropriate times for some people. A simple tool such as Every Time Zone or World Time Buddy can help you here, but you'll also need to know where each member of your team is located.
ClickMeeting's address book feature can give you an at-a-glance look at your participants' locations: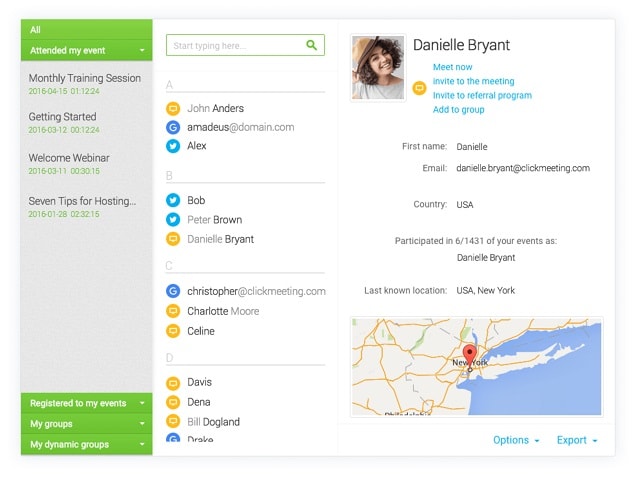 Choose great communication tools
Of course, communication is also a key priority for any video meeting, especially for companies using a remote workforce. We've already talked about the need for high-definition audio and video, but don't ignore the power and potential of a varied collection of tools for delivering your message.
For example, collaborative tools that can be used throughout a presentation give your team a chance to sync their thoughts and ideas.
Consider private chat functionality
Finally, we've already talked about live chat functionality — but private chat features are also essential. The opportunity to converse by private chat keeps clutter out of the main meeting. It can also let team members offer their opinions where necessary, especially if the subject matter is sensitive.
Conclusion
A workforce that doesn't operate in the same physical space can often miss the collaborative atmosphere and community spirit that a local team can provide. However, remote working doesn't have to be an isolated experience. Video conferencing and webinar technology can provide a viable alternative to everyone being in the same room.
What's more, a tool such as ClickMeeting can make putting your webinar together much easier. For example, screen sharing is a great way of seeing exactly what your colleagues see, as if you were standing over their shoulder. Address book features, quality video and sound, and collaborative tools also contribute to your ability to pull off an effective presentation.