How to flag a Yelp review in 4 steps
Small business owners know that gathering feedback on review sites like Yelp can be extremely helpful to understand their customers and their community. They also know that receiving negative reviews can be damaging to their reputation and can discourage potential customers from visiting their stores, restaurants, salons or auto-repair shops. How do you know when it's time to flag a Yelp review?
Related: Standout tools — GoCentral Yelp Business Listing feature
When and how to flag a Yelp review
Even though negative reviews on Yelp can be discouraging, taking the simple step of responding can help to assuage the situation. But what about those negative reviews that are false, inflammatory, for the wrong business or from a former employee?
You can't pay Yelp or other sites to remove reviews — and getting them taken down can be difficult.
But you can report reviews to Yelp's content moderators asking them to remove the reviews that go against their guidelines.
Yelp has guidelines in place to prevent these kinds of reviews from overwhelming your business's page. If a review violates Yelp's Terms of Service or Content Guidelines, you can report the review to a Yelp administrator who will review your case.
4 steps to flag a Yelp Review
Not sure how to flag a Yelp review? Just follow these four easy steps.
Click the flag icon.
Click the most relevant option for flagging.
Write a concise description of why you reported the review.
Respond to the review.
Related: 3 steps to managing reviews online
1. Click the flag icon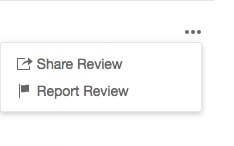 From your Yelp for Business Owners account, find the review in question and click the little flag in the bottom right hand corner of the review.
2. Click the most relevant option for flagging
From the drop-down menu, you'll click the most relevant option for flagging.
The options are different from the Content Guidelines, but you can select whichever option corresponds most closely to the issue. The categories are:
Inappropriate content: It contains threats, lewdness or hate-speech.
Conflicts of interest: It was posted by a competitor or ex-employee.
Promotional content: It contains promotional material.
Relevance: It doesn't describe a personal consumer experience.
Privacy: It violates Yelp's privacy standards.
Intellectual property: It violates Yelp's intellectual property standards.
Demanding payment: The reviewer asks for payment to take down their negative review.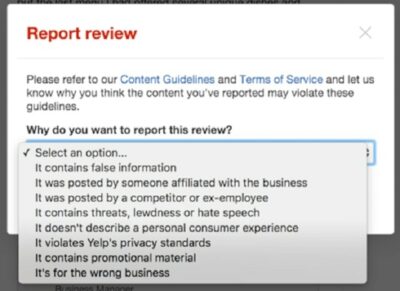 There are also other options, like: "It's for the wrong business" or "It contains false information," which you can choose if one of those options is more relevant to your situation.
3. Write a concise description of why you reported the review
It's important to be professional and to provide evidence where possible when you report a review to Yelp's moderators. Referencing Yelp's Content Guidelines in your response can help your case.
4. Respond to the review
It will take three to five business days for Yelp to decide whether the flagged review will remain on the site. They will let you know either way.
The decision is up to Yelp's content moderators, but there are no guarantees that the review in question will be removed from the site. In the meantime, it's important to respond and try to get some clarity on the review.
When reviews are inflammatory or misleading, responding can be an especially delicate task.
Potential customers can see this response, so make sure you are polite and amenable. You can still point out false information in a review without seeming disagreeable.
Ask questions to get to the bottom of the issue and apologize where necessary. That way, even if the review remains on your site, your customers will see that you took the time to respond because you care about providing excellent customer service at your business.
Ultimately, the best way to overshadow any negative reviews is to respond sincerely, succinctly and professionally in your unique voice to let your customers know you're listening.
Related: The best tips for responding to online reviews
Another good way to overshadow any negative reviews is to get more reviews in general.
Yelp provides stickers that say "Find us on Yelp!" for your brick-and-mortar location so that anyone visiting your business knows that they can share details about their experience at your business on Yelp.
Bring in the good reviews
When it comes to getting more positive reviews, keep those glowing reviews coming in by continuing to provide the service and products that your customers love you for, and by continuing to respond to their feedback (on social media and review sites)!
Being friendly and accessible and providing a great customer experience are the best ways to get positive feedback and keep your business top of mind for your current and potential customers.
Related: How to ask for testimonials and reviews from your clients
GoDaddy Social can help you elevate your reputation management strategy to help you get a handle on your online reviews and save you valuable time.