How to get more Google customer reviews
Have you ever been in a situation where you have to immediately know, go, do, or buy? At Google, these are called micro-moments. When I recently presented at Google's inaugural Grow with Google event in Indianapolis, I used this example. I was driving through Rhode Island in a monsoon when my driver's side windshield wiper decided to freeze mid-wipe. After pounding on the windshield and the dashboard, hoping I could start it up again, I pulled over in defeat and grabbed my phone. I opened my Google app and asked for the "best auto repair shop near me." Instantaneously, I saw the Google My Business listing of an auto shop just a mile away and scoured their Google customer reviews before dialing. They seemed nice enough on the phone, so I drove on back roads to have my wiper fixed.
Looking to attract local customers without spending a lot of time or expense? The Google My Business feature in GoDaddy's GoCentral website builder is for you! Start for free.
Catching your customers in micro-moments
Similar to my monsoon incident, consumers find themselves in micro-moments every day:
Deciding where to go to lunch.
Calling a plumber when they have a leak.
Finding a quick gift for a birthday party.
Getting a massage to relieve that knot in their back.
In some, if not all, of these situations, consumers rely on indicators like Google customer reviews to make their buying decisions. In fact, 90 percent of consumers read online reviews before buying, and just about half of those consumers need to see a four-star rating before they choose to use a business.
With Google customer reviews playing such an integral part in attracting and converting customers, it's important that you have your digital house in order.
Google My Business is a free tool for any local business with a brick-and-mortar location or a specified service area. Having a Google My Business listing allows you to manage your contact information, update your hours, add photos and even share dedicated social posts to promote new products or special deals.
Best of all, Google My Business allows you to collect and display Google customer reviews where it matters most in those valuable consumer micro-moments — the top of the search engine results page.
Editor's note: Manage your Google My Business and other online listings from one central dashboard with GoDaddy's Local Business Listings tool.
Setting up your Google My Business listing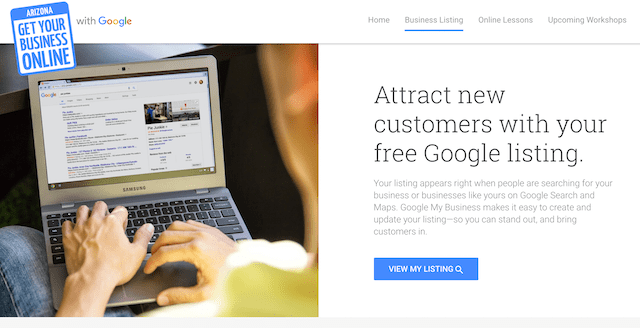 Google created a setup wizard to make it very easy to create or claim your Google My Business listing. As you finalize your listing, there are some tips and tricks to follow:
Make sure your business name is spelled and capitalized correctly.
If you work out of a shared office space, add a suite number to differentiate.
Keep in mind that you cannot use a post office box — you'll need a physical address.
If you work from home, be sure to check the box stating, "I deliver goods and services to my customer at their location."
Upload between five and 10 real, non-stock images.
Keep an eye out for the Google verification postcard that usually comes within a week.
Getting more Google customer reviews
Once you've set up and verified your Google My Business listing, your top priority is to get more Google customer reviews. When I present for Google, I always remind the audience that the worst someone can say is "No." As a business owner, if you feel a customer had a great experience, then a major part of your sales cycle is to encourage your customers to leave a review.
People will write reviews when asked.
According to a recent study, 68 percent of consumers left a local business review when asked. In order to collect the most Google customer reviews, you want to make it easy for your customers.
Gone are the days when you could ask a customer to search for you on Google (potentially hours or days after the sale) then leave you a review.
The odds of them following through were slim to none. Nowadays, there are robust online review tools that make it seamless.
One service to consider is MyReviewDashboard. We recently co-developed this tool to provide small business owners with a slew of benefits, including the ability to:
Proactively solicit Google customer reviews from happy customers.
Receive alerts when new reviews come in.
Collect and quarantine negative reviews before they become public.
Resolve disputes with unsatisfied customers.
Promote positive reviews via social media, email marketing and on your website.
A service like MyReviewDashboard provides a custom domain name (i.e., www.ReviewAcme.com) to make it easy to get more reviews on sites like Google, Yelp, Facebook, Zillow, Angie's List, Thumbtack and more. That custom domain can be shared on social media, business cards, receipts and in your email marketing campaigns.
Because it's as simple as a click, you're bound to grow your reviews at a steady clip.
Ultimately, getting more Google customer reviews starts with you taking the initiative. Be sure you've claimed your Google My Business listing and start asking your customers for review. Consider using a tool like MyReviewDashboard to expedite the process. You'll be amazed at how many people have nice things to say about your business and even more delighted at the new business you drive in from your positive reviews.
Image by: Andre Hunter on Unsplash