MileIQ: The easier way to track business mileage
Looking for an easier way to track business mileage? Well, you're in luck.
MileIQ is a top-notch solution for tracking mileage, and offers a plethora of convenient ways to log and process business-approved travel.
What's more, Microsoft 365 from GoDaddy users have access to this tool, along with plenty of other time-saving productivity apps. MileIQ is included in Microsoft 365 from GoDaddy's Business Premium Plan.
In this post, we'll introduce MileIQ and discuss its feature set. First, however, let's discuss the need for a smooth way to track business mileage.
Related: What you need to know about writing off auto expenses
Here's why you should track business mileage
Consider for a moment the content you've watched and the books you've read about owning a small business or developing entrepreneurial skills. We'll bet that very few of them discuss strategies to track business mileage.
Unfortunately, this isn't a big priority for many businesses, mostly due to the lack of a set budget for mileage allowances.
However, for those who have to log and pay out on mileage, this process can be a key concern. If you haven't given the procedure a second thought, you could be overpaying or underpaying, making the process unnecessarily difficult, and so on.
In other words, having a solid system in place for tracking mileage is a vital cog in the machinery of your business. Fortunately, there's one particular solution that can slot easily into your current workflow.
Introducing MileIQ
The best way to better track business mileage is using a tool that simplifies and streamlines the necessary tasks. If you're on the hunt for this kind of solution, you can't go wrong with MileIQ.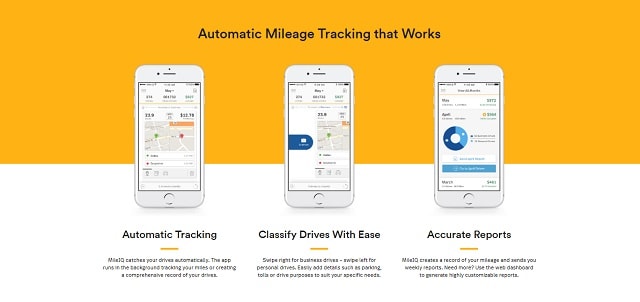 In a broad sense, MileIQ does three things:
Automatically tracks your drives, by using your smart device's built-in technology.
Provides a method of easily logging, sorting, and providing extra information about personal and business drives.
Offers comprehensive reporting options, to make sure you're providing the details your finance team needs.
What's more, you can view the MileIQ dashboard across all of your devices. This means there's no longer any excuse for not being able to track business mileage.
To better understand how MileIQ can track business mileage, compare it to other types of popular apps. For example, consider the automatic tracking functionality. This is akin to dedicated fitness apps and both can be customized to suit your location and needs. Of course, much like those same apps, MileIQ is able to start tracking drives as soon as it's set up.
As you use the app, you'll also want to organize your drives.
You can classify each as either business or personal, and this works in a very Tinder-like way. Swipe left or right depending on the class of drive and populate other fields as needed.
However, MileIQ's reporting functionality to track business mileage is in a league of its own. You'll get basic rundowns of your drives by default, but you can also create custom reports based on the metrics and figures that are important to you.
Best of all, the reports aren't device-specific, which means you can create comprehensive mileage reports regardless of day-to-day activities.
How to get MileIQ for your business
If your interest has been piqued by the functionality of MileIQ, you're probably wondering where you can grab yourself a copy. Fortunately, you don't have to look very far!
While MileIQ is an app like many others — which means it offers scaled pricing — there's an even better way to get hold of it. GoDaddy has partnered with Microsoft to provide access to their suite of tools.

You can get MileIQ with the Business Premium tier, alongside many other tools designed to boost productivity.
For example, you'll get access to cloud-based versions of Word, Excel, PowerPoint and the other Microsoft 365 basics, along with newer apps such as Microsoft Invoicing. Each user also receives 1TB in storage, and other cloud-based benefits. The whole package provides plenty of value for teams wanting to be more productive and efficient day-to-day.
The low price of the Microsoft 365 from GoDaddy Business Premium plan brings that value into sharp focus — it gets you all of the above, and much more. For further information, you can take a look at GoDaddy's dedicated page on the complete Microsoft 365 from GoDaddy package.
Editor's note: The price and features listed are accurate at the time of publication.
It's important to track business mileage
Why bother to track business mileage? It's a potentially boring task, all things considered. However, not every task will be akin to riding a rollercoaster. Having a slick process in place to track business mileage could result in an improvement to team morale and a more balanced cash flow, which is plenty exciting.
To help you get there, MileIQ can streamline and automate the process to track business mileage, and leave you more time to get on with the rest of your day.
It automatically keeps tabs on your drives and lets you carry out a plethora of administrative and reporting tasks from wherever you happen to be. What's more, Microsoft makes it possible to include this tool in Microsoft 365 from GoDaddy's Business Premium plan.