I don't know about you, but if I'm on a new site, before anything else, the first thing I'm doing is deciding if it's worth my time. Before reading the article, checking out the merchandise, or watching the video, I typically make a snap judgement about the site based on what I see. Does this site look legit? Does it feel like I can I trust it with my time, energy, and, gulp, my credit card number?
Thumbs up, or thumbs down. Keep clicking, or bounce. It might seem cruel. Call it judging a book by its cover. Call it trust issues. Whatever, it's what I do. And a lot of people do, too.
That's why, as a website owner, you have to pass this eye test. You need to take steps to show to your visitors you're trustworthy. That whatever it is you have, it's worth it for them to check out.
It's up to you to build a website that inspires trust. Here are the seven things I look for when I land on a new site, and need to make a decision about whether or not I want to keep going.
1. Does it look professional?
This is basically a bare-minimum threshold test, and it mostly means does it look like they paid a web designer to build their site? In other words, it's a way to measure if a company is legitimate enough to handle stuff like your credit card.
Because people form impressions about sites in about 50 milliseconds, this is not the area to skimp out on. Trends change fast. If it's been more than a few years since you've redesigned, you probably need a fresh look.
Check out the before-and-after shots of the website below. You can probably decide which site is more trustworthy in 50 milliseconds.

2. Are you real?
There are pretty obvious reasons why I don't want to buy from a robot. If there's a problem with shipping, or I need to call customer service, I want to speak to a flesh-and-blood person who understands my problem, not C-3P0. (Have you noticed how all your least favorite companies make you speak to a robot? Cable, telecom, health insurance, etc. Don't be like them.)
So provide employee photos, pics of the office, and the address where you actually work. And since 62 percent of people say they want to see indications that there is a legitimate business behind a website, it'll help build trust.
3. Who are your big clients?
This one is all about legitimacy — about making people feel that if other, super well-known companies have done business with you, they'll be safe doing the same.
It's important to note that only your big clients matter. As Neil Patel found out when building his SEO agency, displaying his Fortune 500 clients really helped close deals, but displaying small- and medium-businesses cut the conversion rate in half!
Even large companies like Amazon do it. Their Web Services product shows off their most famous customers: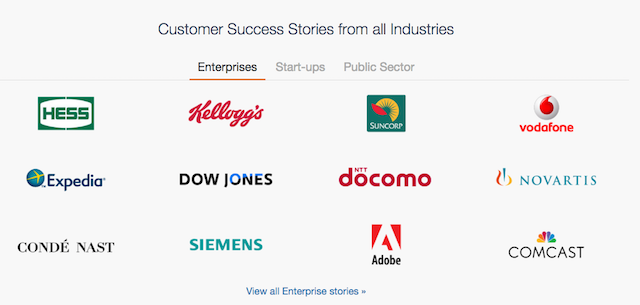 If you want to show off the press you've received, the same principle holds. If it's not a well-known publication, it might actually hurt your conversions.
4. Do you have (real) customers?
By this I mean have people like me bought from you before, and was their experience not-horrible? How do you do this? The easiest way is to get ratings and reviews for the stuff you're selling. So when you're building an ecommerce site, it's important to check to see if it's easy gather and display reviews. For example, GoDaddy Online Store partners with Yotpo to ensure that GoDaddy merchants can start automatically generating reviews as soon as they sell.
It's important to remember not to delete the bad reviews. Bad reviews (mixed in with more good ones, of course) show clients you're real, and not astroturfing your store with impossibly glowing coverage. That explains why 68 percent of people trust reviews more when they see bad ones included.
5. Are you safe?
This one is easy. I'm not about to hand over my credit card info if think a site isn't taking security seriously. No SSL? No business, thank you very much.
When I get to a site, I look for signs above and beyond the obligatory green lock that shows you have a SSL certificate (seriously, if you don't have one, stop reading this and go buy one). One thing I look for is a security seal, which shows additional steps (like scanning for malware or vulnerabilities) have been taken to ensure my safety. And I like that.
Here's what it looks like in action. Which do you feel safer on?
So when you're picking a vendor to build your ecommerce website, see if they provide a way to show seals that foster customer trust. For example, GoDaddy Online Store has a partnership that lets its merchants give visitors peace of mind by displaying the McAfee SECURE trustmark to the first 500 visitors per month — all at no cost.
Learn about the four types of SSL certificates available.
Wildcard SSL Certificate
Extended Validation SSL Certificate
SAN SSL Certificate
Organization Validation SSL Certificate
6. What's your return policy like?
If I'm thinking about your return policy, I'm already thinking about buying. But showing off your return policy loud and clear is a good way to show you're an upfront, customer-first business. In other words, the type of place we can trust, and where we all like to shop.
7. What's your shipping pricing like?
Like your return policy, this might not seem trust-related at first glance. But shipping prices are about being honest and upfront with your customers, and about not hitting them with surprise charges. Makes sense, right? Thinking you're getting something for one price when instead the price is 10-percent, 15-percent, maybe even 20-percent higher — well, that just feels like a scam. And that ruins trust.
If you think this doesn't affect your business, think again: According to Statista, 56 percent of carts are abandoned because people are presented with unexpected costs — like shipping.
It's not that hard
Look, it might seem like you have to do a massive overhaul of everything around your site or else no one's going to trust it, but that's not the case.
If not all of these apply to you, don't worry about it. Think about each one as a piecemeal improvement. Each one is going to help build trust incrementally. The more you have the better, but as long as your site is passing that split-second eye test…well, you're alright, kid.