You have a pretty successful offline (brick-and-mortar) business. Now, you want to get your business online. Follow these 5 simple steps and you'll have your offline business up and running online.
1. Domain name
The first thing you need is a domain name. This one is pretty obvious, so you may already have registered one. Your domain name should be your business name, if possible. Or as closely related to your business name as you can get. Avoid anything that is too generic or vague. Check out this post to learn how to register strategic domain names.
2. Website
The next step to getting your business online is building a website. You probably already have promotional material for your brick-and-mortar business — fliers, business cards, advertisements, signage for your storefront, or a logo. You can use the materials you already have to start building your website.
Use the same messaging, logos, advertisements, etc., to make building your website easier. Make sure you include a contact us page and testimonials. If you're selling products, be sure to include a product catalog, including pictures and prices.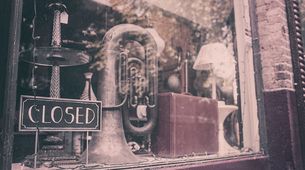 One of the benefits of a website is that it runs 24/7, 365 days a year. That means your business information is always available to customers and they never see a closed sign.
3. Email
On your Contact Us page, you'll want to include an email address. It would be best to use a personalized email address for your business. Most providers offer very affordable email plans. Get the smallest plan that you think will work for you; you can always upgrade if you need to.
Don't use generic, free email. This will be your main form of communication with your online customers, so you need to make a strong impression.
Now that you've gotten the basics, what do you do? Besides a domain name, email and website, what do you need? If you're selling products online, you need to think about how you're going to show and track inventory, sales and billing.
4. Inventory
Handling inventory for your online business is important. You don't want your website to show you have 50 items when you only have 15 left. This will lead to lots of issues, and upset customers. You more than likely have an inventory control system for your offline business. You need to integrate and synchronize that with an online system.
There are many online shopping cart solutions available and many of them work with QuickBooks or some other sort of software. Find one that will work for you and go with it. Be sure to check out GoDaddy Online Store — it's a great solution!
5. Billing
If you plan to accept credit card payments online you'll need an SSL certificate for your website and/or a merchant account that allows you to process credit card payments.
An SSL certificate protects your customers' information when they enter it into your website. Check with your bank or your brick-and-mortar POS provider to see what online options they have.
The important thing to remember is, you can't exactly duplicate your offline business online, especially if you're selling services. You need to take into account logistics. For example, if someone orders a product from your website, and they live 300 miles away, you'll need to ship the product to them. If you're selling services, you probably don't want to offer your pool cleaning services outside of a certain mile radius, so, you'll need to specify your zone on your website. These are the basics, and will get you started.
Learn about the four types of SSL certificates available.
Wildcard SSL Certificate
Extended Validation SSL Certificate
SAN SSL Certificate
Organization Validation SSL Certificate